IPTV VPN Router Offer – Access All The Best IPTV Services Anonymously With Liberty Shield
One of the most popular search terms on Google currently is "Best IPTV VPN".  IPTV (Internet Protocol Television) has been dubbed as the future of TV, making it possible to use your broadband internet service to watch TV shows; rather than traditional TV signal delivery methods such as rooftop antenna, satellite dish or fibre-optic cable TV.
Many traditional broadcasters today are using IPTV through their official websites and apps to deliver live and on-demand TV streaming. BBC with iPlayer, ITV with ITV Hub, Channel 4 with 4OD, Sky with Sky Go etc.
However, easy to install apps such as Perfect Player and Smart IPTV can now easily be installed on Smart TVs (Samsung, Sony, LG), Mag Boxes, and Amazon Fire TV sticks/boxes; opening up a whole new market for a complete TV package away from the mainstream suppliers such as Sky and Virgin Media.
Is IPTV Legal and Safe?
In simple terms yes, many official broadcasters have IPTV services. Keep in mind though that any unofficial IPTV service selling or distributing streams they not own the rights to; is a form of piracy. While most copyright groups and ISPs are currently focusing on fighting unauthorised Kodi add-ons, their focus will most certainly soon shift to IPTV providers. If you watch IPTV from an unofficial provider then remember that your ISP can see from your logs exactly what your are accessing.  It's clearly not in the interests of Sky, BT and Virgin Media to allow users to watch premium channels with IPTV services rather than through their own official platforms. The only way to stay anonymous when watching ant form of IPTV is to use a VPN.
.

Benefits of IPTV VPN?
Whilst there are multiple benefits to always using a VPN for all your internet usage, here are some specific to IPTV:
Privacy: Keeping prying eyes away from your internet logs is absolutely crucial in the current surveillance climate. Governments around the world are introducing new laws allowing them to log all of your internet traffic. Saying, "I've got nothing to hide" should never excuse your right to privacy. If you are watching IPTV then use a VPN and keep your logs private.
ISP Throttling: Using IPTV VPN can stop your ISP throttling your internet connection. Internet speeds of 5mb or more should easily handle IPTV streaming in HD without any buffering.  Buffering generally occurs for IPTV users because your ISP is seeing your heavy internet usage and throttling your broadband connection.  Whilst a VPN will slightly slow down your internet connection from your ISP maximum; it will never be throttled.
ISP Bans: ISPs worldwide, and particularly those in the UK; have began blocking IPTV streams. This means that you might not be able to watch live channels with IPTV due to the fact that your IPTV providers links are blocked by your ISP. Connecting to a VPN will precent such blocking, regardless of where you are in the world.
.
Liberty Shield run a a tier 2 level VPN network and our range of VPN Routers will allow you to connect any device, including SmartTV, Mag Box and Amazon FireTV to a VPN without changing any settings on the device itself. You simply connect your device to the VPN Routers WIFI or LAN and also save CPU resources on your FireTV or SmartTV.
.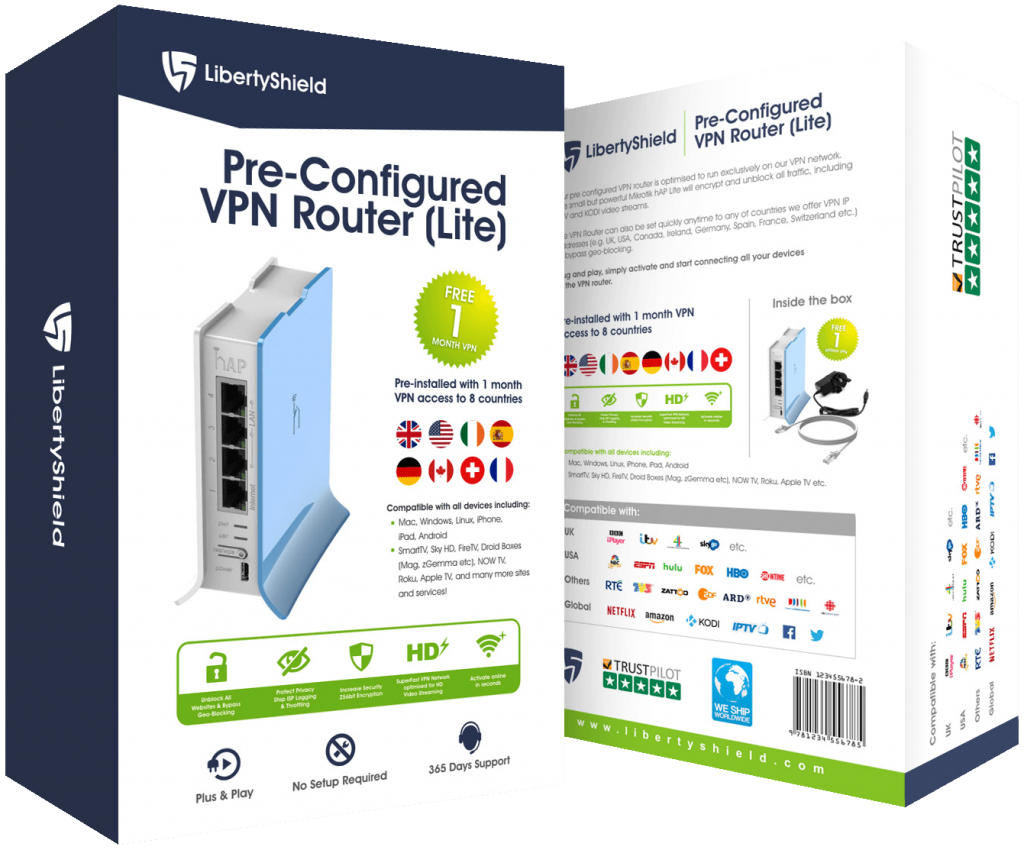 Special Offer: VPN Router with 1 Month VPN Access Included
(Worldwide Shipping)
£12.99 ($30 USD approx)
With this offer we will ship you a VPN Router (Mikrotik RouterBoard hAP Lite RB951-2n) which will encrypt and unblock IPTV streams. The VPN Router can also be set quickly anytime to any of countries we offer VPN IP addresses (e.g. UK, USA, Canada Ireland, Germany, Spain, France, Switzerland etc.) to bypass geo-blocking.
.
.
What happens after 1 months use VPN use for IPTV?
You will need to add an ongoing VPN subscription from Liberty Shield, packages are available from only £6.99 per month ($8.71 approx).
Of course IPTV isn't the only censored streaming service a VPN or Proxy will allow you to access.  Other USA services available direct from the networks such as Fox Soccer 2Go, NBC Sports, Hulu, HBO, Netflix USA and Pandora are available! Or switch to a UK VPN Proxy and access BBC iPlayer, ITV Hub, All 4, Now TV etc.