You've probably heard of Disney+ by now. Need a Disney+ VPN?
Holding classical Disney films and TV shows as well as making more original content, Disney+ was a huge success from its launch back in November 2019. However, this month has seen many changes to the streaming service. Wrapping up Disney+ Originals as well as premiering new ones, now is the best time to get a Disney+ VPN.

Watch WandaVision on Disney+
Talk about a show nobody wanted. WandaVision is the first series of Phrase Four of the MCU. After Avengers: Endgame (2018), some people were done with the MCU. This show had a lot to live up to, seeing as the infinity saga was finished on such a high. However, this show garnered so much attention and made people so much more excited to see what was happening in the MCU.
The series has been praised for its unusual storyline, which has never been done before. The series played homage to many sitcoms in a fun and twisted way. Some examples of these are I Love Lucy, Father Knows Best and even Modern Family. However, these homages also added to Wanda's  (Elizabeth Olsen) characterisation.
This series starts like any other sitcom. The story follows Wanda and Vision (Paul Bettany) living a suburban life in Westview, typical to those of sitcoms. However, right from the start, something isn't right. The whole world revolves around Wanda. As the story progresses, we learn that in her grief of losing Vision, she created the Hex that made the world around them. Wanda reached the breaking point and acted out, creating a tragic hero. This series is something new, showing how she is struggling mentally with all the trauma she has endured. In the films, Wanda went through a lot. Whilst the others got somewhat of a happy ending, Wanda was all alone and lost everyone. This show shows her breaking, but it also shows her powers developing and her trying to move on.
Through the entertaining villain Agatha (Kathryn Hahn), we learn of Wanda's powers. She also finally gets her comic book name Scarlet Witch, which fans have been wanting this since Avengers: Age of Ultron (2015). The series on the whole is something new, exciting and leaves you wanting more. As this is considered a prequel to Doctor Strange in the Multiverse of Madness (2022), there is more to come from this world and the MCU.
Check out the whole series with a Disney+ VPN from Liberty Shield.
Watch Raya and the Last Dragon on Disney+
Disney recently has been known to be making adaptations and a live-action remake of their original films. So, it is always a treat to see an original animation from Disney. The story takes place in Kumandra, a fictional land that was once protected by dragons against monsters known as Drunn. The Drunns are rising again, and so Raya (Kelly Marie Tran) and her pill bug Tuk Tuk must track down the last dragon Sisi (Awkwafina) and train with them to protect their home.
Kumandra has been inspired by many South-East Asian countries. A few of them are Indonesia, Laos, Vietnam, Thailand and Myanmar.  Before the pandemic, the design team visited a few of these places. The world is beautiful, colourful and vibrate. The animation style is so smooth and pleasant to look at, with different aspects of South East Asia.
The music is also a delight to hear. James Newton Howard, who is known for doing the score for The Hunger Games (2012) and King Kong (2005) is taking on this score. This film will also be historical, as it features the first song to sing in Filipino. The song is Gabey, which is translated to mean 'guide' and it is sung by KZ Tandingan.
The film is on Premier access right now, but you can see it soon on Disney+ with a regular subscription. Interested in a Disney+ VPN?
Watch The Mighty Ducks: Game Changers on Disney+
This upcoming sports series follows the 1992 film as a sequel. The original film had a team called The Ducks, who were made up of underdogs who wanted to enjoy playing Ice Hockey. Now, The Ducks are a powerhouse and have become extremely selective, ignoring everything from their origins. Now, this time, it's new underdogs vs old underdogs.
This film was so influential, that it even inspired an actual team called the Anaheim Ducks in 1993.
One of the best things about it is Gordon Bombay (Emilio Estevez). In the film, Bombay is put on community service after a DUI to coach the District 5 Pee-Wee hockey team. At first, he is hesitant due to an incident he had when he was younger with hockey. But, as the film goes on, we see him taking the kids under his wing by getting the team sponsored and teaching the children about life as well as hockey. We also see his back story and how he deals with his childhood memories of hockey.
Now, Bombay is back. Estevez returns as Bombay and co-executive producer, training a new team to defeat the team he once supported. The trailer shows something has happened as he is no longer the coach of The Ducks. Now, he is the owner of an ice rink but refuses to coach Ice Hockey again. It is going to be interesting to see what happened, and how he will overcome this as he did once before.
The Mighty Ducks: Game Changers brings back the Quack Attack on March 26th 2020 on Disney+. Check it out with a Disney+ VPN from Liberty Shield.

How can I watch Disney Plus?
Right now, Disney+ is live in the US, Canada, the Netherlands, Austria, Germany, Italy, Spain, Switzerland, France, India, Belgium, Denmark, Iceland, Finland, Norway, Portugal, Sweden, United Kingdom, Ireland, Isle of Man, Monaco, Wallis and Futuna, French West Indies, French Guiana, New Caledonia, Japan, Indonesia, Latin America, Réunion, Mayotte, and Mauritius. There are plans to go live in Singapore, Hong Kong, and South Korea. However, what about Malaysia? Thailand, the Russian Federation, and Brazil are a few more examples of places without Disney+. To compare, Netflix is available in over 190 countries including Thailand and the Russian Federation.
Still, with the help of a VPN, you can access these shows and watch them from anywhere. Whether it is watching from your, iPad, iPhone, Android or Smart TV, etc, you can access these shows along with thousands of others such as Mulan (2020), The Mandalorian (2019-), and even revisit old Disney shows like Wizards of Waverly Place (2007-2012) and Suite Life of Zack and Cody (2005-2008).
With a free 48-hour trial, unlimited switches between countries and VPN or Proxy connectivity, and the ability to connect multiple devices to Liberty Shield's VPN, Proxy, or VPN routers simultaneously, Liberty Shield can expand your viewing expansion as well as protecting you and your internet data. It's not just Disney, as you can get access to Netflix, BBC iPlayer, Amazon Prime, and more worldwide!
With an excellent rating on Trustpilot and support available 365 days a year, be assured that you'll get your money's worth.
When you load certain Disney+ content in the UK, USA, Germany, Ireland, Netherlands, France, Spain, Portugal, Australia, Dubai, Canada etc. you will get an error message.
Something went wrong. Please try again. If the problem persists, visit the Disney+ Help Centre (error code 83).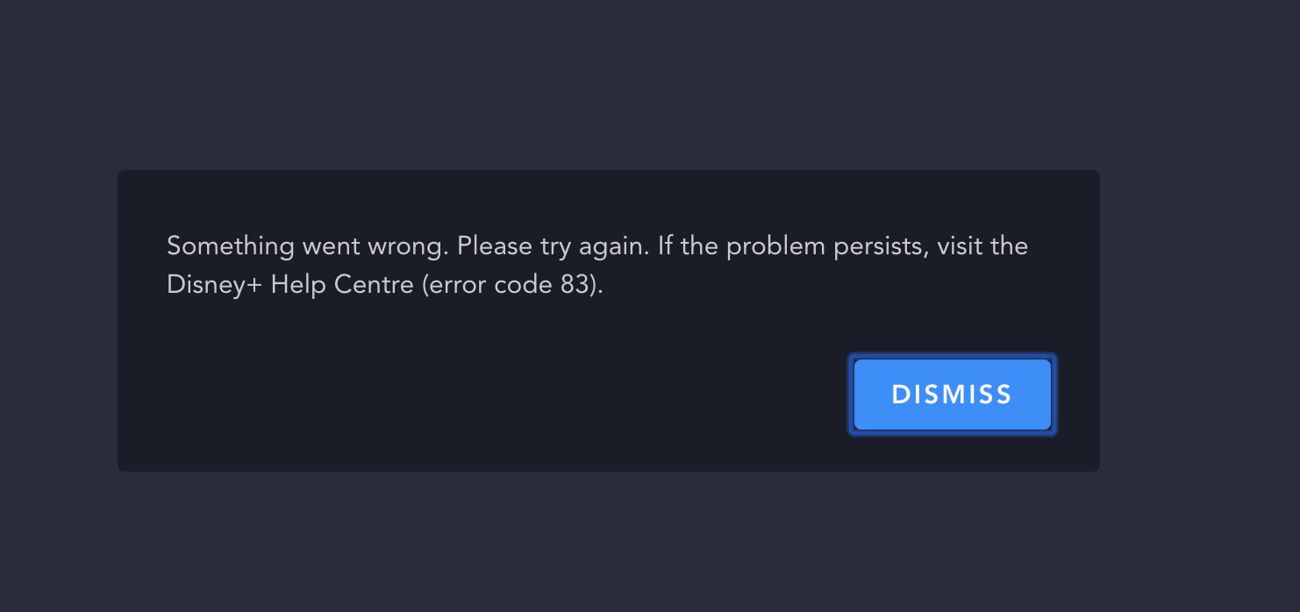 This is basically because their streaming services are geoblocked based on the IP address being used to access it.
Get a UK IP address
If you want to watch on your Windows PC, Mac, FireTV, iPhone, iPad or Android then you can get a UK Proxy or VPN Apps from Liberty Shield, FREE for 48 hours and then from only £8.99 per month..
Prefer to watch on supported media streaming devices like Now TV, Smart TVs, Apple TV, Xbox, PS4, Roku etc? You'll need a UK configured VPN Router setup as American, available from only £9.99 with Worldwide Shipping available.