It's playoff time in the NFL. With all NFL action shown on Sky Sports in the UK and you can you also access NFL Game Pass International with a UK VPN.  If you use a USA VPN then you can access the America version of NFL Gamepass as well as NFL streaming networks like NFL Network, ESPN, CBS, Amazon Prime Video, NBC Sport and Fox; as well as their streaming partners lie Hulu, SlingTV and FuboTV. Need an NFL VPN?
The race to the Superbowl has begun and 14 teams have separated themselves from the pack to showcase themselves as this season's elite, with the exception of this years NFC East Champions but we'll get to them in a minute.
🏈 NFL Playoffs 2020/21
📺 NFL Game Pass VPN – Watch Every Game Live with NFL VPN
The NFL is the fastest growing sport in the UK in terms of popularity but can often be difficult to watch because of the time that games begin, the length of each game and the fact that not all games are televised in the UK. Thankfully this years playoffs have been arranged so that all games can be televised by Sky Sports among others, and there's also two extra games! Fun Fact: 'NFL VPN' is one of the most searched sports phrases on Google!
Our NFL VPN articles are brought to you in partnership with EPL Index, and Dave Hendrick – host of the Two Footed Podcast, offering FREE podcasts to football fans.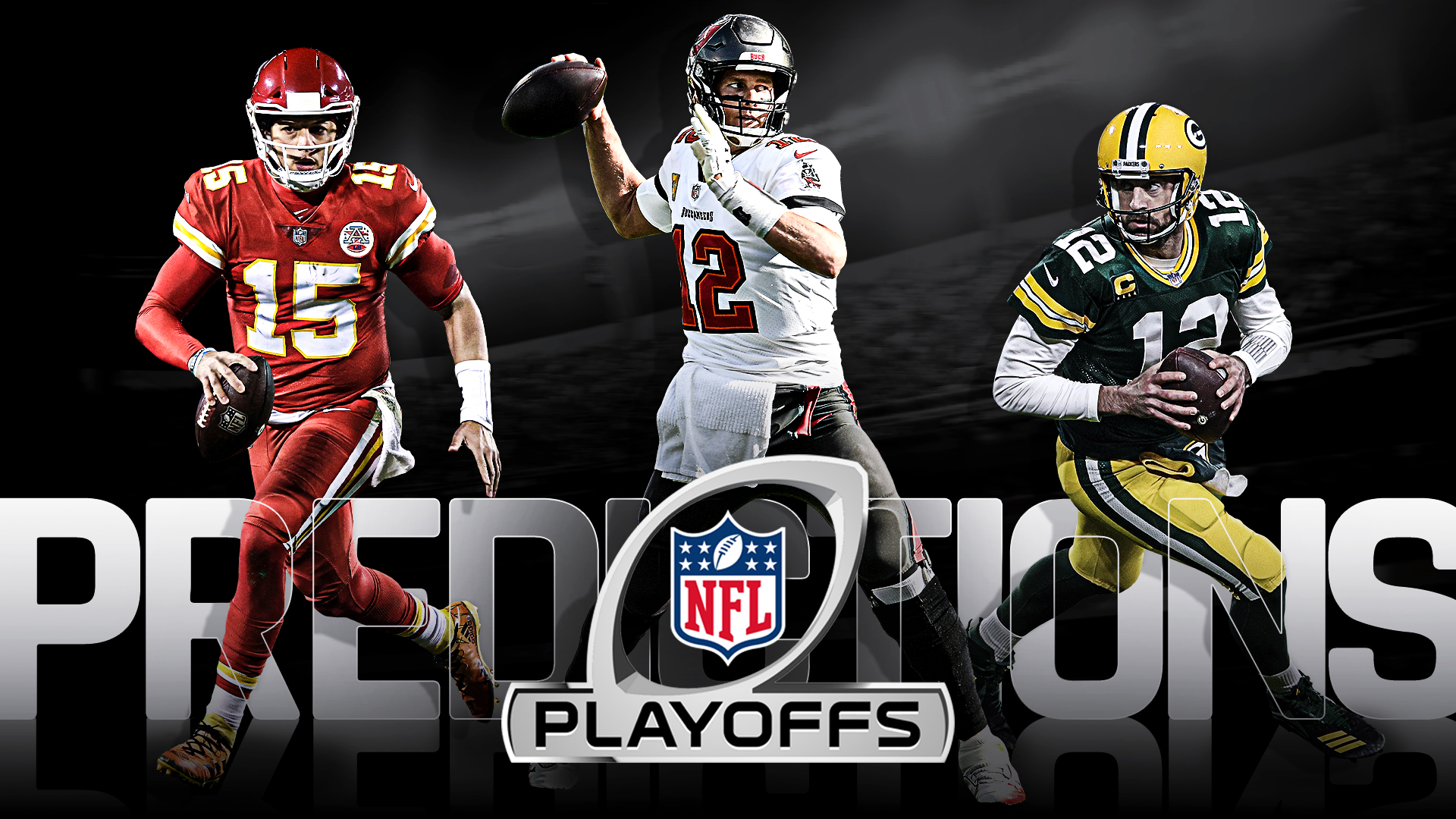 In the new Covid landscape where minimal amounts of fans are allowed at games, the NFL has expanded the playoffs to boost revenue and also to give something back to both the fans who've had to suffer through not being able to attend games, and the teams who've had to operate with incredible roster fluctuation due to a strict set of Covid guidelines and positive test procedures used by the NFL this season.
The playoff formula this season is fairly straight forward. Seven teams from both the AFC and NFC qualified for the playoffs, the four divisional winners in each conference and the teams with the three best records outside of the division winners. The number 1 seeded team from each conference receives a bye this weekend in the Wild Card Round, and then from their the number 2 seed faces the 7 seed, the 3 seed faces the 6 seed and the four seed faces the 5 seed. From here, the 1 seed will face the winner for 4 vs 5, and the winner of 2 vs7 will face the winner of 3 vs 6. The higher seeded teams will have home field advantage all the way through to the conference Championships.
In the AFC, the 14-2 AFC West winners, the Kansas City Chiefs, are the number 1 seed so Patrick Mahomes and co. can put their feet up and enjoy the action. On the NFC side of the bracket it's the Aaron Rodgers and the Green Bay Packers, winners of the NFC North with a 13-3 record who have earned the weekend off.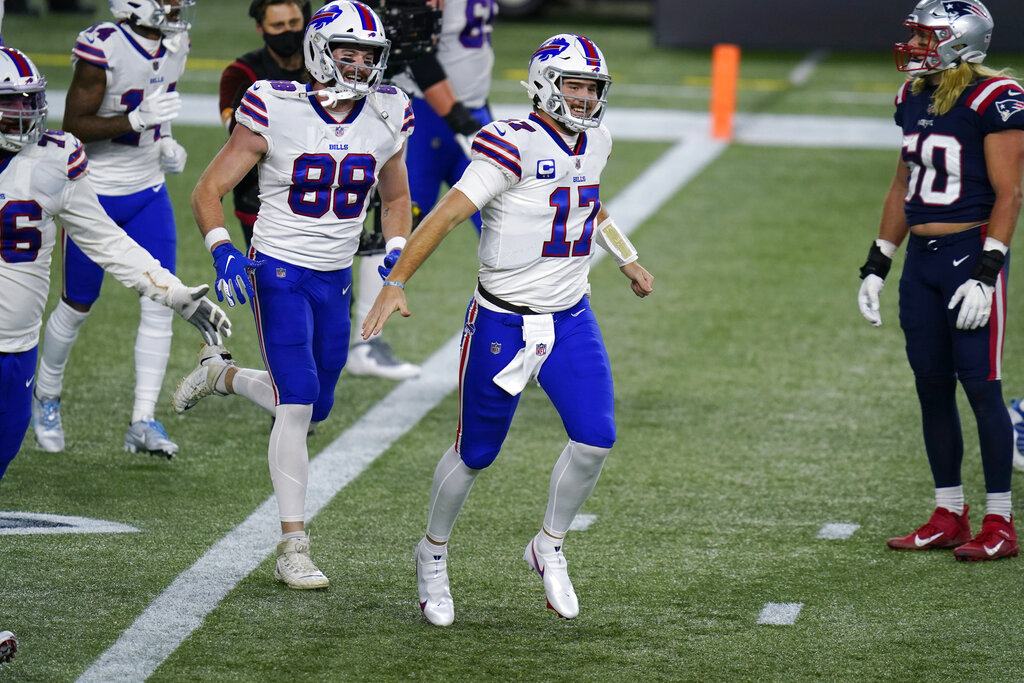 First up this weekend is the Bills vs the Colts on Saturday at 6:05pm. This is the 2 vs 7 battle in the AFC, pitting the AFC winners vs AFC South runners up. Yes, I know Indianapolis isn't in the South, but the Dallas Cowboys somehow play in the NFC East despite being in Texas so let's not pretend any of it makes sense.
The Bills are the in-form team in the NFL right now and come into this game riding a six game winning streak, and boasting strong performers on both sides of the football. Quarterback Josh Allen has become a star this season and put to bed any questions about his ability to accurately deliver the ball to his receivers. Want proof? Stefon Diggs, acquired from Minnesota in the off-season, lead the league in receiving yards in his first season with the Bills. He had over 1500 yards worth of receptions this season, having never been above 1100 before. Allen has turned Diggs from a very good receiver into a legitimate star.
The Colts have had a good season behind veteran QB Philip Rivers. Rivers arrived in Indianapolis in the off-season having spent 15 years as the QB of the Chargers and after a couple of shaky moments early in the year, he's gone on to have a very typical Philip Rivers season. Head Coach Frank Reich, who worked with Rivers on the Chargers for 3 years, has managed to drag the last bit of magic out of a player who looked on his last legs last season.
Both teams have very strong rosters on both sides of the ball, and are very well coached. It could well come down to a shoot-out between the old gunslinger and new kid on the block. The Bills will be favoured but the Colts will make them earn every yard.
Following on from there it's Russell Wilson and the Seattle Seahawks vs the LA Rams at 9:40pm. This is the 3 vs 6 matchup in the NFC and sees the winner of the NFC West take on the runner-up in that same division. These teams have already played twice this season, with both teams winning their respective home games.
Russell Wilson started the season looking like he might finally win the MVP, or at least get a vote this time around! As one of the very best players in all of football, Wilson has continually performed at an MVP level for the past six or seven years but is continually under appreciated. Wilson will once again look to weave his magic and use top weapon DK Metcalf to overcome a Rams defence that has caused him problems over the years.
The biggest source of those problems is of course LA's star defensive tackle Aaron Donald. Donald is, without doubt, the best defensive player in all of football and one of the greatest players to ever grace the game. The two time defensive player of the year has put together another magnificent season and it's the defence of this LA team, led by him, that has carried them to the playoffs. QB Jared Goff is talented but error prone and is currently dealing with a broken thumb. For the Rams to stand a chance, Donald is going to have to be at his best. The bad news for the Seahawks is that he generally always is.
It's Wilson vs Donald. An all-time offensive player vs an all-time defensive player. Whoever wins that battle will likely lead their team to victory.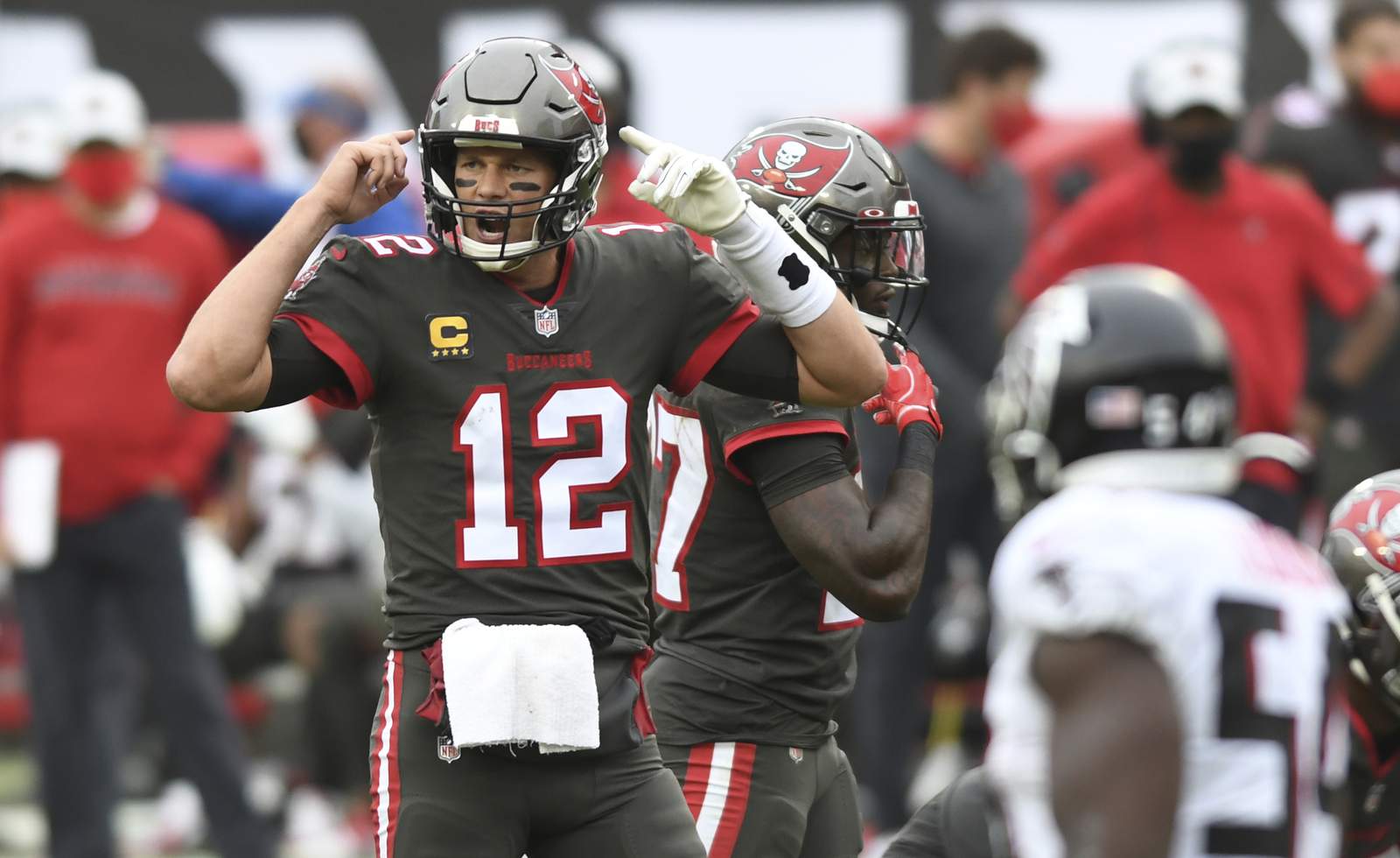 The late game on Saturday sees Washington vs the Buccaneers at 01:15am. The 4 vs 5 matchup in the NFC, with the winner of the NFC East taking on the second placed team from the NFC South.
Washington didn't so much win their division, they simply lost it the least. The NFC East was an absolute dumpster fire this season with all four teams posting losing records. Washington have no QB worth spending much time on but do have a potential superstar, or maybe two, on the defensive side of things. Rookie Chase Young and second year pro Montez Sweat have been edge rushing dynamite for the artists formerly known as the Redskins this year and if Washington wants to extend its season, they'll need Young and Sweat on form.
The Buccaneers, officially from Tampa Bay but now known as Tompa Bay due to the presence of arguably the greatest QB in history have a juggernaut offence packed with stars but how far they go in the playoffs will all depend on one man, Tom Brady. Brady, in his first season away from New England, put together his best season since 2016. He's committed to playing next season but we really should enjoy every Brady playoff game that we get because there'll never be another like him. Next season he will become the second QB ever to throw for 80,000 yards – and then break the career record for passing yards, and he'll likely pass 600 career touchdown passes as well – he already holds that record at 581 having passed Drew Brees this season.
If Brady is healthy and can stay upright, it's almost impossible to see anything other than a Tampa Bay victory here.
Moving to Sunday, and first up it's the Titans vs the Ravens at 6:05pm. This is the AFC's 4 vs 5 matchup. The Titans just did enough to win the AFC South, whereas the Ravens finished with the second best record in the AFC North.
The Titans are the most predictable team in football. Their offensive will mostly consist of the ball being handed to Derrick Henry, and Henry bulldozing his way through opponents. The problem isn't knowing what's coming, it's figuring out how to stop it. Last season Henry rushed for 1,540 yards and 16 touchdowns, establishing himself as one of the best running backs in football. This season he made it clear he's not one of the best, he's just simply the best. This season he booked himself a place in the ultra exclusive 2,000 club. Henry became only the eight player in history to rush for over 2,000 yards, finish with 2027 in total, and 17 touchdowns. All of a sudden that four year, $50mil contract he signed in the off-season is looking like shrewd business from the Titans.
The Ravens looked done and dusted after week 11 when they sat at 6-5, with a faltering offense and an underperforming defense. Then something changed and they ripped off five straight wins to end the year 11-5. Last season's MVP Lamar Jackson woke up and began to play like an MVP calibre player again. The tandem run threat of Jackson and JK Dobbins, as well as Jackson's red zone throwing ability, makes the Ravens offense both unpredictable and extremely hard to stop when it's clicking. Baltimore has always prided itself with playing great defense so they are a well rounded team who are capable of going all the way this season.
This could well be the tie of the round.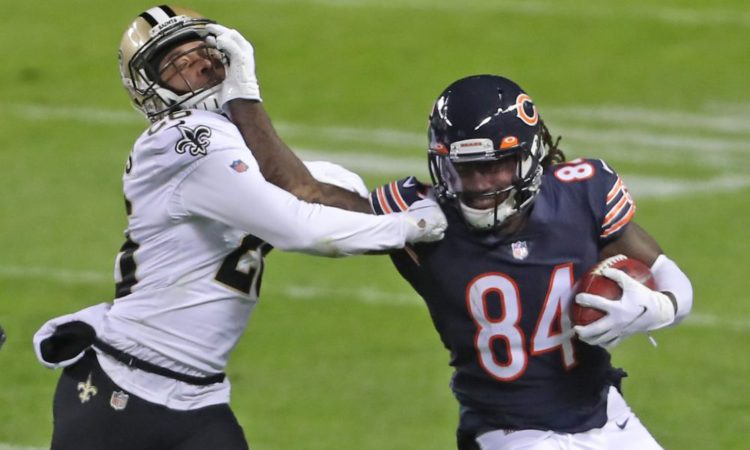 Following on from there we get the 2 vs 7 tie in the NFC with the Saints vs the Bears at 9.40pm. The Saints beat out the Buccaneers to win the NFC South, while the Bears are a surprise playoff team having taken advantage of a disappointing season by the Vikings to claim second spot in the NFC North.
The Saints are an offensive juggernaut and boast two elite weapons to surround legendary QB Drew Brees. Unfortunately for them, running back Alvin Kamara could ruled out of this game after a positive Covid test, and wide receiver Michael Thomas is sidelined with an ankle injury. They do still have quality veterans in tight end Jared Cook and wide receiver Emmanuel Sanders but they will have to hope that Brees has fully recovered from the broken ribs that caused him to miss four games. Brees is rumoured to be retiring after this season, so every game could well be his last. His place in the Hall of Fame is secured, this season he added another level of legend to his career by becoming the first QB to pass for 80,000 yards, an incredible achievement. Especially when you consider that only Tom Brady is within 9,000 yards of him. Elite QBs average about 4,500 yards a season, putting Brees two full seasons worth of yardage ahead of the rest.
Chicago don't have nearly the same sort of QB play at their disposal though Mitch Trubisky has shown some impressive flashes this season, either side of a spell on the sidelines while Nick Foles was under centre. The Bears real strength is on the defensive side of the football, and where all-world pass rusher Khalil Mack remains one of the best in the business. The Bears will be hoping that Mack, along with Robert Quinn, Akiem Hicks and Roquan Smith can keep constant pressure on Brees and test those recently healed ribs. The Bears won't be scared to be thrown on, knowing that in cornerback Kyle Fuller and free safety Eddie Jackson they have All-Pro calibre players to cover Sanders and Cook.
A full strength Saints team probably rolls over the Bears, but without Thomas and potentially Kamara it becomes a much closer game. Can Brees take advantage of that Dome advantage once again?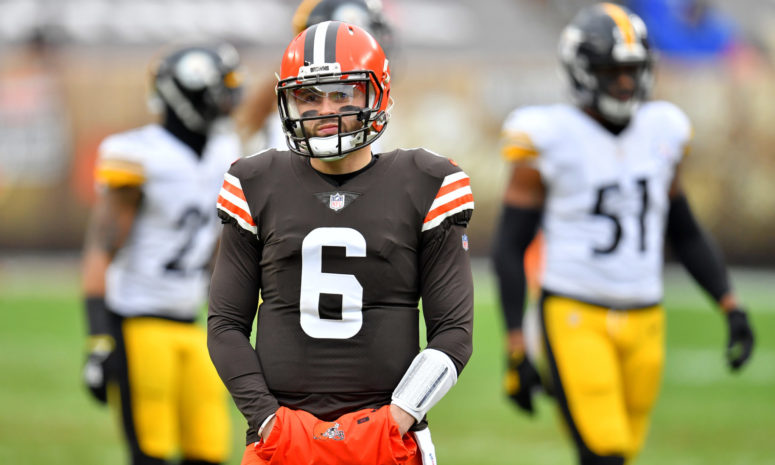 Last but not least we get the late game, a meeting of AFC North rivals, the Steelers vs the Browns at 01:15am in the 3 vs 6 battle in the AFC. The Steelers won the division with relative ease, while the Browns had to rely on beating the Steelers in the final game of the season to squeak in as the third team from the division.
For 11 weeks the Steelers looked like potential SuperBowl winners as they went unbeaten and had Ben Roethlisberger looking like he'd rolled back the years and was a 28 year version of himself. Unfortunately for the Steelers, Big Ben is 38 and their team wasn't as good as advertised. They lost four of their last five and limped over the line. The good news for the Steelers is that they have an arsenal of weapons that make them hard to cover, especially at wide receiver. Even with Juju Smith-Schuster seemingly out of favour, they can still call on All-Pro Diontae Johnson, James Washington and rookie Chase Claypool. Nobody drafts receivers better than the Steelers who continually find great talent in the second and third round. The also have a Pro Bowl running back in James Connor who has also shown himself to be a dangerous receiver.
The Browns have talent everywhere, two great running backs in Nick Chubb and Kareem Hunt, two excellent tight ends in Austin Hooper and David Njoku and a pro Bowl receiver in Jarvis Landry. Even with superstar receiver Odell Beckham Jr ruled out with a torn ACL, they have an amazing array of game changers on offence. They do lack on defense, though Myles Garrett is a fantastic edge rusher. They have been hit hard by Covid with star cornerback Denzel Ward, pro Bowl offensive guard Joel Bitonio and Head Coach Kevin Stefanski all likely to miss this game. All that can be put to one side though, because the faith of the Browns relies on the performance of one man. Baker Mayfield. The number 1 pick in the 2018 draft, ahead of Sam Darnold, ahead of Josh Allen and ahead of reigning MVP Lamar Jackson, the Browns selected Baker and results have been mixed so far. Given a do-over, they'd take Allen 100 times out of 100 but Baker was coming off a historic college season and had superstar appeal due to his profile. Stefanski has modified his role, turning the Browns into a run-first team, but Baker will still be needed to make some big throws in this game. If he can, the Browns have a chance.
On talent alone, the Browns are a match for anyone but they have a feast or famine situation with Baker. Good Baker gives them a chance to win, bad Baker leaves them with no chance. Which Baker turns up will decide this game.
No matter where you are in the world, you can use your Liberty Shield VPN to find a way to watch these games. The majority of them promise to be fantastic battles.
Don't have a Liberty Shield VPN? You're missing out! Click right here to check out what we can offer you, and use the code EPLVPN to get 20% OFF at check-out.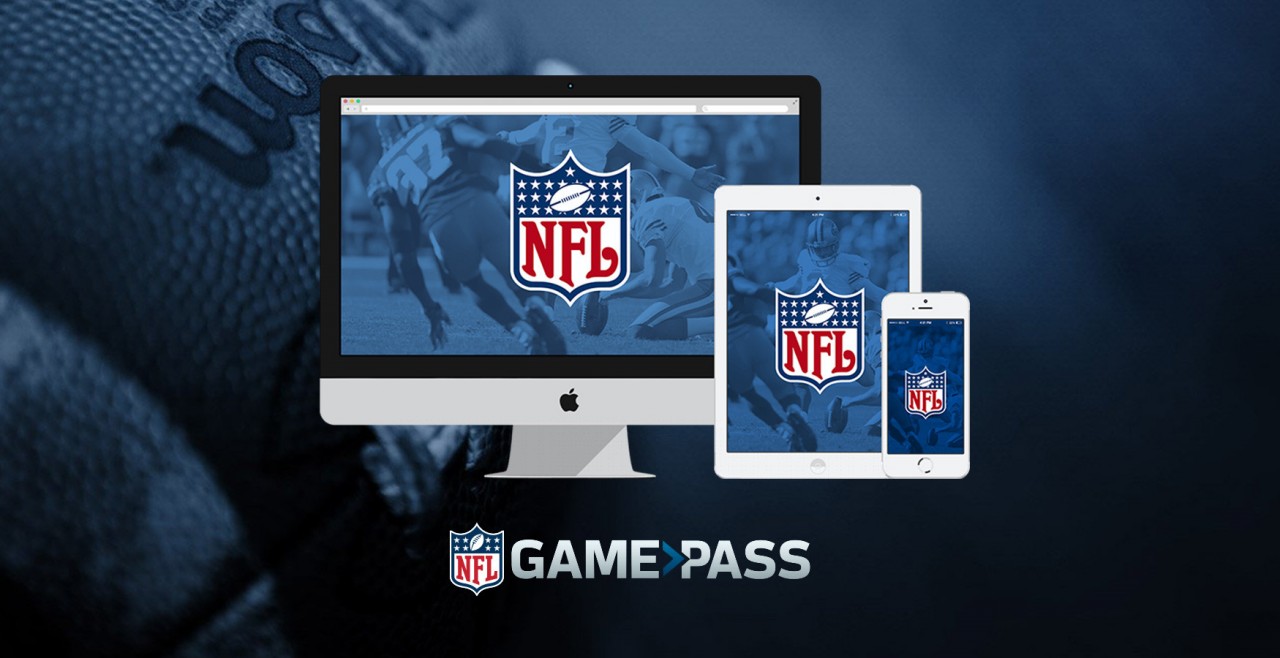 How to use an NFL Game Pass VPN to watch live streaming of every NFL live from anywhere…
The American domestic version of NFL Game Pass is only available to users located within the United States, Bermuda, Antigua, the Bahamas, and any U.S. territories. However this version doesn't show any live matches.
The International version of NFL Game Pass, which offers a 7 Day Free Trial; is an all together different proposition. Offering live streaming of every NFL match.
There are different pricing options based on your location. You can save money by using your VPN or Proxy to connect to a location outside the USA and signing up for a European or International NFL Game Pass subscription. That way you can skirt around those pesky blackouts and watch every NFL game whenever you want!
Your guide to using NFL Game Pass VPN…
🇪🇺 Use any of our European VPN or Proxy locations so you can order an International version of NFL Game Pass:
Get Liberty Shield
Connect to our VPN or Proxy with UK, Ireland, Germany, Spain, Switzerland or France
Go to https://www.nflgamepass.com/en (the European non-USA version will load)
Purchase your NFL Game Pass (prices below) with live streaming of every match included.
Get NFL 7 Day Free Trial and Start watching!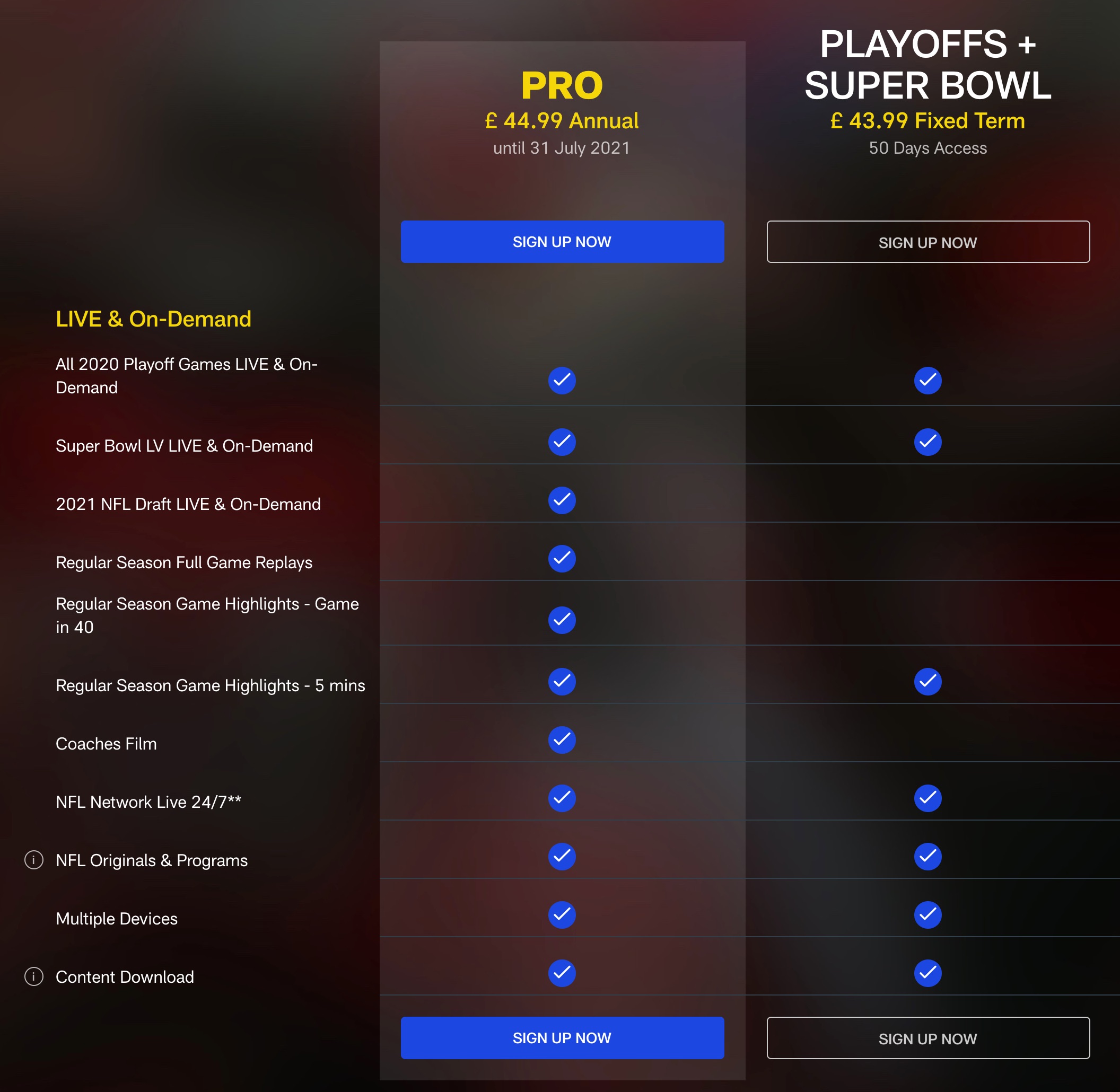 🇬🇧 What about UK NFL Blackouts?
NFL matches shown live in the UK (and Ireland) by Sky Sports will be blacked out, even with the European version of NFL Game Pass. However, if you connect to our VPN using Germany, Spain, Switzerland or France the live match will be shown..
How do I order an NFL VPN?
If you just want to watch on your PC, Mac or iPad. Then you can get a European Proxy or VPN from Liberty Shield, FREE for 48 hours and then from only £8.99 per month..
Prefer to watch on supported media streaming devices like Apple TV or Xbox? You'll need a European configured VPN Router, available from only £17.99 with Worldwide Shipping available.
Of course NFL Game Pass isn't the only geographically-censored streaming service a VPN or Proxy will allow you to access.  Other USA services like Hulu, HBO, Netflix and Pandora are available. Plus with the option to switch to our UK service whenever you like. You can also access BBC iPlayer, BBC Sport, ITV Hub, 4OD, Sky Go and Now TV. Essentially you can access international content from virtually anywhere!