What's the best OpenVPN Router to bypass ISP blocks and change your country or location?
OpenVPN is an open-source software application that implements virtual private network (VPN) techniques to create secure point-to-point or site-to-site connections. Liberty Shield offer a pre-configured OpenVPN Router using the MikroTik hAP ac² dual band access point.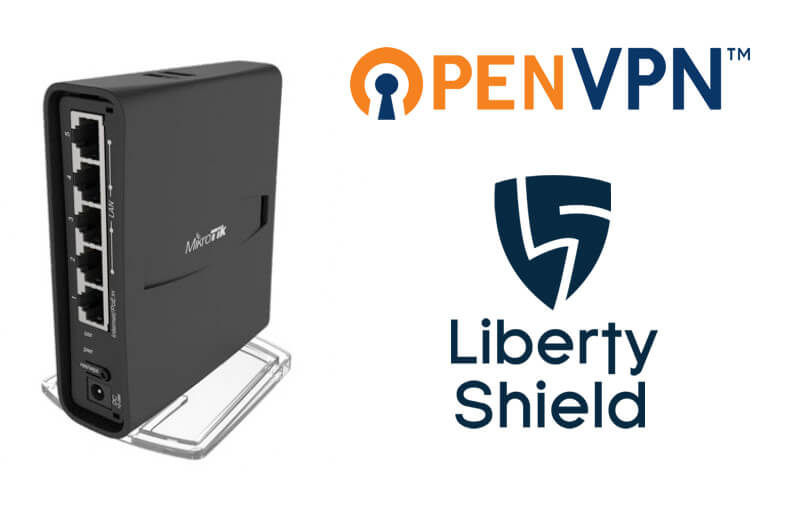 Why use a VPN Router?
There are many benefits to using a VPN Router, most commonly to prevent the logging of your internet traffic by your ISP (internet service provider). Subsequent benefits of securing your internet usage with VPN encryption includes bypassing ISP level blocks and switching your country (i.e. get a UK IP address outside the UK).
Traditionally VPNs have been installed directly on computers; such as Windows PC and Mac, but also tablets and smartphones.  As the number of devices we have in our homes and businesses increased, there has become an increasing demand to run VPN encryption on other connected devices; such as Smart TVs, Xbox, PlayStation, FireTV, Apple TV, Roku, NowTV, MAG Box, zGemma, Android Box etc.  The majority of these devices do not offer settings to configure a VPN directly; therefore a VPN Router is the perfect solution.
With a VPN Router, connected to your ISP Router – a new network is created in your home or office. Unlike your ISP network the new network will be encrypted with VPN; any devices you then connect to the VPN Router using WiFi or ethernet cable will automatically be connected to VPN and benefit from the encryption provided.  Nothing changes with your ISP Router and any devices you do not want to run VPN can simply connect to the ISP network as normal.
As well as stopping your ISP from logging, monitoring or throttling your internet traffic; the encrypted VPN will mean you are not subject to ISP level content blocks (IPTV, Kodi, P2P, Torrent etc) or geo-location blocks / geoblocks (BBC iPlayer, Netflix, Hulu, RTE Player etc).
Benefits of a pre-configured OpenVPN Router over PPTP, L2TP / IPSec
Traditionally people who want a VPN Router will configure their own! Most of the leading router manufacturers; (Asus, Synology, Netgear, Linksys, TP-Link, TRENDnet etc.) offer DD-WRT models which allow users to customise settings and run a VPN throughout their LAN (local area network).  But rather than play around with the technical settings and commit your entire network to your VPN provider; why not instead add a dedicated VPN Router to your network? Liberty Shield VPN Routers are shipped pre-configured with VPN installed at firmware level and our MikroTik manufactured models are designed specifically to run VPN at optimal levels with PPTP, L2TP / IPSec and crucially OpenVPN.
With our OpenVPN Router (Pro Model) you will be able to connect all your devices to VPN and bypass any ISP blocks. Adding a VPN to your device is as simple as connecting your Zgemma, MAG Box, Droid Box, FireStick, FireTV, Roku, Apple TV, Xbox, PlayStation, Smart TV, PC, Mac, iPhone, Android or iPad to the WiFi zone created by the VPN Router; (or by connecting via ethernet cable to a LAN port on the VPN Router).
Please note that when VPN encryption is added to your network you will never get the same speed as you do directly with your ISP; in the UK this is most prevalent with Virgin Media where fast speed (in excess of 200mbps) is possible directly from the ISP.
With our OpenVPN Router (Pro Model) you can expect speeds of up to 90mbps!  When you consider that even an HD video stream only requires 5mbps and 4K streams 25mbps approximately, you should still be able to stream multiple HD and 4K video streams on your devices without any buffering.
The below comparison video shows speed testing Virgin Media as the ISP plus individual speed tests on both our Lite (PPTP) and Pro (OpenVPN) VPN Router models…

So how do I get an OpenVPN Router?
Liberty Shield run a tier 2 level VPN network and our OpenVPN Router will allow you to connect any device, including the Now TV Smart Stick, Chromebook, Microsoft Surface Pro, Fire TV stick, Now TV Box, MAG Box, zGemma, and Android Boxes to a VPN without changing any settings on the device itself. You simply connect your device to the VPN Router with WIFI or LAN (via ethernet cable) and also save CPU resources on your device.
We have sold many thousands of standalone VPN Routers in recent years and you can read hundreds of reviews on TrustPilot from genuine customers.
.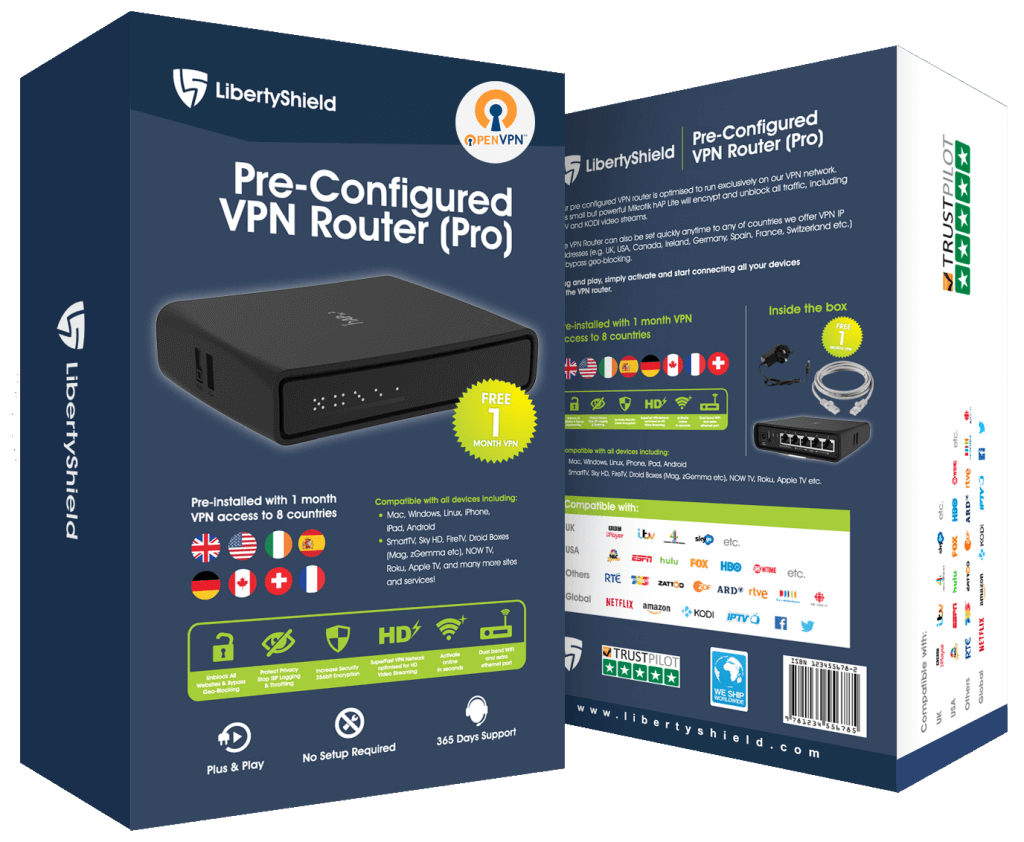 VPN Router with 1 Month VPN Access Included
(Worldwide Shipping)
Only £54.99 
We will ship you a VPN Router (Mikrotik hAP AC2) which will be encrypted so it allows you to connect all your devices to a region specific network. The VPN Router can be set quickly anytime to any of the countries we offer VPN IP addresses (e.g. UK, USA, Canada, Ireland, Germany, Spain, France, Switzerland etc.) to bypass geo-blocking.



After your 1 month free trial – Optional 1 Year VPN for only £49.99
You will need to add an ongoing VPN subscription from Liberty Shield, packages are available from only £6.99 per month or take advantage of this offer and get 1 year VPN access for only £49.99 (only £4.16 per month) at the end of your 1 month free trial period.
Our standalone VPN Routers are not the only service offered by Liberty Shield. We also offer the same range of software based VPN subscriptions as our competitors and also the addition of access to our Proxy Servers.