The best Open VPN Router for Virgin Media – Virgin Hub 3.0, Super Hub 2ac, Super Hub 2, Super Hub
Are you a Virgin Media broadband customer? Customers using Virgin Hub 3.0 or other Superhub routers are increasingly finding themselves blocked from popular websites, IPTV, Kodi and in some cases subject to anti-privacy letters and throttling.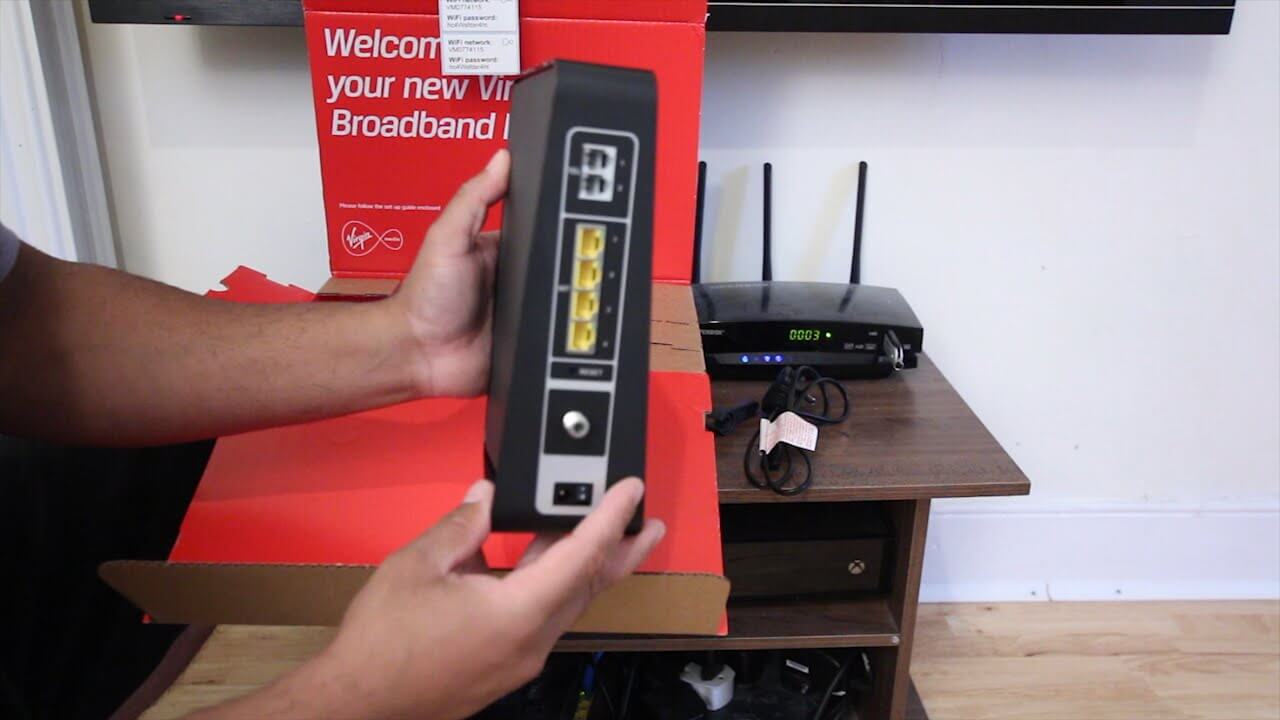 What is the Virgin Hub 3?
Launched almost in 2016, the redesigned Virgin Hub 3.0 (otherwise known as Superhub 3) shares the same vertical form factor as its predecessors but adopts a more industrial, harsher, utilitarian design. Existing Virgin Media customers can now get their hands on a brand new router if they want as a paid upgrade (new customers obviously get it as standard).
Also known as the VMDG505 it is available to all new Virgin Media broadband customers for free, the device supports Virgin Media's maximum download speed of 300Mbps.  LibertyShield would suggest the modem is a non-essential upgrade to any existing Virgin Media customer already using the Super Hub 2ac or Super Hub 2. There is a slight improvement on the signal strength but not much else to write home about for anyone who needs anything other then a standard broadband package.
Virgin Media prides itself on being a responsible ISP and will block websites and servers when ordered to do so by the Courts. As Virgin Media customers, you may have the right to apply to the High Court to vary or discharge the Court Orders below if you are affected by the blocks which have been imposed.
Unblock Virgin Hub 3 Blocked Websites with VPN
Do you ever this message when loading websites with Virgin Media on the Virgin Hub 3.0 or other routers? This is because as a UK ISP they are bound by various legal requirements to help prevent copyright infringement. Whilst Liberty Shield would never condone illegal piracy or accessing copyright videos, music etc; we believe it is your right to use the internet an unfiltered form and make a personal decision on what content you wish to access.  Please click here for a list of websites commonly blocked by UK ISPs, both directly and indirectly.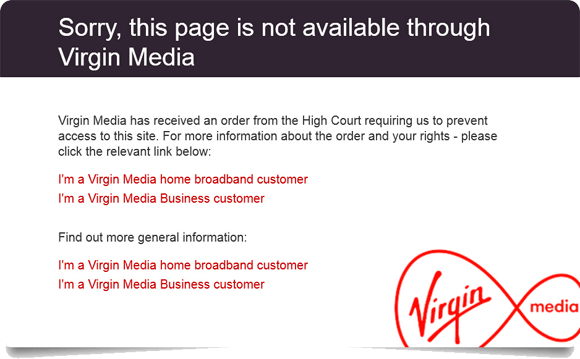 Our UK VPN will unblock all content that Virgin Media have blocked, you do not need to select one of our other countries for your VPN – UK VPN will work just fine!
With our VPN Router product you will be able to connect all your devices to the UK VPN and bypass any ISP blocks. Adding a VPN to your device is as simple as connecting your Zgemma, MAG Box, Droid Box, FireStick, FireTV, Roku, Apple TV, Xbox, PlayStation, Smart TV, PC, Mac, iPhone, Android or iPad to the WiFi zone created by the VPN Router; (or by connecting via ethernet cable to a LAN port on the VPN Router).
Please note that when VPN encryption is added to your network you will never get the same speed as you do directly with your ISP; this is most prevalent with Virgin Media where speeds of 200mbps are possible directly from the ISP.
Due to hardware and encryption overheads our VPN Router (Lite Model) has a download speed up to 30mbps and the VPN Router (Pro Model – Black Version) up to 90mbps.  Please keep in mind that even an HD video stream only requires 5mbps approximately, so even with 10-20mbps download speed you should still be able to stream multiple HD video streams on your devices without buffering.
The below comparison video shows speed testing Virgin Media as the ISP plus individual speed tests on both the Lite and Pro VPN Router models…

So how do I get a VPN for my Virgin Hub 3.0, Super Hub 2ac, Super Hub 2 or Superhub?
Get a VPN for the country of your choice, our UK VPN does not block anything.
If you just want to use services such as Kodi and The Pirate Bay on your PC, Mac or iPad. Then you can get a VPN (FREE for 48 Hours) from Liberty Shield with a no obligation FREE Trial and prices from only £6.99 per month.
Prefer to use Kodi, IPTV and other services on supported media streaming devices like Zgemma, MAG Box, Droid Box, Engima, Smart IPTV, FireTV etc? You'll need a VPN Router.
We recommend the Pro model VPN Router at £54.99 for Virgin Media users so they can use OpenVPN to bypass Virgin VPN speed throttling.
Once you have a VPN or VPN Router you'll be able to access Kodi and IPTV content plus blocked websites from anywhere with total privacy on all your devices.
Of course Virgin Media isn't the only UK ISP now obliged to log usage of services such as Kodi, P2P, IPTV and The Pirate Bay. Other British ISPs including TalkTalk, Sky and BT are also blocking content and sending out letters when they detect that their connection has been used to pirate TV shows through services such as Kodi, IPTV and The Pirate Bay.