Are you a Virgin Media broadband customer? If so did you know that changes to UK legislation now means that Virgin as your ISP are obliged to log all your internet usage and hand it over to various British government agencies upon request?
At Liberty Shield we value your right to privacy.  By using our range of VPN and VPN Router services you can protect your privacy and ensure your internet usage is encrypted and not available for Virgin Media to log.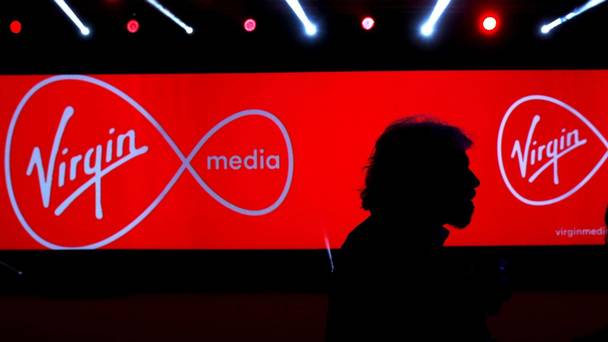 The UK Snoopers Charter now allows government agencies to legally hack British citizens connected devices and browsing history! For this reason we highly recommend Virgin Media customers should connect to a VPN or VPN Router at all times.
With a VPN all your traffic (including Kodi, P2P, The Pirate Bay etc) is encrypted and routed through the VPN server location of your choice. This in turn allows you to set the country of your choice for your VPN. For example, access BBC iPlayer on Kodi (use a UK VPN or VPN Router); want to unblock USA TV services (use a US VPN or VPN Router). If you are accessing torrents or any licensed content then a VPN is now absolutely essential to protect your privacy!
Liberty Shield offer an encrypted high speed VPN network, we log zero traffic and aim to protect your privacy at all times.
Get It Right Campaign – Scary Letter In Post
If you've been illegally streaming of downloading TV shows such as Game of Thrones, The Walking Dead, Billions, Narcos etc then you could be about to have a "Big Brother is watching me" moment. Virgin Media will be writing to you are part of the government-backed 'Get it Right' campaign acting for copyright owners!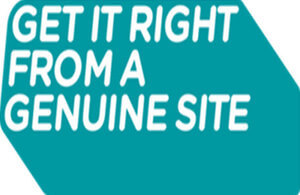 The 'Get it right from a genuine site' letters started being sent by UK ISPs including Virgin Media in 2017 and read along the lines of…
"It looks like someone has been using your broadband to share copyrighted material (that means things like music, films, sport or books). As your broadband provider, we have to let you know when this happens."
What isn't yet known is what will happens if Virgin Media customers continue to access illegal sites and content whilst repeatedly ignoring such letters.  Please click here for official information on the 'Get It Right' campaign.
Remember that by using an encrypted VPN or VPN Router from Liberty Shield none of your internet usage can be logged by Virgin Media and/or passed on to government agencies.
Unlock Virgin Media Blocked Websites
Do you ever this message when loading websites with Virgin Media? This is because as a UK ISP they are bound by various legal requirements to help prevent copyright infringement. Whilst Liberty Shield would never condone illegal piracy or accessing copyright videos, music etc; we believe it is your right to use the internet an unfiltered form and make a personal decision on what content you wish to access.  Please click here for a list of websites commonly blocked by UK ISPs, both directly and indirectly.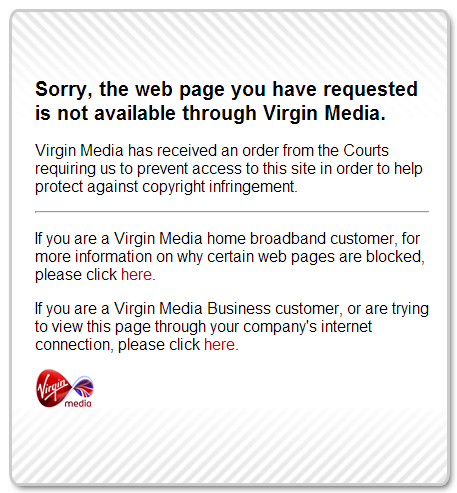 So how do I get a VPN to prevent Virgin Media logging my internet usage?
Get a VPN for the country of your choice.
If you just want to use services such as Kodi and The Pirate Bay on your PC, Mac or iPad. Then you can get a VPN from Liberty Shield from only £6.99 per month.
Prefer to use Kodi and other services on supported media streaming devices like Android, iOS, Fire TV, Roku, Chromecast, OpenELEC or Raspberry Pi? You'll need a  VPN Router setup for the country of your choice for only £12.99 with Worldwide Shipping.
Once you have a VPN or VPN Router you'll be able to access Kodi content and blocked websites from anywhere with total privacy.
Of course Virgin Media isn't the only UK ISP now obliged to log usage of services such as Kodi, P2P and The Pirate Bay. Other British ISPs including TalkTalk, Sky and BT are also sending out letters when they detect that their connection has been used to pirate TV shows through services such as Kodi and The Pirate Bay.