Channel 4 comedy is critically acclaimed across the world, and new show Derry Girls is no exception. You can watch Derry Girls from anywhere with Liberty Shield's exclusive range of products.
Derry Girls comes in a long line of innovative Channel 4 comedies. This show is not available to everyone, unless you have Liberty Shield on your side to unlock a world of content.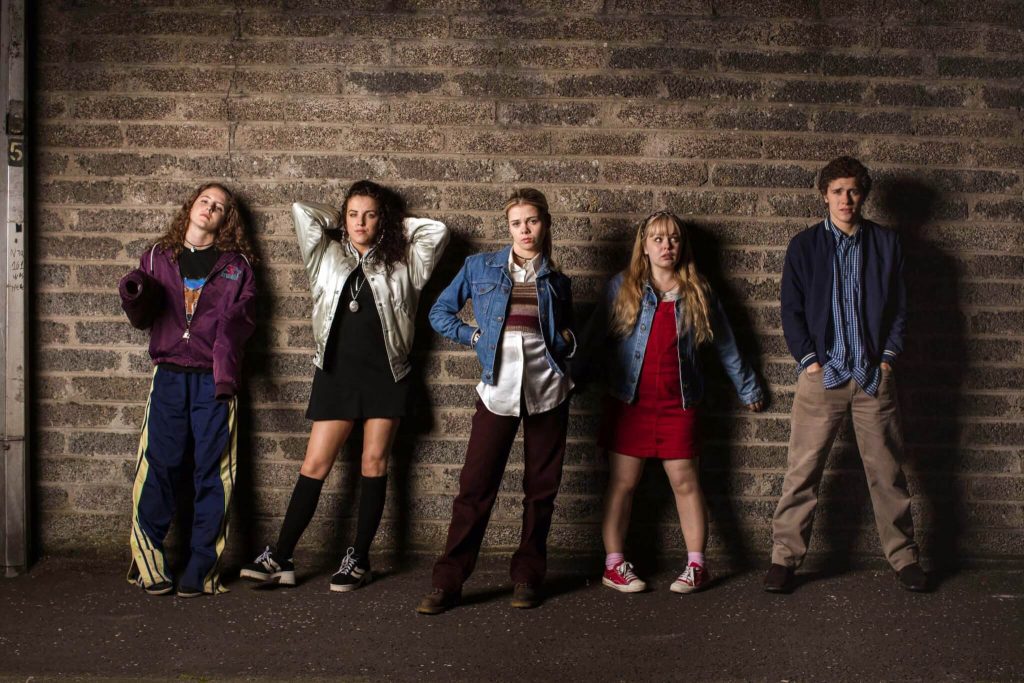 Derry Girls is a brand new comedy from acclaimed writer Lisa McGee who has mined her own experiences to create a candid, one-of-a-kind, family-centred comedy set against the spectre of The Troubles.
It's the early 90s, and Erin and her friends are used to seeing their country on the nightly news and speaking in acronyms (The IRA, The UDA, The RUC). It's a time of armed police in armoured Land Rovers and British Army check points.
But it's also the time of Murder She Wrote, The Cranberries, MJ and Lisa Marie, Doc Martens, bomber jackets, The X Files, Nirvana and Wayne's World. And while The Troubles may hang over her home town, Erin has troubles of her own.
Warm, funny and honest, Derry Girls takes a look at the everyday lives of ordinary people living in extraordinary times…
ERIN QUINN – PLAYED BY SAOIRSE JACKSON
Sixteen-year-old Erin has grand ambitions to become a famous writer and has serious ideas above her station. She considers herself to be very liberal and worldly, in reality she's quite easily shocked and has never ventured further than Buncrana (a popular holiday destination). Her family drive her mad, her friends are an embarrassment, and the boy she likes doesn't even know she exists. She's constantly trying to elevate her social status without much success.
ORLA MCCOOL – PLAYED BY LOUISA HARLAND
Erin's cousin Orla lives next door with her mother Sarah. Whimsical and unpredictable Orla dances to her own tune, and thinks nothing of reading her cousin's diary or borrowing her knickers. She has an unflinchingly positive and optimistic view of life, is very comfortable in her own skin, and confident with her (often quite insane) opinions.
CLARE DEVLIN – PLAYED BY NICOLA COUGHLAN
Clare is clever, ambitious and, when faced with an authority figure, an enthusiastic grass. Nothing is more important to her than academic achievement, and she would probably sell her granny for a better grade. Her friends are a constant source of frustration.
MICHELLE MALLON – PLAYED BY JAMIE-LEE O'DONNELL
Sweary, unashamedly offensive with a filthy sense of humour, man-hungry Michelle loves a good time. Her big mouth often lands her and the others in trouble.
JAMES MAGUIRE – PLAYED BY DYLAN LLEWELLYN
Michelle's cousin James, "The English Fella", has just moved to Derry and is the ultimate outsider. Amid concerns that his English accent may cause trouble for him at the boys' school, he is forced to attend the all-girl Our Lady Immaculate College. But he quickly discovers the boys' school would have been a much easier ride. Poor James is completely out of his depth and struggling to understand his new world.
SISTER MICHAEL – PLAYED BY SIOBHAN MCSWEENEY
The eternally unimpressed headmistress of Our Lady Immaculate College, Sister Michael is the ultimate authority figure as far as the gang are concerned. Tough, terrifying and always two steps ahead of everyone.
MA MARY (MARY QUINN) – PLAYED BY TARA LYNNE O'NEILL
Ma Mary, Erin's mother, is the uncompromising but caring matriarch of the Quinn/McCool clan. She is the hard-working heart of the family, strict – but not always fair.
DA GERRY (GERRY QUINN) – PLAYED BY TOMMY TIERNAN
Da Gerry is Erin's long-suffering father. Outnumbered and outmanoeuvred by the women in his life, Gerry often feels like he's playing catch up. Gerry longs for a quiet life and avoids confrontation. Unfortunately he happens to live with a man who seems to resent his very existence – his father-in-law Joe.
GRANDA JOE MCCOOL – PLAYED BY IAN MCELHINNEY
The Fearsome Granda Joe doesn't scare easily and is a very well respected man in his community. His love for his daughters and granddaughters is surpassed only by his contempt for his son in law.
SARAH MCCOOL – PLAYED BY KATHY KIERA CLARKE
Sarah McCool – Orla's ditzy mother – though her sister and next door neighbour, Mary, does most of the difficult parenting work. She has a laid back attitude to everything except her own appearance.
How to watch Derry Girls with the Best All 4 VPN…
When you load All 4 in the USA, Germany, Ireland, Netherlands, France, Spain, Portugal, Australia, Dubai, Canada etc. you will get an error message.
All 4 programmes are available to play in the UK only.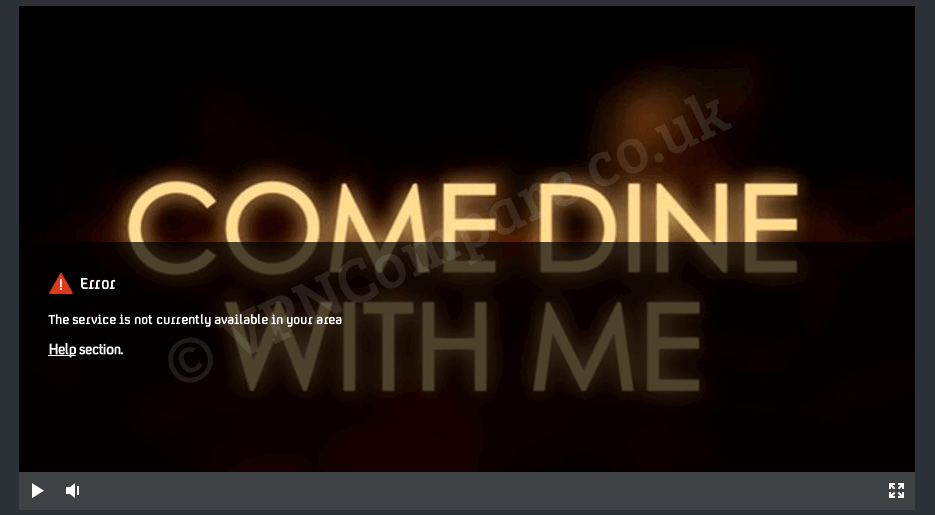 This is basically because all All 4 streaming services are geoblocked based on the IP address being used to access it. You must be a UK domestic web user to access Channel 4 live TV streaming and catchup with All 4.
Get a UK IP address.
If you just want to watch on your PC, Mac or iPad. Then you can get a UK Proxy or VPN from Liberty Shield from only £6.99 per month.
Prefer to watch on supported media streaming devices like Now TV, Smart TVs, Apple TV, Xbox, PS4, Amazon Fire TV, Roku etc? You'll need a UK configured VPN Router setup as British for only £12.99 with Worldwide Shipping.
Furthermore All 4 isn't the only geographically-censored streaming services a VPN or Proxy will allow you to access.  Other UK services like ITV Sport, BBC Sport, BBC iPlayer, ITV Hub, Demand 5, Sky Go and Now TV are available.
Plus with the option to switch to our USA service whenever you like, you can access Hulu, HBO GO, Netflix and Pandora.
Essentially you can access international content from virtually anywhere!
Derry Girls Cast:
KIERA CLARKE

IAN MCELHINNEY

TOMMY TIERNAN

LYNNE O'NEILL

SIOBHAN MCSWEENEY

DYLAN LLEWELLYN

JAMIE-LEE O'DONNELL

NICOLA COUGHLAN

LOUISA HARLAND

SAOIRSE JACKSON