Molotov TV is an extremely popular free streaming service in France, it offers over 35 French TV channels with thousands of hours of content both live and on demand. Unfortunately, this French exclusive is unavailable outside France. Read on for Liberty Shield's exclusive, and easy-to-use, guide to how to unlock Molotov TV outside France.
The popular French streaming app Molotov TV offers almost endless exclusive French language content that is unavailable outside France, that is unless you read below to find out how to unlock this and so much more exclusive French content. And, for that matter, U.S., UK, and more exclusive geo-blocked streaming content from many other popular media-producing nations. Liberty Shield unlocks Molotov TV Outside France.
https://www.youtube.com/watch?v=GvdDEWa2Y48
Downloading and registering the Molotov TV app can be done in under a minute, if you are particularly quick. Not all web users are as fast as that, but even novices can download and register this user friendly program in under a few minutes. Read below for how to watch Molotov TV outside France.

The difficulty comes, however, when you want to watch the exclusive Molotov TV content outside the geographical jurisdiction of France. Like so much global content these days Molotov TV, which is a service exclusive to France, has blocked their programming to viewers currently outside their geographical jurisdiction. Read below for Liberty Shield's solution to this increasingly vexing dilemma.
How to watch exclusive French content on Molotov TV Outside France…
When you load Molotov TV in the USA, Germany, Ireland, Netherlands, UK, Spain, Portugal, Australia, Dubai, Canada etc. you will get an error message.
Une erreur est survenue. Désolé, Molotov n'est pas autorisé.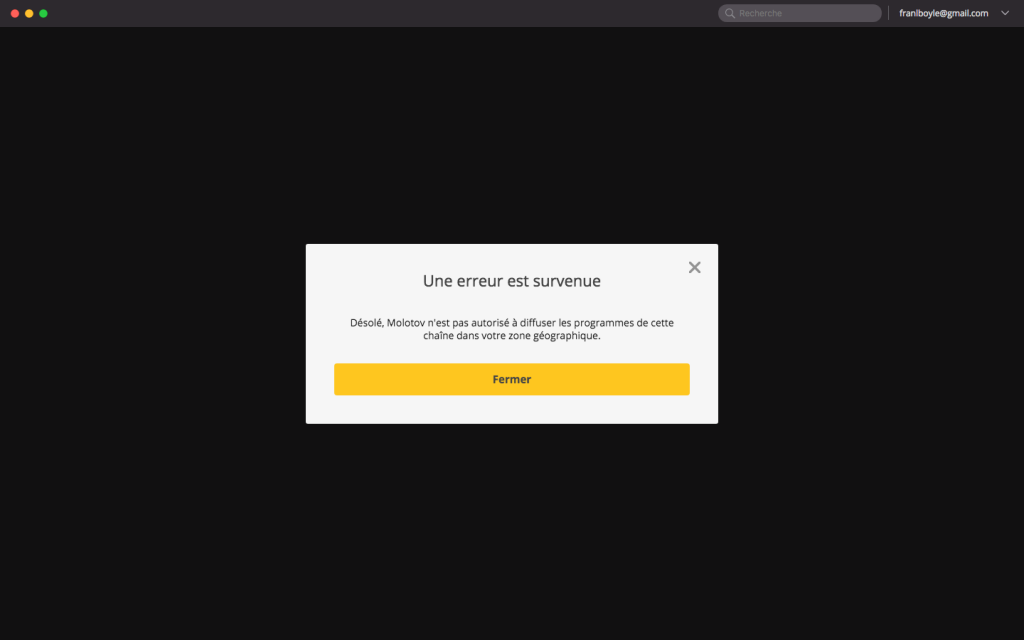 This is basically because Molotov TV streaming services are geoblocked based on the IP address being used to access it. You must be a French domestic web user to access Molotov TV live streaming, and their various TV catchup channels.
Get a French IP address.
If you just want to watch on your PC, Mac or iPad. Then you can get a French Proxy or VPN from Liberty Shield from only £6.99 per month.
Prefer to watch on supported media streaming devices like Now TV, Smart TVs, Apple TV, Xbox, PS4, Amazon Fire TV, Roku etc? You'll need a French configured VPN Router setup as French for only £12.99 with Worldwide Shipping.
Furthermore Molotov TV isn't the only geographically-censored streaming services a VPN or Proxy will allow you to access. Other UK services like ITV Sport, BBC Sport, BBC iPlayer, All 4, Demand 5, ITV Hub and Sky Go are available. As well as multiple streaming services in France, and across Europe and North America.
Plus with the option to switch to our USA service whenever you like, you can access Hulu, HBO GO, Netflix and Pandora.
Essentially you can access international content from virtually anywhere!
Liberty Shield run a tier 2 level VPN network and our range of VPN Routers will allow you to connect any device, including Sky HD and Sky Q Box, Xbox One, PlayStation Vue, Fire TV stick, Now TV Box, MAG Box, zGemma, and Android Boxes to a VPN without changing any settings on the device itself. You simply connect your device to the VPN Router WIFI or LAN (via ethernet cable) and also save CPU resources on your device.
We have sold many thousands of standalone VPN Routers in recent years and you can read hundreds of reviews on TrustPilot from genuine customers.
.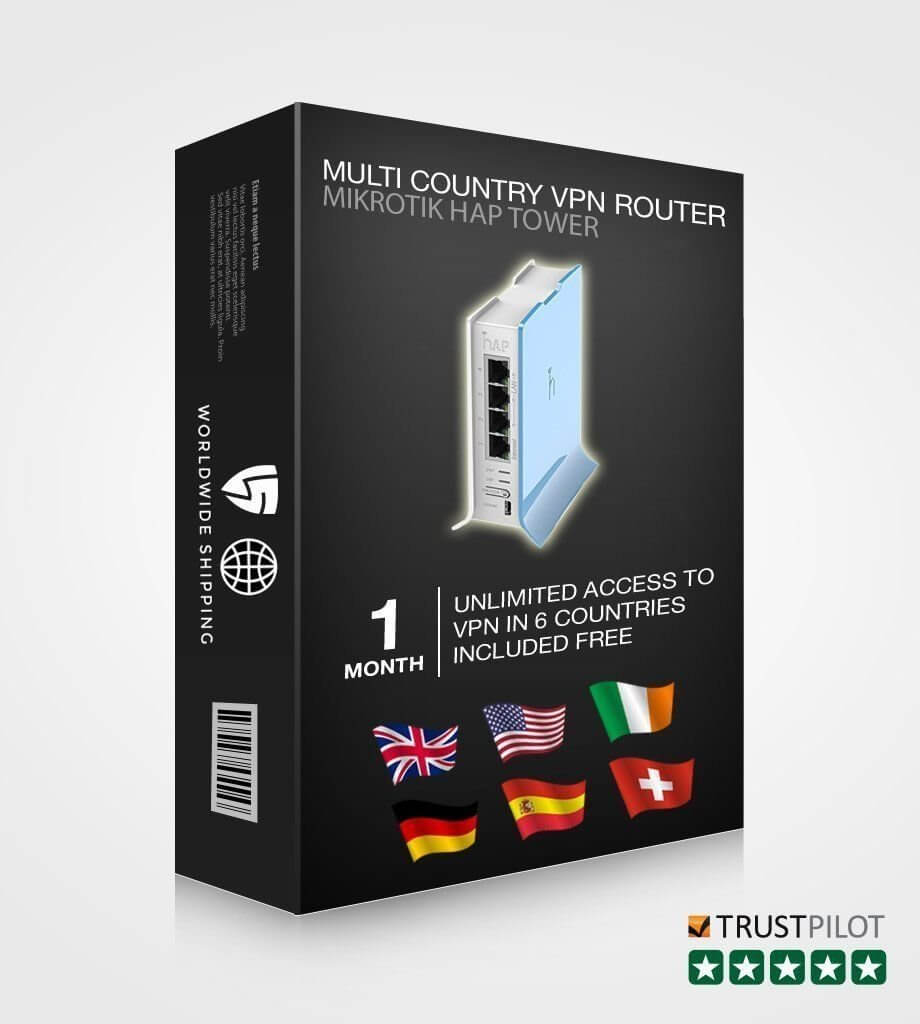 Exclusive Offer: VPN Router with 1 Month VPN Access Included
(Worldwide Shipping)
Only £12.99 
With this offer we will ship you a VPN Router (Mikrotik RouterBoard hAP Lite RB951-2n) which will be encrypted so it allows your device to connect to a French, UK, or other network. The VPN Router can also be set quickly anytime to any of the countries we offer VPN IP addresses (e.g. UK, USA, Canada Ireland, Germany, Spain, France, Switzerland etc.) to bypass geo-blocking.



After your 1 month free trial – Optional 1 Year VPN for only £49.99
You will need to add an ongoing VPN subscription from Liberty Shield, packages are available from only £6.99 per month or take advantage of this offer and get 1 year VPN access for only £49.99 (only £4.16 per month) at the end of your 1 month free trial period.
Our standalone VPN Routers are not the only service offered by Liberty Shield. We also offer the same range of software based VPN subscriptions as our competitors and also the addition of access to our Proxy Servers.
MOLOTOV TV – LIST OF FREE FRENCH STREAMING CHANNELS
TF1
ARTE
France 2
France 3
M6
D8
W9
TMC
NT1
LCP
BFM TV
D17
Gulli
HD1
D17
LCI
Fashion TV
France 24
Euro News
TV5Monde
MOLOTOV SUPPORTED STREAMING DEVICES
Windows PC
Mac OS X
iPhone
iPad
Android
Apple TV
LG Smart TV
Samsung Smart TV