One of the events of the year in the international Rugby Union calendar is about begin (Six Nations 2020). Prompting many Rugby fans not currently in the region from which they wish to view the coverage of this event, to ask: How can I watch Six Nations Rugby Live Online when the coverage is not available in the region where I'm currently residing? Liberty Shield has the solution.
When you want to watch events like the Six Nations 2020, in the coverage of the nation that you support, but you're currently outside that region, the only solution is a VPN. Liberty Shield is the premier solution when the answer to your problem is a VPN. You need a Six Nations VPN.
🏆 Guinness Six Nations 2020 Rugby
📺 Free Live Streaming on BBC & ITV + Catchup on BBC iPlayer & ITV Hub
📅 1 February – 14 March
Rugby's Greatest Championship will take place over seven weekends in the Guinness 6 Nations 2020, beginning on Saturday 1st February and finishing with a Championship 'Super Saturday' on March 14. Wales and Italy get things underway in Cardiff on Saturday 1 February, with Ireland taking on Scotland on the same day.  France take on England on Sunday 2 February. To watch from anywhere you'll need a Six Nations VPN.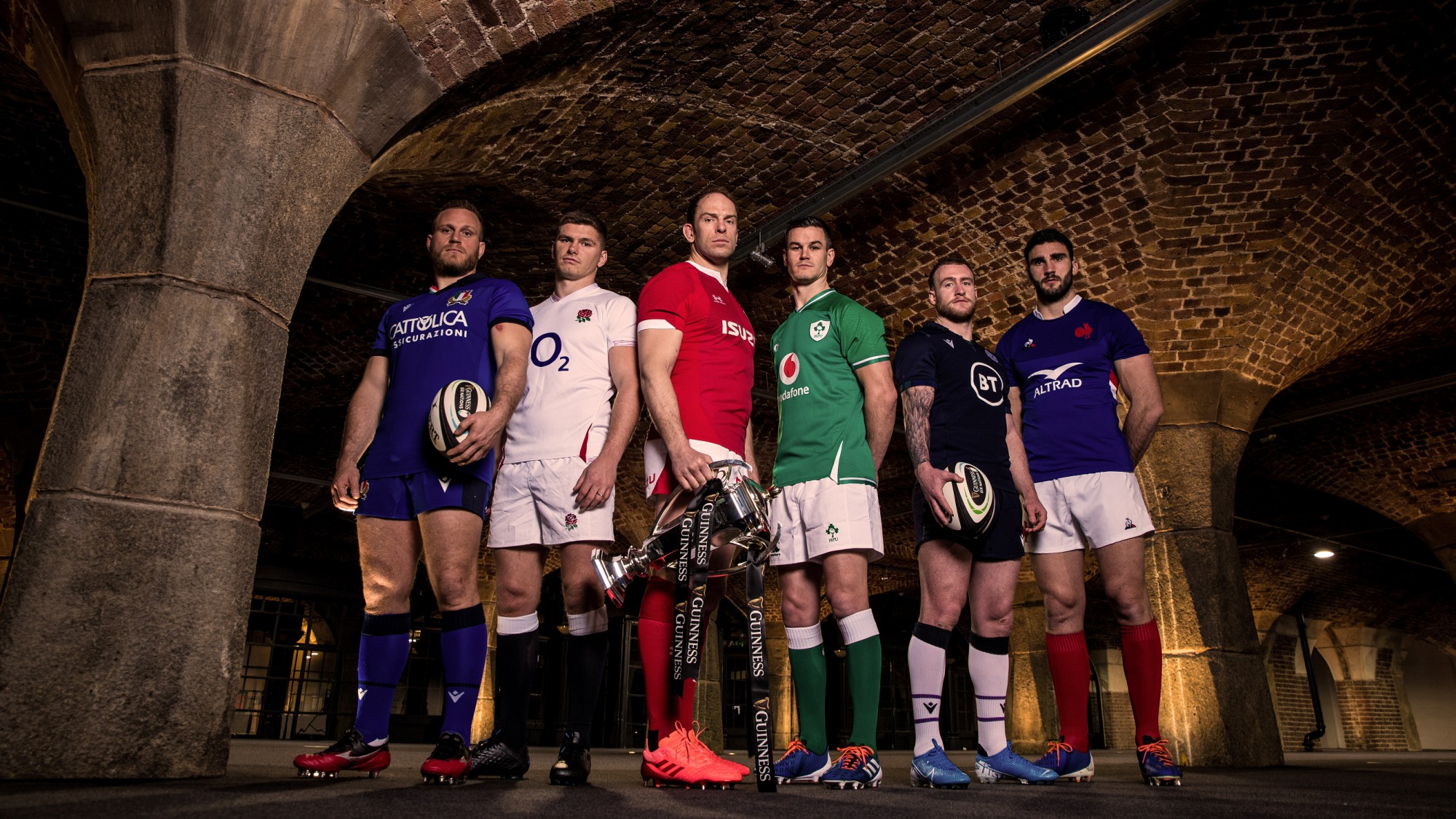 Four new head coaches, a raft of uncapped up-and-comers and a rivalry that stretches back more than 135 years. The history, drama, thrills and spills of the Six Nations return this weekend to start the latest chapter in the world's oldest international rugby tournament.
In the wake of the Rugby World Cup, there are plenty of new characters, on the pitch and on the touchlines, to spice up the storylines.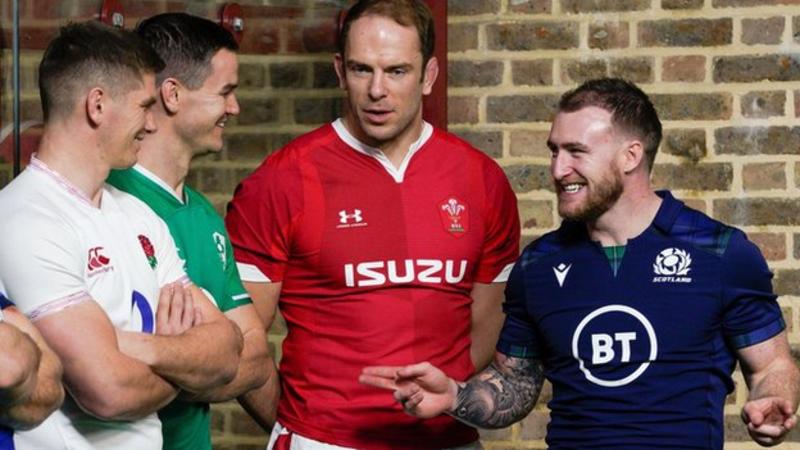 The easiest way to watch the Guinness Six Nations 2020 Rugby live from from anywhere in the world is on BBC Sport and ITV…
If you try watch BBC Sport or ITV in English-speaking countries such as Ireland, USA, Canada, Australia, Spain, France, Canary Islands, Hong Kong, India, Indonesia, Malaysia, Qatar, New Zealand,  Turkey, Saudi Arabia, or Dubai you will get a Geo block error. To bypass this and watch all content for all you need is a a Proxy, VPN or VPN Router to overcome location restrictions that would otherwise block you from watching BBC & ITV Live Streaming and all other UK TV services.
The Guinness 6 Nations Rugby Championship will be streamed live on the BBC Sport website as well as ITV and the various BBC iPlayer and BBC / ITV Sports apps on iPhone, iPad, Android, Smart TV, Now TV, FireTV etc.
How to watch the Guinness Six Nations 2020 Rugby live streaming from anywhere…
When you load BBC iPlayer in the USA, Germany, Ireland, Netherlands, France, Spain, Portugal, Australia, Dubai, Canada etc. you will get an error message.
BBC iPlayer TV programmes are available to play in the UK only.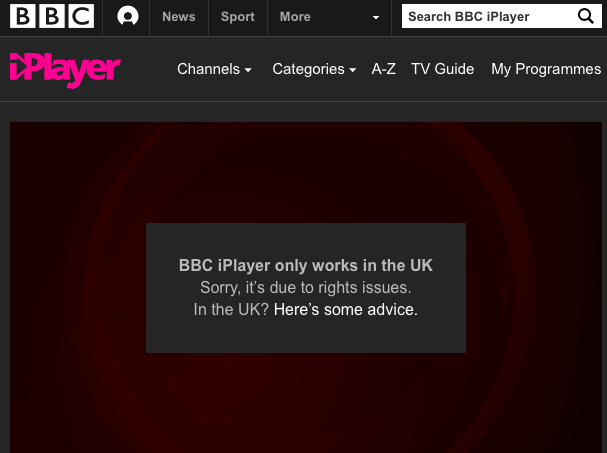 This is basically because their streaming services are geoblocked based on the IP address being used to access it. You must be a UK domestic web user to access BBC and ITV live tv streaming and catchup with BBC iPlayer.
Get a UK IP address.
If you just want to watch on your PC, Mac or iPad. Then you can get a UK Proxy or VPN from Liberty Shield, FREE for 48 hours and then from only £8.99 per month..
Prefer to watch on supported media streaming devices like Now TV, Smart TVs, Apple TV, Xbox, PS4, Amazon Fire TV, Roku etc? You'll need a UK configured VPN Router setup as British, available from only £12.99 with Worldwide Shipping available.
Furthermore BBC Sport and ITV live TV aren't the only geographically-censored streaming services a VPN or Proxy will allow you to access.  Other UK services like BBC iPlayer, ITV Hub, All 4, Sky Go and Now TV are available.
Plus with the option to switch to our USA service whenever you like, you can access Hulu, HBO GO, Netflix and Pandora.
Essentially you can access international content from virtually anywhere!.

Guinness Six Nations 2020 Fixtures Schedule
(All Times UK GMT)
ROUND ONE
Wales v Italy…. Principality Stadium (Cardiff)…. Saturday, February 1…. 2.15pm GMT…. BBC and S4C
Ireland v Scotland… Aviva Stadium (Dublin)…. Saturday, February 1…. 4.45pm GMT…. ITV
France v England…. Stade de France (Paris)…. Sunday, February 2…. 3pm GMT…. BBC
ROUND TWO
Ireland v Wales…. Aviva Stadium (Dublin)…. Saturday, February 8…. 2.15pm GMT…. ITV and S4C
Scotland v England…. BT Murrayfield (Edinburgh)…. Saturday, February 8…. 4.45pm GMT…. BBC
France v Italy…. Stade de France (Paris)…. Sunday, February 9…. 3pm GMT…. BBC
ROUND THREE
Italy v Scotland…. Stadio Olimpico (Rome)…. Saturday, February 22…. 2.15pm GMT…. ITV
Wales v France…. Principality Stadium (Cardiff)…. Saturday, February 22…. 4.45pm GMT…. BBC and S4C
England v Ireland…. Twickenham (London)…. Sunday, February 23…. 3pm GMT…. ITV
ROUND FOUR
Ireland v Italy…. Aviva Stadium (Dublin)…. Saturday, March 7…. 2.15pm GMT…. ITV
England v Wales…. Twickenham (London)…. Saturday, March 7…. 4.45pm GMT…. ITV and S4C
Scotland v France…. BT Murrayfield (Edinburgh)…. Sunday, March 8…. 3pm GMT…. BBC
ROUND FIVE
Wales v Scotland…. Principality Stadium (Cardiff)…. Saturday, March 14…. 2.15pm GMT…. BBC and S4C
Italy v England…. Stadio Olimpico (Rome)…. Saturday, March 14…. 4.45pm GMT…. ITV
France v Ireland…. Stade de France (Paris)…. Saturday, March 14…. 8pm GMT…. BBC