NFL GAMEPASS | 2022 CONFERENCE CHAMPIONSHIP
And then there were four! Only Four teams remain alive in the race for SuperBowl glory as the 2021/22 NFL season heads towards it's climax. The SuperBowl will take place on February 13th at the incredible SoFi Stadium in Los Angeles and this weekend we will find out which two teams will take part. It's Conference Championship Sunday, with two games that promise to be packed full of action, watch it all on NFL Gamepass.
First up, Arrowhead Stadium in Kansas City will be the venue as the Chiefs take on the Cincinnati Bengals. The Chiefs are taking part in their fourth straight AFC Championship game, aiming to make their third straight SuperBowl. Since Patrick Mahomes took over from Alex Smith at QB the Chiefs have stepped up from also rans to perennial contenders, with Mahomes establishing himself as perhaps the finest player in the game.
Our NFL articles are brought to you in partnership with EPL Index, and Dave Hendrick – host of the Two Footed Podcast, offering FREE podcasts to football fans. You can watch every NFL match with NFL Gamepass from anywhere.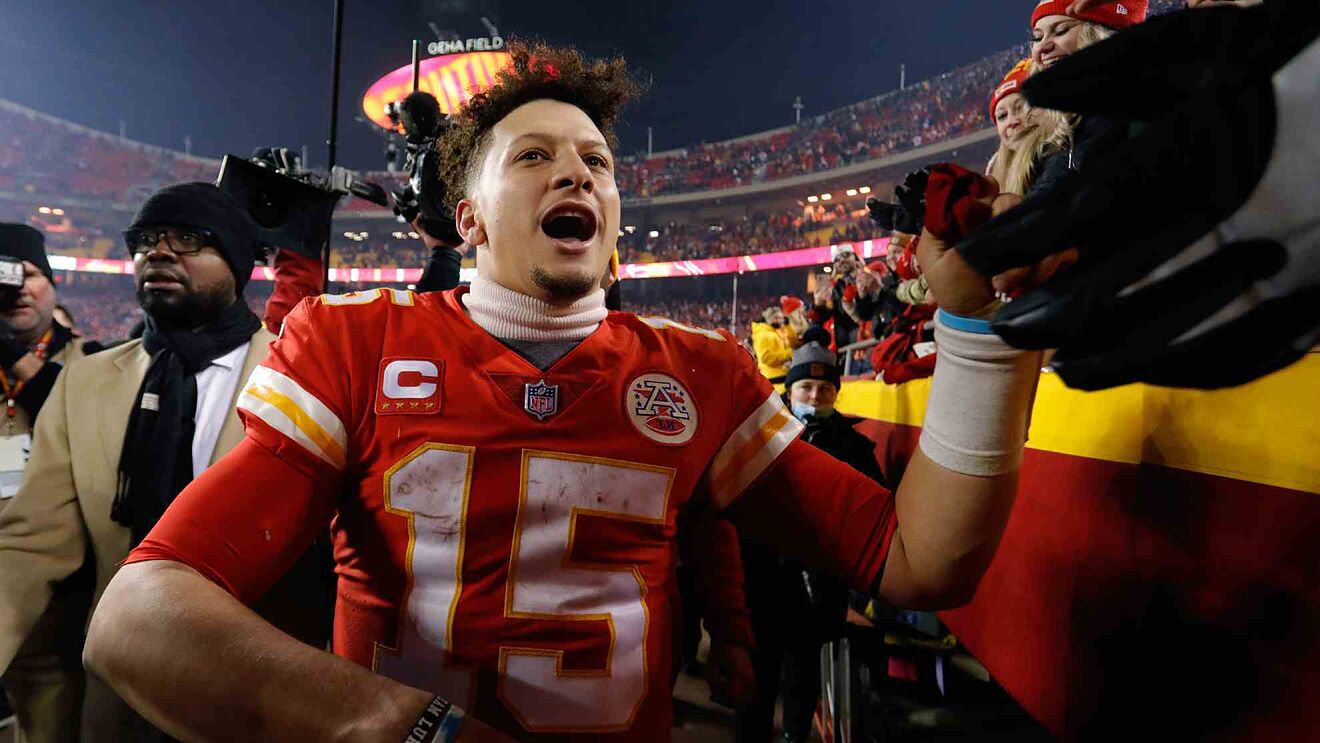 It took every bit of brilliance Mahomes could muster to drag the Chiefs past the Buffalo Bills last time out, with Josh Allen putting in one of the all-time great performances for the Bills and Mahomes matching him every step of the way before eventually pulling out the W. That game capped off an incredible weekend of NFL action that say both number one seeds eliminated and all four games go right down to the wire.
Shining Light
The Bengals were one of the teams who eliminated a number one seed, as they saw off the Tennessee Titans in a low scoring affair in Nashville that spoke volumes of the new found toughness of this Bengals team, and in particular their QB Joe Burrow. There really is no nice way to say this, the Titans kicked the crap out of Burrow. They sacked him nine times, hit him a bunch of other times and yet the young star kept getting up and kept trying to find ways to win the game.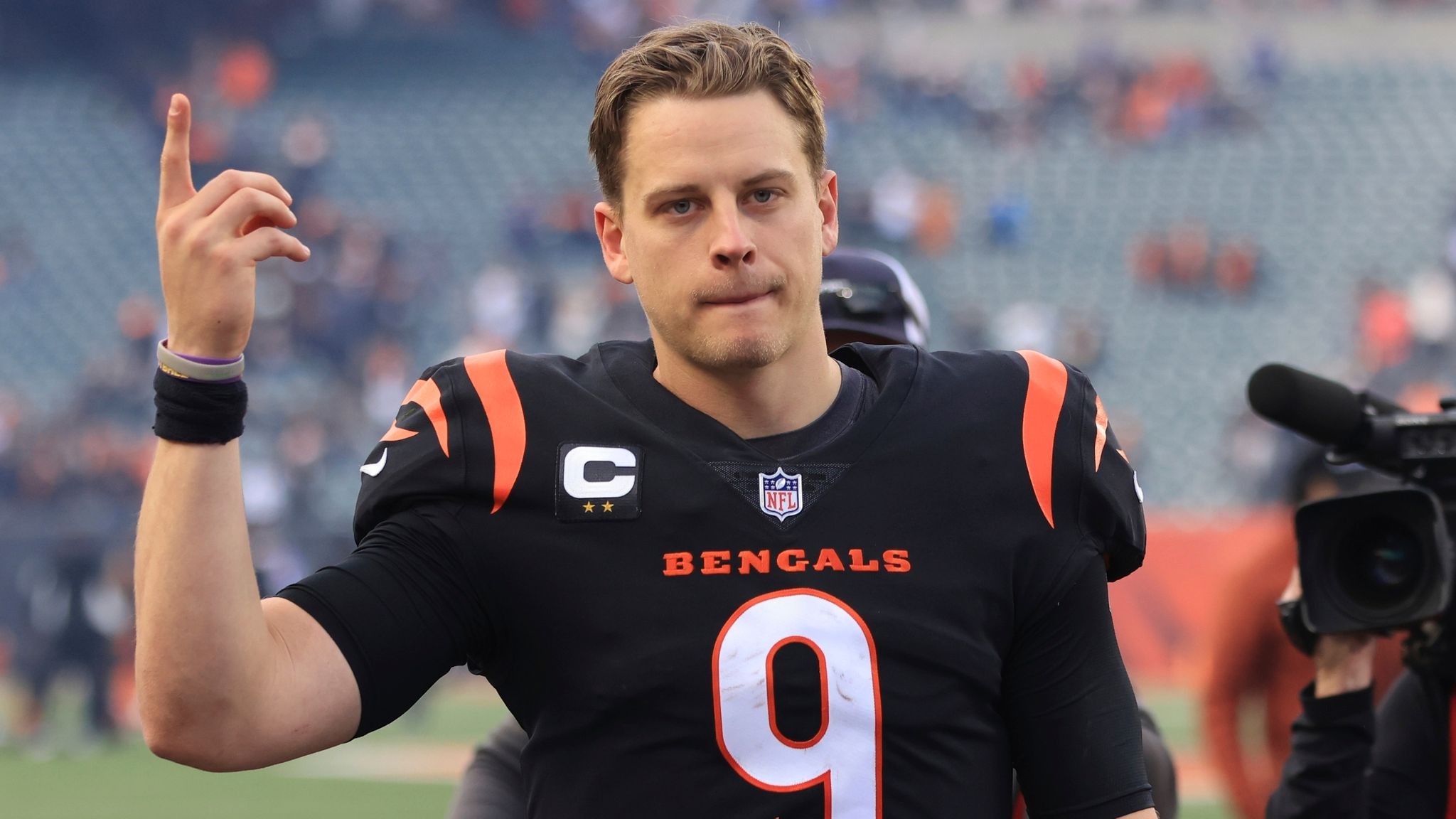 Burrow is the shining light that the Bengals and their fans have been desperate for. Traditionally one of the more depressing NFL franchises, a team who rarely get anything right, the Bengals have been in desperate need of an elite QB since they drove Carson Palmer from town with their ineptitude back in 2010. It took them a decade to luck their way into Burrow, but he's here now and he represents great hope for the Bengals. An AFC North title for the first time in five years, a playoff win for the first time since 1990, and for the first time since their 1988 trip to the SuperBowl, two playoff wins in a season.
This will be a huge test for the Bengals. It's one thing to beat the Raiders and Derek Carr, or the Titans and Ryan Tannehill, but the Chiefs and Patrick Mahomes reside on a completely different level and will be seen as heavy favourites for this one. If Burrow can pull off the upset, then it might be time to build a statue outside Paul Brown Stadium! Nobody expected the Bengals to make the playoffs this season, they're still early in a rebuild, but here they are within touching distance of a SuperBowl.
West Showdown
Once that game is over, it will be time to head to SoFi. This years SuperBowl site is also the home of the LA Rams who will play host to the San Francisco 49ers in the NFC Championship Game. This all NFC West showdown will be the third meeting of the teams this season, with the Niners having won the previous two.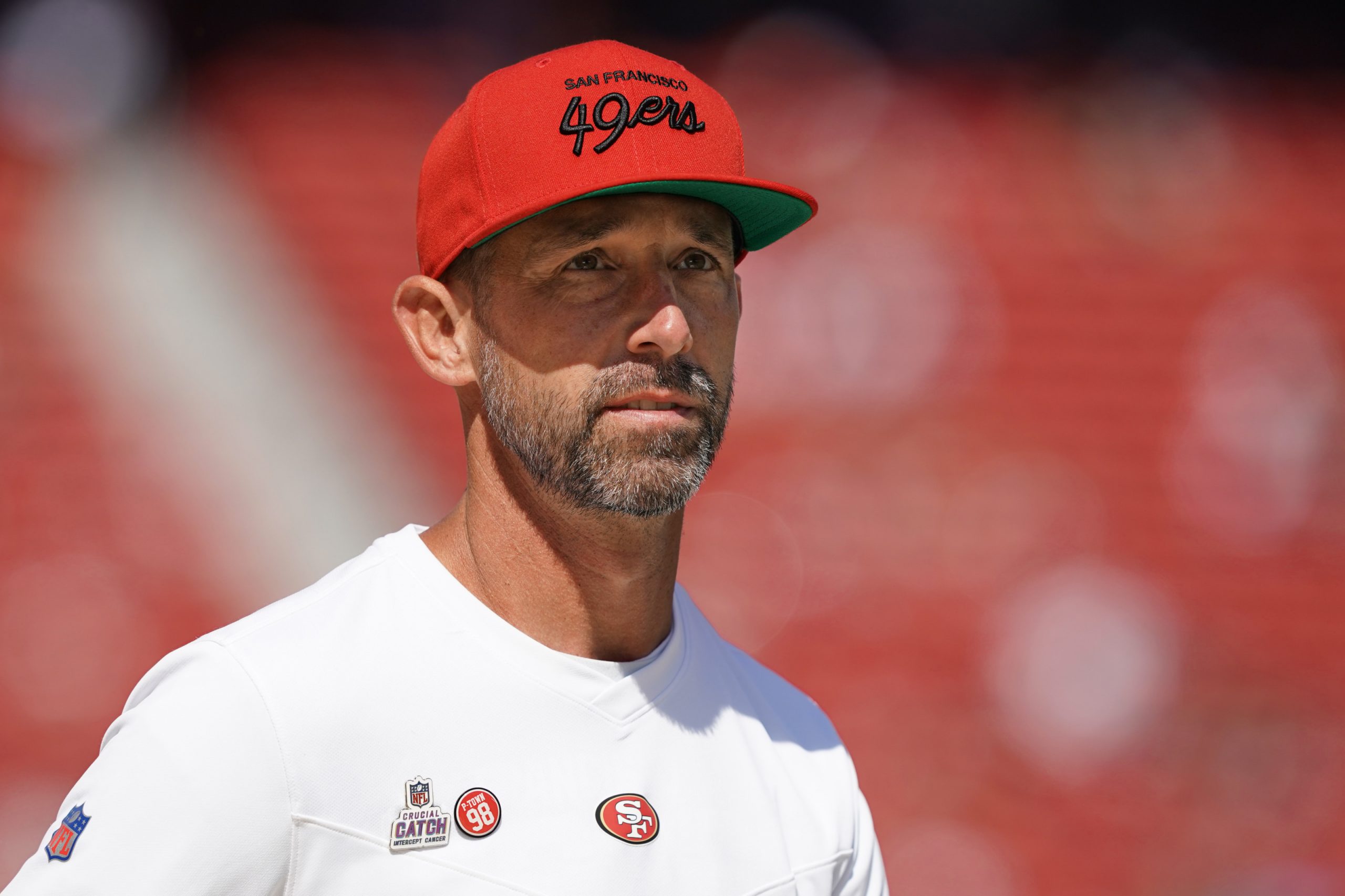 The Rams have won only three of their last 10 meetings with San Francisco, and none of their last six. It's fair to say that Kyle Shanahan, Head Coach of the Niners, has the number of his former staffer Sean McVay. McVay worked under Shanahan for three years in Washington, before replacing him as the Offensive Coordinator when Shanahan was fired along with his father who had been Head Coach.
The pair took their current jobs at the same time, in the summer of 2017, and initially it was McVay who got the better for their match-ups winning three of four while reaching a SuperBowl, but there's no doubting Shanahan's superiority in these games since. Even last season when the Niners went 6-10, two of those wins came against the Rams. Shanahan will no doubt put those first four games down to the fact that McVay inherited a far stronger team than him and that he was rebuilding while McVay was working with a SuperBowl calibre roster. It's a fair point.
McVay will know that he's going to have to make some changes to his approach this weekend if he wants his team to progress and reach their second SuperBowl of his tenure. There is little doubt that he has the talent advantage on his side. The Rams roster is packed full of stars and very much in win-now mode, whereas the Niners would appear more likely to compete with their current group for the longer term. Questions remain over the wisdom of San Francisco trading a number of picks to move up in this past years draft to take Trey Lance with the number three pick, but outside of that they have routinely made clever roster moves to make themselves more competitive.
The health of QB Jimmy Garoppolo has been key for Shanahan. With Jimmy G fit and healthy in 2019, Shanahan lead the Niners to the SuperBowl and is on the brink of doing it again this season, when Garoppolo has had injuries such as in 2018 and 2020, the Niners collapse and have losing records. It's not that Garoppolo is an elite QB, he's not Mahomes or Allen or anybody like that, but he's a good game manager who can run Shanahan's offense just the way it's designed and while he alone won't win you many football games, he won't lose you any.
Big Trade
Compare and contrast that with Matthew Stafford, who the Rams made a big trade for before this season. Stafford is a much more talented QB than Garoppolo and has a much bigger arm. He is capable of winning you a lot of games, but he's also likely to lose you a few. McVay can't afford a Stafford off-day, he needs his QB to be locked in and on form. Shanahan just needs his to execute the plays and make some throws when required.
The Niners started the season poorly before recovering and beginning their charge towards the SuperBowl, if we pick this game based on form then they would have to be seen as the favourites. They'll have huge travelling and transplant support at SoFi on Sunday which should negate the Rams home-field advantage.
No matter where you are, you can use your Liberty Shield VPN to find a way to watch NFL Gamepass. Don't have a Liberty Shield VPN? You're missing out! Click right here to check out what we can offer you, and use the code EPL599 to get a £5.99 OFF a monthly subscription (making the cost only £1 for a month) at check-out.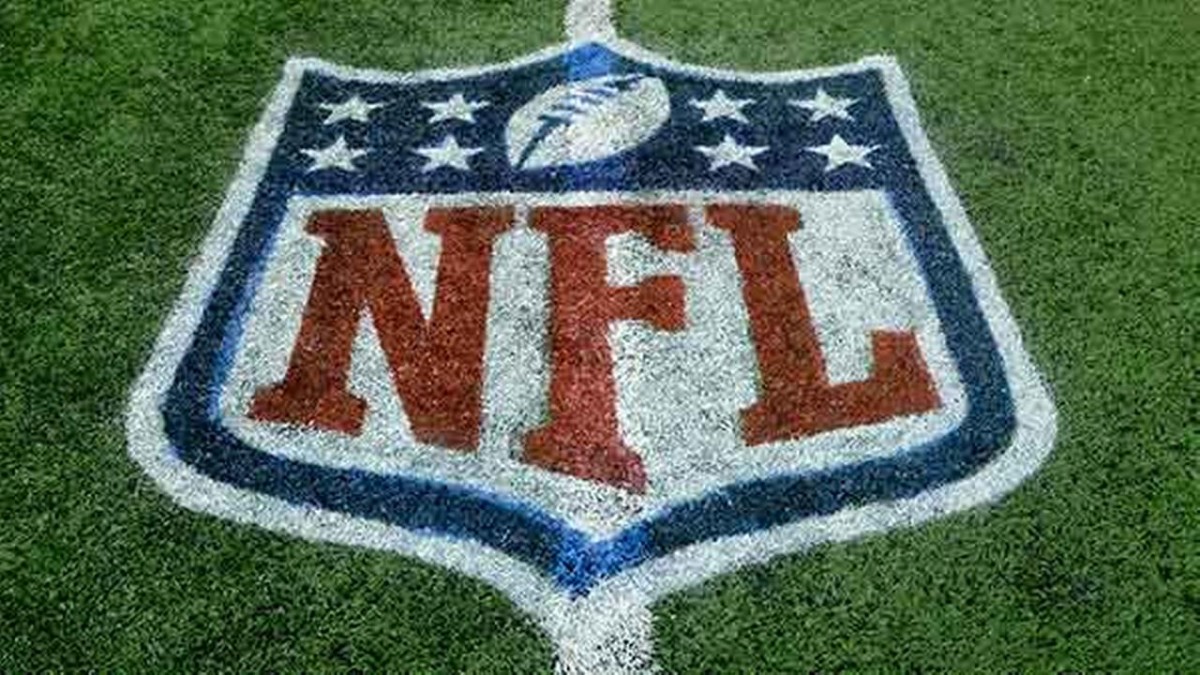 How to use an NFL Gamepass VPN to watch live streaming of every NFL live from anywhere…
The American domestic version of NFL Gamepass is only available to users located within the United States, Bermuda, Antigua, the Bahamas, and any U.S. territories. However this version doesn't show any live matches.
The International version of NFL Gamepass, which offers a 7 Day Free Trial; is an all together different proposition. Offering live streaming of every NFL match.
There are different pricing options based on your location. You can save money by using your VPN or Proxy to connect to a location outside the USA and signing up for a European or International NFL Gamepass subscription. That way you can skirt around those pesky blackouts and watch every NFL game whenever you want!
Your guide to using NFL Gamepass VPN…
🇪🇺 Use any of our European VPN or Proxy locations so you can order an International version of NFL Gamepass:
Get Liberty Shield
Connect to our VPN or Proxy with UK, Ireland, Germany, Spain, Switzerland or France
Go to https://www.nflgamepass.com/en (the European non-USA version will load)
Purchase your NFL Gamepass (prices below) with live streaming of every match included.
Get NFL 7 Day Free Trial and Start watching!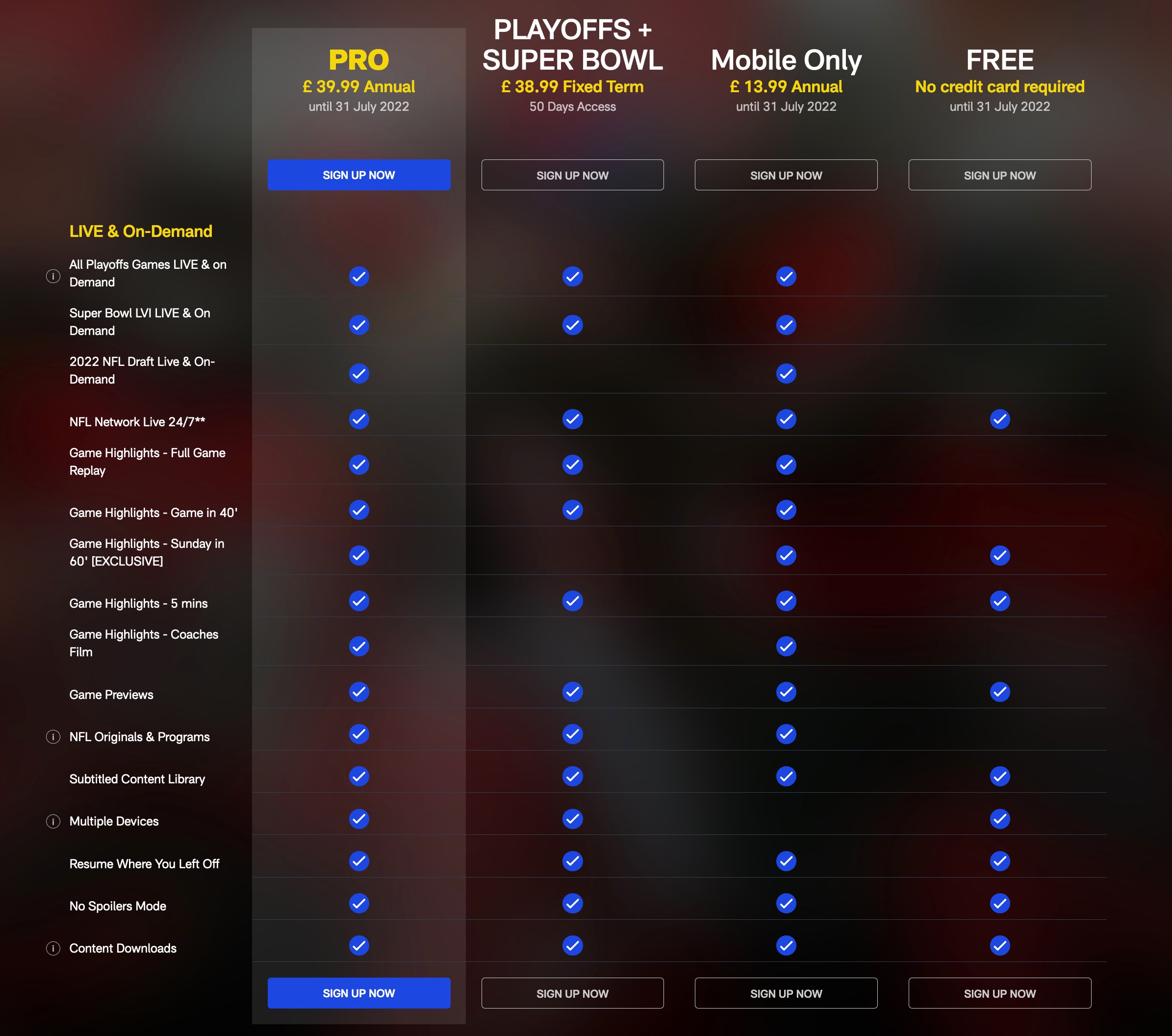 🇬🇧 What about UK NFL Blackouts?
NFL matches shown live in the UK (and Ireland) by Sky Sports will be blacked out, even with the European version of NFL Gamepass. However, if you connect to our VPN using Germany, Spain, Switzerland or France the live match will be shown..
How do I order an NFL VPN?
If you just want to watch on your PC, Mac or iPad. Then you can get a European Proxy or VPN from Liberty Shield, FREE for 48 hours and then from only £8.99 per month..
Prefer to watch on supported media streaming devices like Apple TV or Xbox? You'll need a European configured VPN Router, available from only £9.99 with Worldwide Shipping available.
Of course NFL Gamepass isn't the only geographically-censored streaming service a VPN or Proxy will allow you to access.  Other USA services like Hulu, HBO, Netflix and Pandora are available. Plus with the option to switch to our UK service whenever you like. You can also access BBC iPlayer, BBC Sport, ITV Hub, 4OD, Sky Go and Now TV. Essentially you can access international content from virtually anywhere!