Australian Open Tennis is once again ushering in a new year of tennis. The traditional season curtain raiser begins on January 15. Unfortunately Australian Open Tennis is not necessarily available where you are. You may be outside your country of origin, and seeking familiar coverage of this massive global event. Watch the coverage of the sport you want, where you are, with Liberty Shield. Watch Australian Open Tennis Anywhere with Liberty Shield.
Liberty Shield unlocks all geo-restrictions on Australian Open tennis where you are. Read below for our simple solution to watching the sport you want when, and where, you want, opening up your freedom to manoeuvre around increasingly common geo-restrictions. Watch Australian Open Tennis Anywhere with Liberty Shield.
https://www.youtube.com/watch?v=Pv3ovCVtcjY
A bite-sized preview to get you ready for Australian Open 2018, for those who need to know, and fast! Watch Australian Open Tennis Anywhere with Liberty Shield.
1.  Rafael Nadal
Rafa's face after he lost to Roger in the final said it all. Sore knee or not, the world No.1 will be out for revenge.
2. Roger Federer
Roger's the GOAT. We know that. But by how much is he better than Nadal and Nole? A 20th major would make the gap insurmountable.
3. Grigor Dimitrov
A maiden Masters trophy and ATP finals crown in 2017 would suggest Dimitrov is on the precipice of a Grand Slam. Will he take the final step?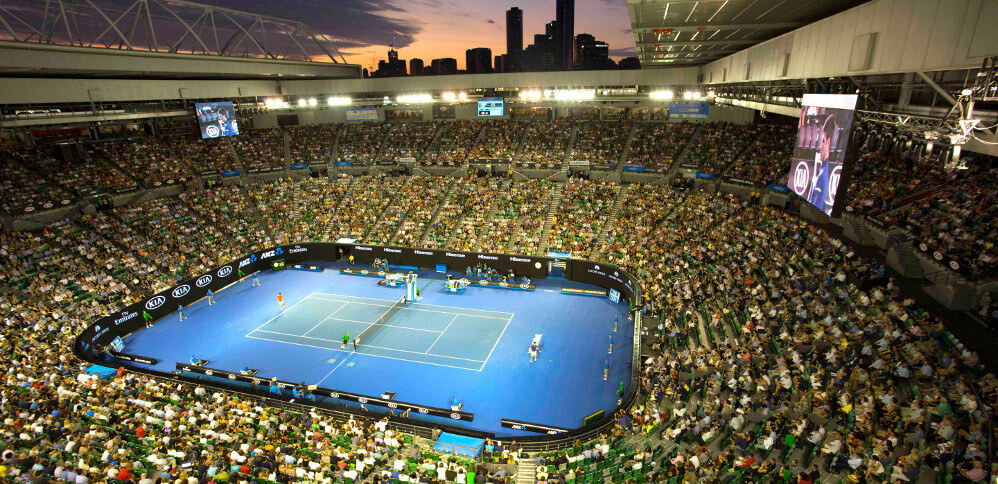 4. Alexander Zverev
It's not a question of 'if' Sascha wins a Grand Slam, it's 'when'. Needs to improve stamina and maturity for two weeks of best-of-fives.
5. Dominic Thiem
Thiem's win percentage on clay: 83%. And on hard: 52%. He'll need to adapt to quicker surfaces if he wants to go deeper in Melbourne.
6. Marin Cilic
Since 2011, Cilic has failed to make it past the 4th round of the AO. With Bjorkman out, perhaps a new coach will do the trick?
7. David Goffin
1st round in 2013. 2nd round in 2014. 4th round in 2016. Quarterfinals in 2017. Semis in 2018?
8. Jack Sock
After struggling at all four majors, Sock caught fire at the end of the year. Will the flame continue to burn in Melbourne?
9. Stan Wawrinka
Stan almost called it quits after hurting his knee this year. He's now back to full health but match fitness may be a worry.
10. Pablo Carreno Busta
Quarters in France and semis in New York, Pablo enjoyed Slam success in 2017 – but will that continue with increased competition?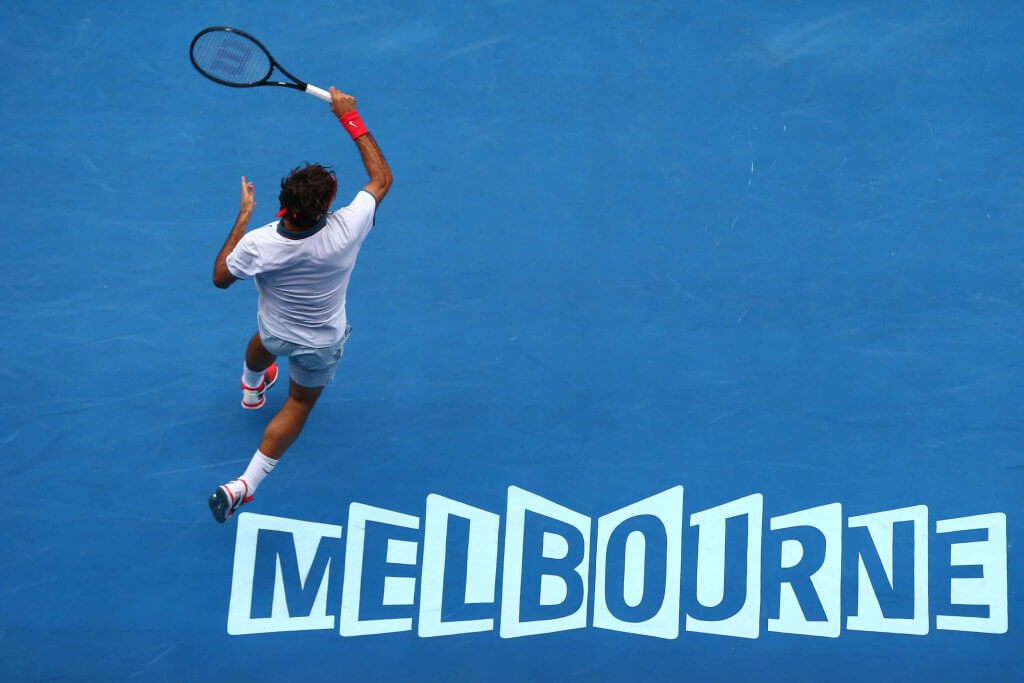 11. Juan Martin del Potro
Ended 2017 in scary-good form and he's capable of beating anyone on his day. Despite no real success in Melbourne, he's definitely a smokey.
12. Novak Djokovic
Milos Raonic said Roger proved a lot of people wrong when he took a chunk of 2016 off to get ripe for the AO – can Novak do the same?
13. Sam Querrey
Maybe it's just not Sam's Slam? Since 2007, Querrey has failed to make it past the third round of the Australian Open – will 2018 be any different? Here's hoping.
14. Kevin Anderson 
After three straight 4th rounds from '13-'15, KA has fallen off an Australian Open cliff. Will the recent US Open final get him back on track?
15. Jo-Wilfred Tsonga
After a down year, can Tsonga use the Australian Open to bounce back? Always good for the 2nd week in Melbourne. You can watch Australian Open Tennis Anywhere with Liberty Shield.
Australian Open 2018 TV Channels Broadcasting Worldwide – Watch Australian Open Tennis Anywhere
United Kingdom – British EuroSport (extensive live coverage) BBC (Only highlights)
USA – ESPN & ESPN2 (selected matches throughout the day), TennisChannel (dedicated tennis channel)
Germany – ARD, ZDF (free to air channels), Sky (subscription based), EuroSport
Holland – EuroSport & NOS
Spain – EuroSport 1 & 2 (in spanish commentary)
France – EuroSport 1 & 2 (French coverage)
Canada – TSN (English), RDS (French)
How to watch Australian Open Tennis Anywhere on BBC iPlayer…
When you load BBC iPlayer in the USA, Germany, Ireland, Netherlands, France, Spain, Portugal, Australia, Dubai, Canada etc. you will get an error message.
BBC iPlayer TV programmes are available to play in the UK only.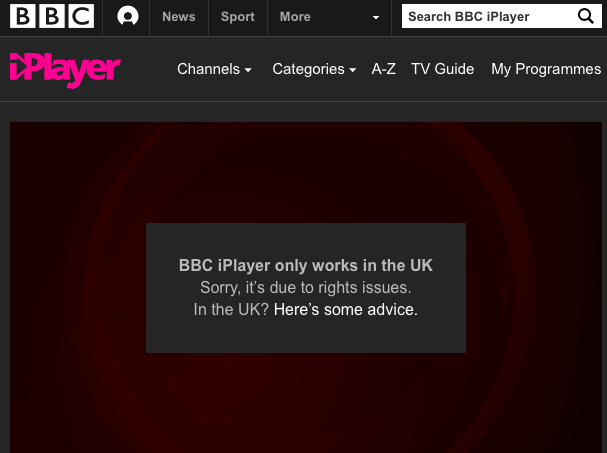 This is basically because their streaming services are geoblocked based on the IP address being used to access it. You must be a UK domestic web user to access BBC live tv streaming and catchup with BBC iPlayer.
Get a UK IP address.
If you just want to watch on your PC, Mac or iPad. Then you can get a UK Proxy or VPN from Liberty Shield from only £6.99 per month.
Prefer to watch on supported media streaming devices like Now TV, Smart TVs, Apple TV, Xbox, PS4, Amazon Fire TV, Roku etc? You'll need a UK configured VPN Router setup as British for only £12.99 with Worldwide Shipping.
Furthermore BBC iPlayer isn't the only geographically-censored streaming services a VPN or Proxy will allow you to access.  Other UK services like BBC Sport, ITV Hub, All 4, Sky Go and Now TV are available.
Plus with the option to switch to our USA service whenever you like, you can access Hulu, HBO GO, Netflix and Pandora. Essentially you can access international content from virtually anywhere!
How to watch Australian Open Tennis Anywhere with our world-beating VPN router…
When you connect to ISP Routers in the UK, USA, Germany, Ireland, Netherlands, France, Spain, Portugal, Australia, Dubai, Canada etc. you may get an error message when content is not available in your region:
This is basically because their streaming services are geoblocked based on the IP address being used to access it. You must have a region specific IP address to access certain content. This applies to UK streaming and catchup services such as BBC iPlayer, All 4, ITV Hub, Demand 5, Netflix etc; depending where you are located.
Liberty Shield run a tier 2 level VPN network and our range of VPN Routers will allow you to connect any device, including the Fire TV stick, Now TV Box, MAG Box, zGemma, and Android Boxes to a VPN without changing any settings on the device itself. You simply connect your device to the VPN Router WIFI or LAN (via ethernet cable) and also save CPU resources on your device.
We have sold many thousands of standalone VPN Routers in recent years and you can read hundreds of reviews on TrustPilot from genuine customers.
.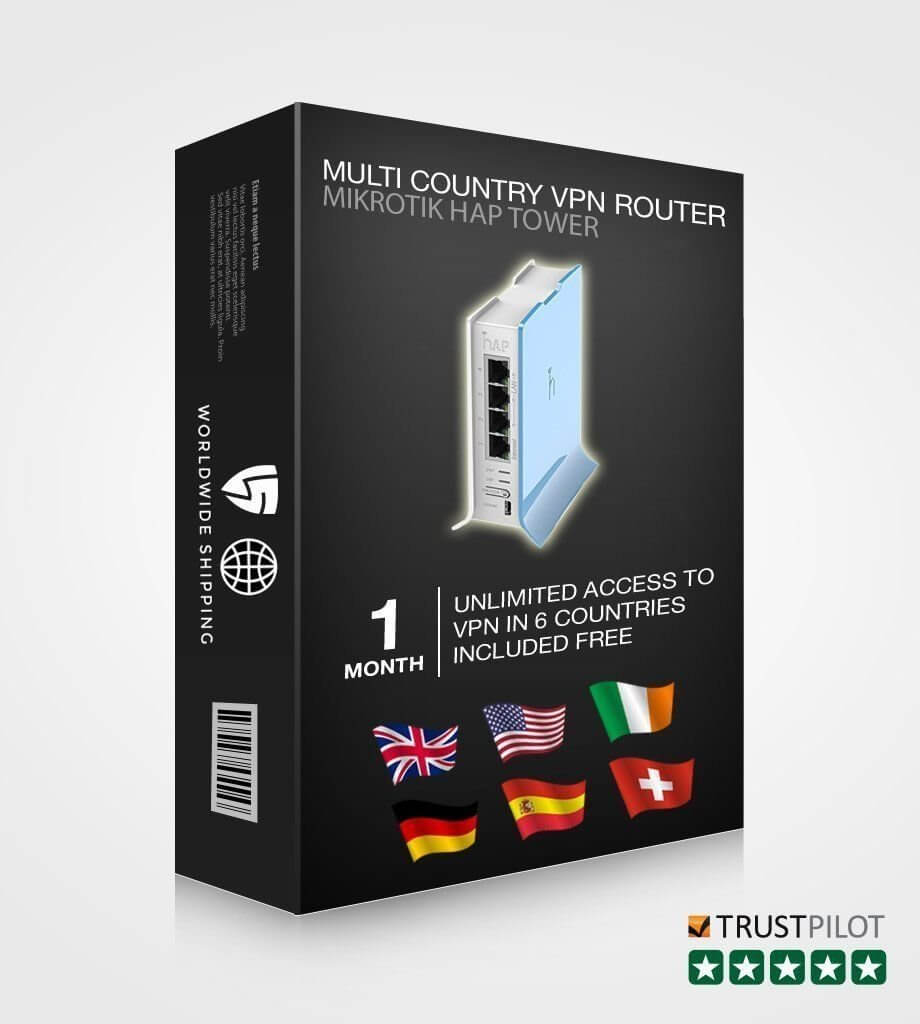 Exclusive Offer: VPN Router with 1 Month VPN Access Included
(Worldwide Shipping)
Only £12.99 
With this offer we will ship you a VPN Router (Mikrotik RouterBoard hAP Lite RB951-2n) which will be encrypted so it allows your Fire TV stick to connect to a UK network. The VPN Router can also be set quickly anytime to any of the countries we offer VPN IP addresses (e.g. UK, USA, Canada Ireland, Germany, Spain, France, Switzerland etc.) to bypass geo-blocking.



After your 1 month free trial – Optional 1 Year VPN for only £49.99
You will need to add an ongoing VPN subscription from Liberty Shield, packages are available from only £6.99 per month or take advantage of this offer and get 1 year VPN access for only £49.99 (only £4.16 per month) at the end of your 1 month free trial period.
Our standalone VPN Routers for Fire TV are not the only service offered by Liberty Shield. We also offer the same range of software based VPN subscriptions as our competitors and also the addition of access to our Proxy Servers.
Your Schedule to watch Australian Open Tennis Anywhere
Mon 15
Day
10.00am
11.00am
11:00am
11.00am
11.00am
First Round
Night
5.00pm
7.00pm
7:00pm
First Round
Tue 16
Day
10.00am
11.00am
11:00am
11.00am
11.00am
First Round
Night
5.00pm
7.00pm
7:00pm
First Round
Wed 17
Day
10.00am
11.00am
11:00am
11.00am
11.00am
Second Round
Night
5.00pm
7.00pm
7:00pm
Second Round
Thu 18
Day
10.00am
11.00am
11:00am
11.00am
11.00am
Second Round
Night
5.00pm
7.00pm
7:00pm
Second Round
Fri 19
Day
10.00am
11.00am
11:00am
11.00am
11.00am
Third Round
Night
5.00pm
7.00pm
7:00pm
Third Round
Sat 20
Day
10.00am
11.00am
11:00am
11.00am
11.00am
Third Round
Night
5.00pm
7.00pm
7:00pm
Third Round
Sun 21
Day
10.00am
11.00am
11:00am
11.00am
11.00am
Fourth Round
Night
5.00pm
7.00pm
Fourth Round
Mon 22
Day
10.00am
11.00am
11:00am
11.00am
11.00am
Fourth Round
Night
5.00pm
7.00pm
Fourth Round
Tue 23
Day
10.00am
11.00am
11:00am
no play
11.00am
Quarterfinals
Night
5.00pm
7.00pm
Quarterfinals
Wed 24
Day
10.00am
11.00am
11:00am
no play
11.00am
Quarterfinals
Night
5.00pm
7.30pm
Quarterfinals
Thu 25
Day
10.00am
11.00am
 11.00am
no play
11.00am
(Match – TBA)
Not before 1.30pm
Quad Doubles Final
Women's Singles Semifinal
Followed by
Women's Singles Semifinal
Night
5.00pm
7.30pm
Men's Singles Semifinal
Followed by
*"Magic Moments" Exhibition Match
Fri 26
Twilight
2.00pm
3.00pm
 3.00pm
 no play
 3.00pm
Women's Wheelchair Doubles Final
Men's Wheelchair Doubles Final
Mixed Doubles Semifinal
not before4.00pm
Women's Doubles Final
not before7.30pm
Men's Singles Semifinal
Sat 27
Twilight
12.00pm
1.00pm
 no play
 no play
 1.00pm
Girls' singles final
Boys' singles final
Quad singles final
Women's wheelchair final
Men's wheelchair final
7.00pm*
Pre-final entertainment
7.30pm
Women's Singles Final
followed by
Men's Doubles Final
Sun 28
Twilight
3.00pm
4.00pm
 no play
 no play
 no play
Mixed Doubles Final
7.00pm
Pre-final entertainment
7.30pm
Men's Singles Final