On 23 February 2021, Disney released a new channel to their popular streaming service called Star.  Need a Star VPN?
The new Star channel targets more mature audiences, as it is filled with plenty of R-rated TV shows and films that don't typically fit with Disney's family-friendly image.  It is also filled with cult classics from all genres, even including nostalgic 90's films and TV series. Let's take a look at some of the things you can watch with this expansion on Disney+. Fun fact: Google searches for 'Disney+ VPN' and 'Star VPN' has increased since the launch of Star.
Satisfy your hunger for horror on Star
Disney has some scary moments in their films, especially in the older TV shows and films, but they have never gone full horror. Under Star, however, there is now a wide range of classic horror films to satisfy your craving for horror.
It is never a good idea to dance with the devil. Four boys learnt this the hard way in Jennifer's body (2009). Forced to be a sacrifice, Jennifer (Megan Fox) is possessed by the devil. Whilst it was considered a failure in 2009, nowadays it is considered a cult classic for teen horror and comedy as a revenge fantasy. Vox's Constance Grady summed it up best: "nine years after she arrived and was rejected, Jennifer is back. She lives again."
Sometimes, it's the fear of the unknown that drives our fears. In Signs (2002), this fear is fully embraced. When crop circles are spotted all over Father Graham Hess' (Mel Gibson) farm, he and his brother Merrill (Joaquin Phoenix) and his children Morgan and Bo (Rory Culkin and Abigail Breslin), find themselves questioning what is out there in both in a literal sense and a spiritual sense. The use of music shifting to silence, surprising humour and the surrounding fear mongering from the TV all build-up to the suspense and terror both the character and audience feels. This film received positive reviews and various awards such as Saturn awards and Empire awards. The original soundtrack even received an award from the American Society of Composers, Authors and Publishers.
Worst of all, humans are the most fearful creatures to humans. One of the scariest things a human being can become is a serial killer, one of the most famous is known as Jack the Ripper. In 2001, the horror film From Hell was released. Based on the graphic novel of the same name, the story follows Chief Inspector Frederick Abberline (Johnny Depp) and prostitute Mary Kelly (Heather Graham) as they try to solve the mystery of Jack the Ripper. Due to the violent nature of the crimes, the film is incredibly graphic. It doesn't hold anything back. The use of drugs, lobotomisation and the musical scores all help demonstrate how twisted these murders truly are, especially the twisted 'dream' sequences.  This film has managed to entertain various audiences due to its slow build-up and stellar acting from Depp.
There are so many more gruesome horror films to satisfy your taste for horror.  Whether you're looking for a run-in with the devil, an unknown killer or a psychological killer, Star via Disney+ has you covered when it comes to horror films.
Classic Comedy on Star with Star VPN
Disney has some legendary comedies under its belt. The Emperor's New Groove (2000), Flubber (1997) and Auntie Edna (2018) are just some of these comedies owned by Disney. These are, however, kid-friendly comedies. Ever just want a good laugh that isn't appropriate for children? Now, you can have that with Star.
What better way to begin talking about comedy than with a classic sit-com? Sit-coms are known to be on the adult side when it comes to humour. Each has a unique setting, characters and classically has the characters going through the trials of life humorously. Black-ish (2014-), Modern Family (2009-2020 )and Scrubs (2001-2010) each tackle different aspects of life. Whilst all of these are known for their hilarious characters and settings, they also were not afraid of tackling serious topics. Scrubs dealt with the death and mental health of doctors. Black-ish dealt with colourism within communities and the terror of the justice system. Modern Family also dealt with stereotypes, the pressure on young children as well as everyday life. Many have become legendary, winning Emmy awards and critical praise.
Star also has a range of adult animation such as Family Guy (1998-), Futurama (1999-2013) and American Dad (2005-) which will keep you laughing all the time. They have become pop culture icons for their humous characters, settings and bizarre plots. All three of these have been nominated and won Primetime Emmy Awards. As much praise they have received, these are also not afraid to be controversial with their humour. There is also a large range of films as well with this adult humour. Deadpool 2 (2018), Borat (2006) and Idiocracy (2006) all fall within this category.
There are plenty of things to make you laugh on Star via Disney +. From sitcoms to hilarious films, Star has you covered.
Cult Classics on Star with Star VPN
With Star, Disney+ has also brought back some old cult classics from all genres. In terms of musicals, Star features classics such as Moulin Rouge! (2001). Moulin Rouge! follows the love story between an English poet Christian (Ewan McGregor) and Satine, the  Moulin Rouge, cabaret actress and courtesan (Nicole Kidman). This Oscar-winning musical plays wonderfully with the romantic setting of Paris. The costumes, dances, song and cinematography became iconic in pop culture, cementing Moulin Rouge as one of the best musical films of the 2000s. People to this day still love the story, acting and music from this film, as seen through these reviews.
Old franchises have also been revived. The X files (1993-2002) and its revival (2016-2018) are just one of the franchises here. The original sci-fi series follows Detective Fox Mulder (David Duchovny) and Detective Dana Scully (Gillian Anderson) investigating paranormal activity. The partnership between Scully and Mulder is considered one of the best in TV history. So much so, it has inspired a love song called 'Mulder and Scully' by Catatonia. The series was renowned for its creative mythos ( nicknamed 'Mytharc' by the writers), the over-arching plot of believer vs sceptic and its chemistry between actors Anderson and Duchovny. The show received 16 Emmy awards over its span, as well as 5 Golden Globes. It still has a dedicated fan-base today that hope for more X-files someday.
There are so many more shows on Star than talked about here such as 24 (2009-2014), which follows Jack Bauer (Kiefer Sutherland), a counter-terrorist agent who tackles numerous threats in 24 hours. Another is Revenge (2011-2015), where Emily Thorne (Emily VanCamp) seeks revenge against the people who framed her father for treason. With Star via Disney+, you have hours of more mature content you can watch after the children are gone.
Where can I watch Disney+ and get a Star VPN?
Right now, Disney+ is live in the US, Canada, the Netherlands, Austria, Germany, Italy, Spain, Switzerland, France, India, Belgium, Denmark, Iceland, Finland, Norway, Portugal, Sweden, United Kingdom, Ireland, Isle of Man, Monaco, Wallis and Futuna, French West Indies, French Guiana, New Caledonia, Japan, Indonesia, Latin America, Réunion, Mayotte, and Mauritius. There are plans to go live in Singapore, Hong Kong, and South Korea. However, what about Malaysia? Thailand, the Russian Federation, and Brazil are a few more examples of places without Disney+. To compare, Netflix is available in over 190 countries including Thailand and the Russian Federation.
Still, with the help of a VPN, you can access these shows and watch them from anywhere. Whether it is watching from your, iPad, iPhone, Android or Smart TV, etc, you can access these shows along with thousands of others such as Mulan (2020), The Mandalorian (2019-), and even revisit old Disney shows like Wizards of Waverly Place (2007-2012) and Suite Life of Zack and Cody (2005-2008).
With a free 48-hour trial, unlimited switches between countries and VPN or Proxy connectivity, and the ability to connect multiple devices to Liberty Shield's VPN, Proxy, or VPN routers simultaneously, Liberty Shield can expand your viewing expansion as well as protecting you and your internet data. It's not just Disney, as you can get access to Netflix, BBC iPlayer, Amazon Prime, and more worldwide!
With an excellent rating on Trustpilot and support available 365 days a year, be assured that you'll get your money's worth.
When you load Disney+ in the USA, Germany, Ireland, Netherlands, France, Spain, Portugal, Australia, Dubai, Canada etc. you will get an error message.
Something went wrong. Please try again. If the problem persists, visit the Disney+ Help Centre (error code 83).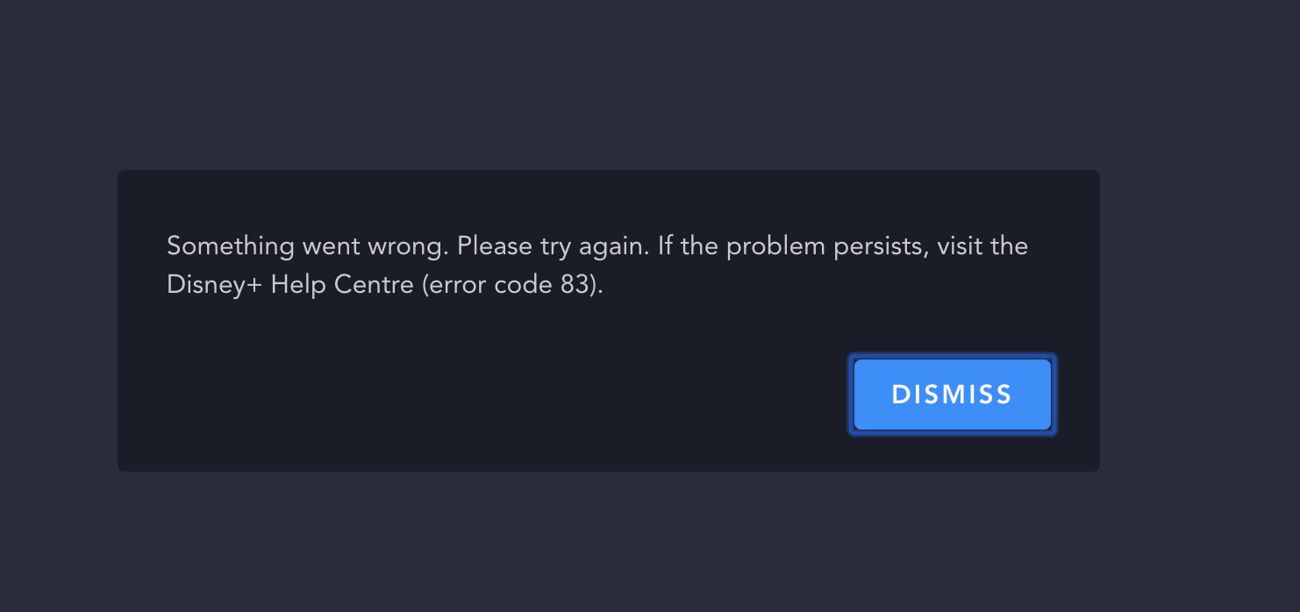 This is basically because their streaming services are geoblocked based on the IP address being used to access it.
Get a UK IP address for Disney+ and Star VPN.
If you want to watch on your Windows PC, Mac, FireTV, iPhone, iPad or Android then you can get a UK Proxy or VPN Apps from Liberty Shield, FREE for 48 hours and then from only £8.99 per month..
Prefer to watch on supported media streaming devices like Now TV, Smart TVs, Apple TV, Xbox, PS4, Roku etc? You'll need a UK configured VPN Router setup as British, available from only £9.99 with Worldwide Shipping available.