Hulu Available Through The Liberty Shield USA VPN – Hulu Uses Pirate Sites To Promote Hulu Plus
Hulu is a streaming service that may be unfamiliar to UK citizens because it is not available in the UK. Using a VPN will allow users to bypass Hulu geo-blocking restrictions, and make streaming services think that you're using the service from within an authorised location. For Hulu, it is a USA based streaming service, and by using a VPN you can connect to servers located within the USA to watch as much Bob's Burgers, Little Fires Everywhere and The Princess Bride as you want!
Hulu Packages
Hulu has hundreds of hours of TV shows and movies across its three packages: Hulu (No Ads) removes abrasive ads that may disrupt your viewing but at a higher price than the standard Hulu package, and Hulu + Live TV combines all the great content exclusive to the streaming service, and live TV into one package. This package is perfect for users who enjoy a mix of content and allows users to keep all their content viewing in one place.

Hulu and the Never-Ending Fight Against Privacy
The Hulu + Live package is a perfect merge of streaming and live TV, something that Netflix and Disney Plus have not yet achieved.
However, like most streaming services, Hulu still has to contend with pirating issues. According to The Wrap, shows like The Mandalorian, The Boys, Westworld and Vikings were among the highest pirated shows of 2020 so it's fair to say that whenever a big show is released there is a viable crowd that will seek out to pirate these shows and watch them. While some streaming services look to deter pirating as much as possible, Hulu sees those who pirate as potential subscribers to their service.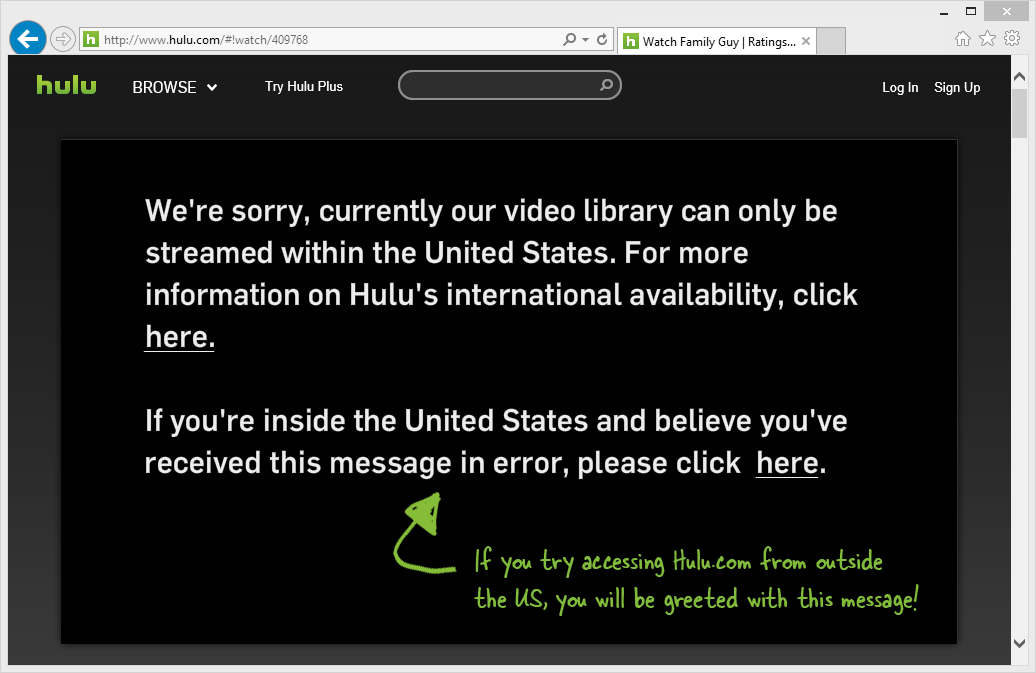 Pirate websites are a hotbed for malware, intrusive advertisements and poor-quality viewing which shouldn't be the true experience for these shows. Jay Rockman, an ex-Hulu marketing team member, recently told a story of how he led a campaign to get in contact with pirate websites and offer a choice to either promote the Hulu service, or face legal action.
This is fairly unheard of in the streaming service world as not many streaming giants want to affiliate with pirates at all. However, pirating has been around almost as long as physical media, if not longer, so there's no denying its presence. Hulu has the right business mindset, which has ultimately paid off and contributed to over two million paid Hulu subscribers.
Watch Hulu From Anywhere In The World
To take advantage of the incredible Hulu streaming service, you need a compatible USA VPV. Liberty Shield provides a highly rated, secure VPN that can be used to watch as many episodes of Bob's Burgers as you can handle. Simply download the VPN software onto your computer, laptop and smart phones and get connected to encrypted servers all over the world in minutes. Choose any of our subscription-based packages today and get access to a 48-hour free trial!
VPN Routers – The Best Way To Keep Your VPN On 24/7
The easiest way to connect all your your devices to a VPN that is constantly connected is by using one of our very popular pre-configured VPN Routers.  Liberty Shield also has top reviews on Trustpilot, so you can be assured that you are investing in the best service available.