The NFL is back for the 2021/22 season! With all NFL action shown on Sky Sports in the UK and you can you also access NFL Game Pass International with a UK VPN.  If you use a USA VPN then you can access the America version of NFL Gamepass as well as NFL streaming networks like NFL Network, ESPN, CBS, Amazon Prime Video, NBC Sport and Fox; as well as their streaming partners lie Hulu, SlingTV and FuboTV. Need an NFL VPN?
The NFL returns this weekend and the excitement towards what the season might produce is at a level unseen in at least a decade. A large part of that comes down to fans being back at games and the anticipation of some incredible atmospheres each and every weekend. There can be no doubt that American Football, without fans, really didn't hit the same during the pandemic. Other sports managed to make it work but the NFL struggled. Because of the sheer size of the stadiums, most of which are designed with two things in mind – football crowds and concerts, the acoustics just made it seem like the teams were playing in abandoned quarries. Fun Fact: 'NFL VPN' is one of the most searched sports phrases on Google!
We already saw the difference that fans can make to the overall feel of a game as 65000 people made the Buccaneers win over the Cowboys a proper event. As the game swung back and forth you could feel the tension, the emotion and even the joy of the home crowd. That's part of what makes sports an enjoyable watch.
Our NFL VPN articles are brought to you in partnership with EPL Index, and Dave Hendrick – host of the Two Footed Podcast, offering FREE podcasts to football fans.
We're going to preview two NFL games a week here on Liberty Shield for the 2021 season, at least that's the plan anyway! We'll mostly focus on Sundays because there's generally only one game on Thursdays and one on Mondays so you don't have a choice in what you're watching. Sundays are different though, there are a lot of games and unless you follow a specific team you might struggle to decide on the game for you.
Let's start off with the Buffalo Bills, a team with a real chance to win the Superbowl this season, against a team who expect to compete every single year, the Pittsburgh Steelers.
The Bills are an offense first team under Head Coach Sean McDermott, who enters his fifth season at the helm. They have a superstar Quarterback in Josh Allen, a star receiver in Stefon Diggs and a quality group of secondary receivers and a solid run game. With the schemes of Offensive Coordinator Brian Daboll, they can outgun anyone. On the other side of the ball, they aren't nearly as stacked when it comes to talent but Leslie Frazier is one of the best Defensive Coordinators in football and McDermott himself is a defensive genius. Their schemes and sets are among the best in the league and do a great job of bridging the talent gap. They've had a low key off season, with their big move being the contract extension for Allen. The two parties have committed to each other for another six years, and given Allen's development over the past 18 months that can only be good news for the Bills. Allen is a stud. A potential MVP who can do it all. He's only scratching the surface of his talent and with the coaching staff he has in Buffalo his trajectory is only going one way.
The Steelers are the Steelers. What are they going to do? Run the ball and play great defense. It's what Pittsburgh does. Sometimes they'll open things up and let the ball fly but they tried it too often last season and ended up wearing themselves out down the stretch. The Steelers want to slow the pace of the game, manage the clock and dominate time in possession. The Steelers looked like they might be set for a problematic off season with uncertainty over key players but Ben Roethlisberger opted in for another run, and they managed to work out a new long term deal with star linebacker TJ Watt.  Watt is one of the best defensive players in the NFL so securing his future was absolutely vital, especially after letting fellow linebacker Bud Dupree leave in free agency. To replace Dupree, the Steelers added Melvin Ingram on a one year free agent contract. That may prove to be one of the steals of the summer if he can stay healthy. A healthy Ingram is a real playmaker on defense, but injuries have plagued him for over a year now. Head Coach Mike Tomlin is entering year 15 and will be well aware that Steeler Nation expects a winner. It's been 12 years since their last SuperBowl, and that's not acceptable in Pittsburgh.
This promises to be a great game full of explosive action. Any time you get a top five offense, which the Bills possess per Pro Football Focus, versus a top five defense, which Pro Football Focus attribute to the Steelers, it becomes a must watch event. And when that game takes place at a place like Bills Stadium, where the atmosphere is legendary, you really have no choice but to tune in.
If there's one stadium in all of the NFL that stands out above the others, including the Bills Stadium, for the volume of the fans during a game, it's Arrowhead Stadium in Kansas City which will this weekend host the Kansas City Chiefs taking on the Cleveland Browns in what promises to be one of the most exciting games of the season and provides a real opportunity for both teams to test themselves early in the season and measure where they are against their expectations.
The Chiefs come into the season off the back of a losing SuperBowl appearance and will be looking to get back to the promised land and reclaim their title. They were undoubtedly the best team in football through the 2019 season, and the 2020 season, until that loss to Tampa Bay in the SuperBowl that is. The holes in their offensive line were finally exposed by a ruthless Tampa defense and this off-season the focus for the Chiefs was fixing that problematic O-Line. Pro Football Focus ranks the new look unit as the seventh best in football ahead of the new season, which should allow Patrick Mahomes to continue to play at an MVP calibre level for the fourth straight season. PFF credits the Chiefs with the best overall offense in the league, with Head Coach Andy Reid and Offensive Co-Ordinator Eric Bienemy both highly regarded play-callers, Travis Kelce and Tyreek Hill among the most unstoppable players in the league and a potentially all time great Quarterback in Mahomes. They don't have the same level of talent on defensive but do possess some big time playmakers and a strong coaching staff who can scheme with the best of them. If the Chiefs defense can even be league average from season to season the Chiefs will contend for the SuperBowls with that offensive unit.
They will be challenged very early on to show up on defense though, because the Browns have the number four offense in the NFL, per PFF, including the best Offensive Line unit. The Browns are absolutely loaded with talent at wide receiver, tight end and running back, with the only real question mark for them being Quarterback Baker Mayfield. Mayfield, a former number one overall draft pick, has been inconsistent in his play since entering the league but seemed to find a comfortable groove last season as Cleveland leaned heavily on their run game and didn't ask Baker to do too much. He was risk averse in his throws and that meant that Cleveland were able to hold onto the ball, manage the clock and grind teams down with that O-Line and the dual threat running game which featured Nick Chubb and Kareem Hunt. Defensively, Cleveland have addressed the issues in their secondary while also adding Jadeveon Clowney to their front seven. The hope will be that Clowney can stay healthy and combine with Myles Garrett to give them a two headed pass rushing monster.
The Chiefs will be favourites to win this game, as they will be every single week of the season, but Cleveland are a real threat this season. Kevin Stefanski is one of the best young coaches in the NFL and he has a stacked roster at his disposal. A win on Sunday would really put the Browns on the map as a potential SuperBowl contender this season, which is what the Chiefs will be regardless of the outcome.
No matter where you are in the world, you can use your Liberty Shield VPN to find a way to watch these games. The majority of them promise to be fantastic battles.
Don't have a Liberty Shield VPN? You're missing out! Click right here to check out what we can offer you, and use the code EPLBLOG to get 20% OFF at check-out.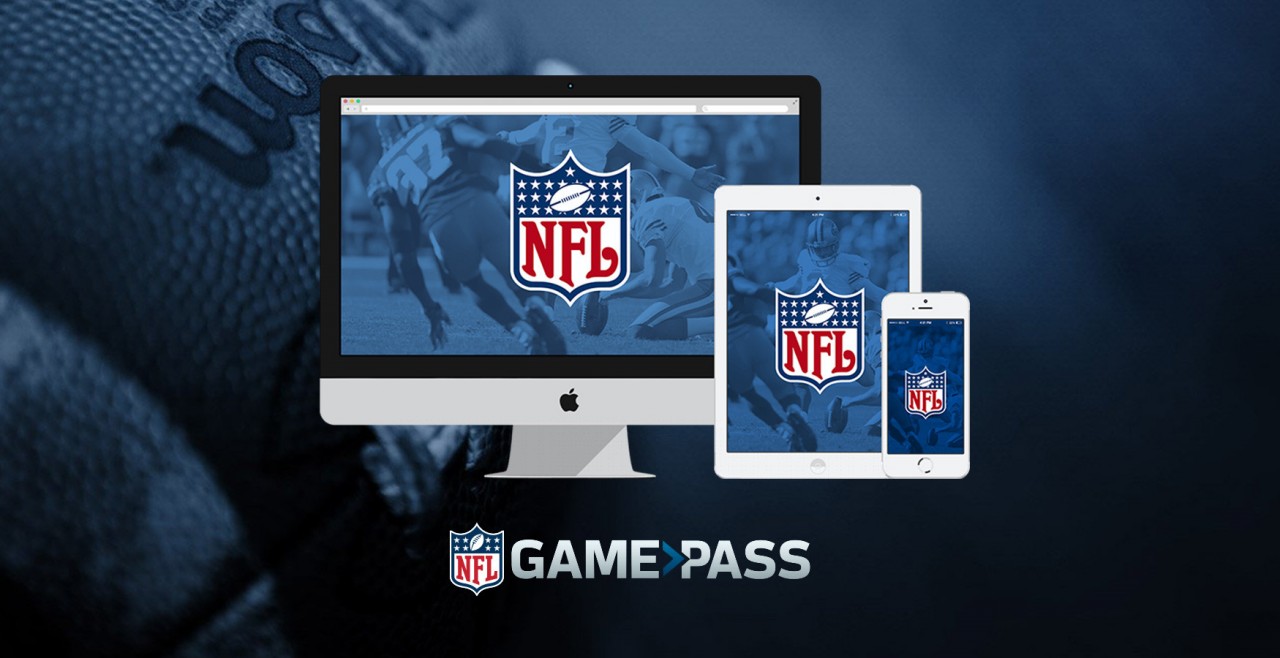 How to use an NFL Game Pass VPN to watch live streaming of every NFL live from anywhere…
The American domestic version of NFL Game Pass is only available to users located within the United States, Bermuda, Antigua, the Bahamas, and any U.S. territories. However this version doesn't show any live matches.
The International version of NFL Game Pass, which offers a 7 Day Free Trial; is an all together different proposition. Offering live streaming of every NFL match.
There are different pricing options based on your location. You can save money by using your VPN or Proxy to connect to a location outside the USA and signing up for a European or International NFL Game Pass subscription. That way you can skirt around those pesky blackouts and watch every NFL game whenever you want!
Your guide to using NFL Game Pass VPN…
🇪🇺 Use any of our European VPN or Proxy locations so you can order an International version of NFL Game Pass:
Get Liberty Shield
Connect to our VPN or Proxy with UK, Ireland, Germany, Spain, Switzerland or France
Go to https://www.nflgamepass.com/en (the European non-USA version will load)
Purchase your NFL Game Pass (prices below) with live streaming of every match included.
Get NFL 7 Day Free Trial and Start watching!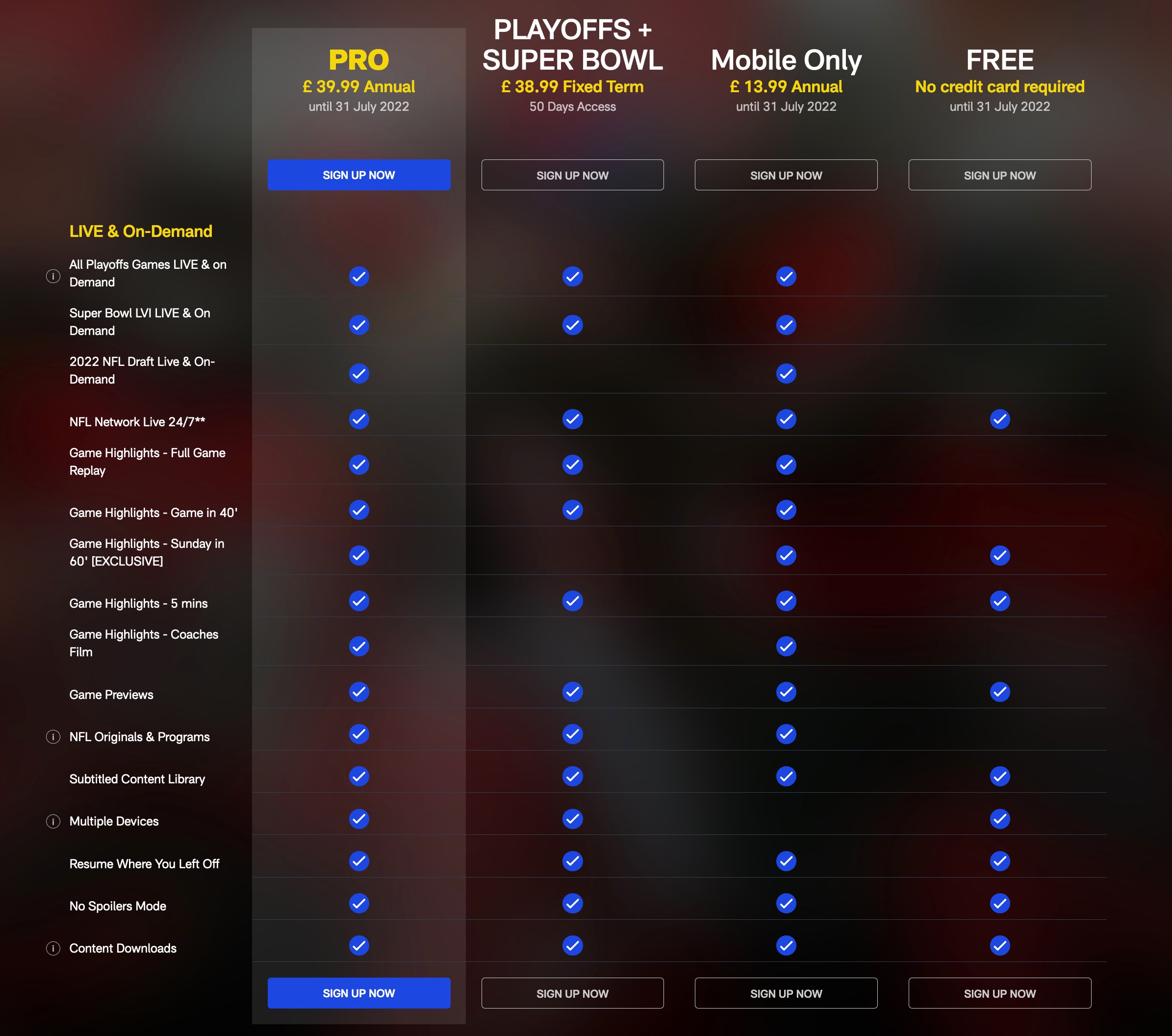 🇬🇧 What about UK NFL Blackouts?
NFL matches shown live in the UK (and Ireland) by Sky Sports will be blacked out, even with the European version of NFL Game Pass. However, if you connect to our VPN using Germany, Spain, Switzerland or France the live match will be shown..
How do I order an NFL VPN?
If you just want to watch on your PC, Mac or iPad. Then you can get a European Proxy or VPN from Liberty Shield, FREE for 48 hours and then from only £8.99 per month..
Prefer to watch on supported media streaming devices like Apple TV or Xbox? You'll need a European configured VPN Router, available from only £9.99 with Worldwide Shipping available.
Of course NFL Game Pass isn't the only geographically-censored streaming service a VPN or Proxy will allow you to access.  Other USA services like Hulu, HBO, Netflix and Pandora are available. Plus with the option to switch to our UK service whenever you like. You can also access BBC iPlayer, BBC Sport, ITV Hub, 4OD, Sky Go and Now TV. Essentially you can access international content from virtually anywhere!