Th NFL continues with the Conference Playoffs, with the teams now only one step away from the Super Bowl. With all NFL action shown on Sky Sports in the UK and you can you also access NFL Game Pass International with a UK VPN.  If you use a USA VPN then you can access the America version of NFL Gamepass as well as NFL streaming networks like NFL Network, ESPN, CBS, Amazon Prime Video, NBC Sport and Fox; as well as their streaming partners lie Hulu, SlingTV and FuboTV. Need an NFL VPN?
In the week where America swore in a new President and waved goodbye to a disgraced one, the NFL stood and applauded the career of Philip Rivers as the former Chargers and Colts QB called time on his playing days after spending 17 years racking up 63,440 yards and 421 touchdowns. He retires ranked 5th all time in both categories, and as an 8 time Pro Bowler. He finished seasons of his career leading the league in passing yards, passing touchdowns, pass completion and passer rating. He was known for his toughness, his strong mentality and his willingness to let it fly. He will be a Hall of Famer, though maybe not first ballot. Fun Fact: 'NFL VPN' is one of the most searched sports phrases on Google!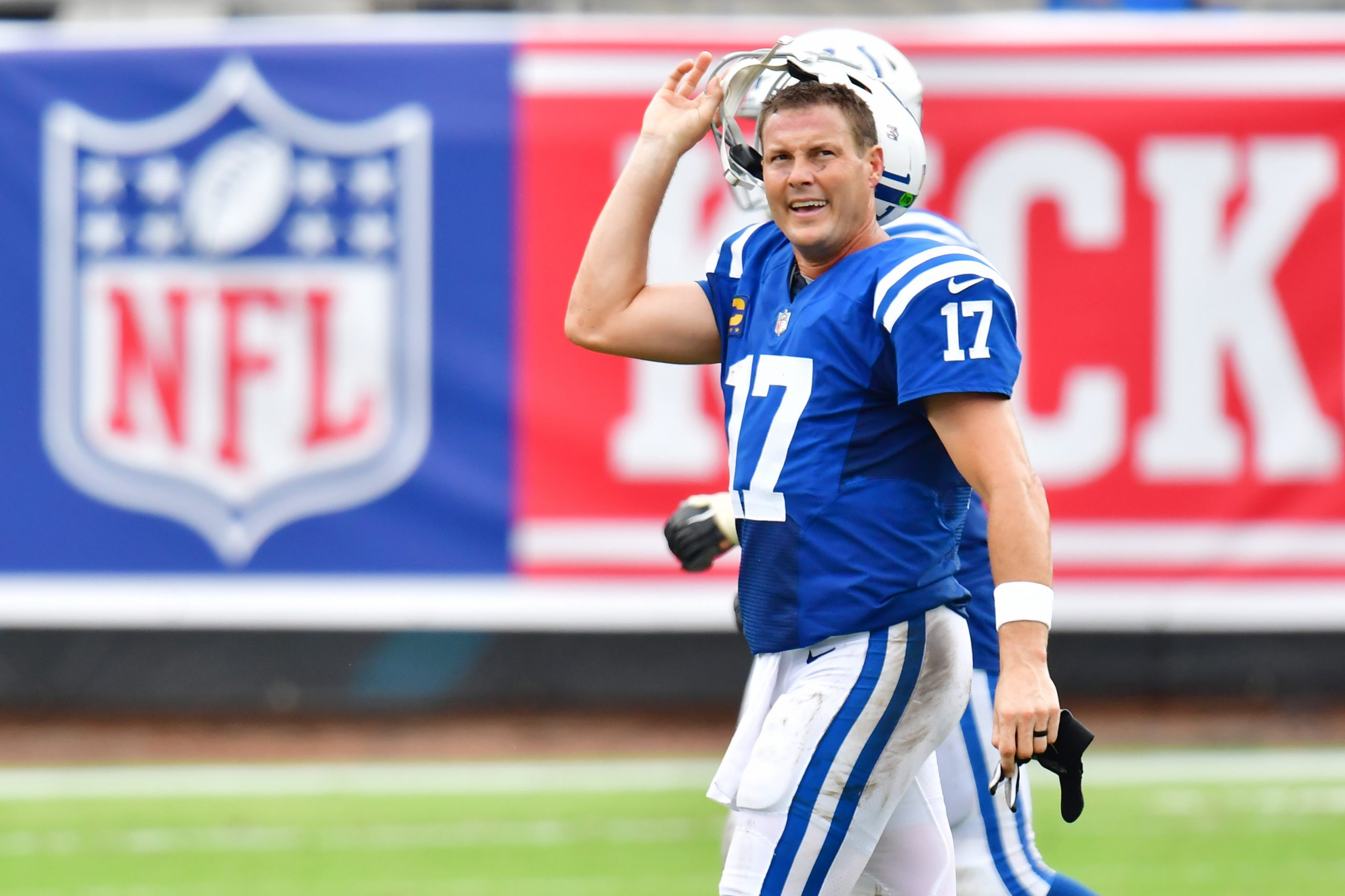 The NFL will miss Rivers, but they'll get over it quickly. It's not a league with a lot of room for sentiment, and it's not a league that slows down. This weekend the playoffs continue with the best two teams from each conference meeting to decide who will contest the Superbowl. The number 1 seeds in both conferences have survived and while the number 2 seed in the NFC is gone, they were conquered by the team most neutrals probably wanted to see make the Championship round.
🏈 NFL Conference Playoffs 2020/21
📺 NFL Game Pass VPN – Watch Every Game Live with NFL VPN
There's huge buzz around both games, largely because of the QBs involved. In one game, two legends will go head to head for potentially the last time, while in the other it's two young stars who are viewed as the future of the league who will face off.
Our NFL VPN articles are brought to you in partnership with EPL Index, and Dave Hendrick – host of the Two Footed Podcast, offering FREE podcasts to football fans.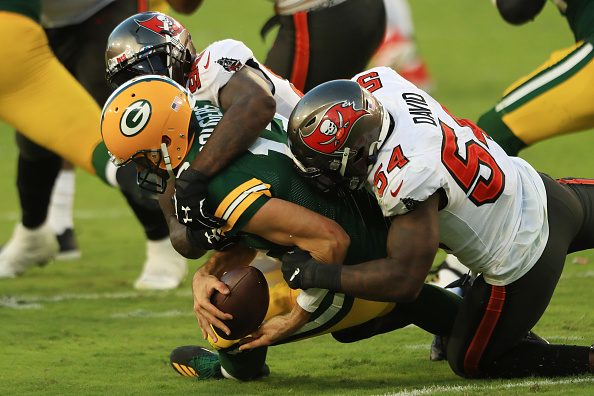 Both games take place Sunday and up first, at 8.05pm, it's the NFC Championship Game pitting the Green Bay Packers against the Tampa Bay Buccaneers.
Aaron Rodgers vs Tom Brady is a dream showdown for many fans. Sunday will represent just the fourth time in their storied careers that they have shared a field, with Brady holding a 2-1 advantage heading in.
Green Bay have been a semi-regular fixture in the NFC Championship game during the Aaron Rodgers era. This is the 5th time Rodgers has lead his team this far in the playoffs, but it will the first time they have home-field advantage for the game. The Packers record in NFC Championship games isn't great in that span though, they've gone 1-3 so far and have lost their last three in a row. The only time they won and advanced to the Superbowl they went on to win the Big Game and take the Vince Lombardi trophy home.
The Packers saw off the injury hit Rams 32-18 last weekend to advance, with Rodgers threw for 296 yards and 2 touchdowns, while also scoring a TD himself, as he put an exclamation mark on what is expected to be his third MVP season. This Sunday Rodgers will be looking for a repeat performance from himself and the weapons at his disposal. Running backs Aaron Jones and Jamal Williams and a receiving group led by arguably the best wide-out in the league Davante Adams.
While the Packers are generally viewed as one of the best run teams in the league, and are consistently good year after year, the same can not be said of a Buccaneers franchise who made the playoffs this season after a 12 year absence from the post season. This Sunday will be the first time they've played in an NFC Championship game since 2002, when they went to Philadelphia and beat the Eagles before advancing to the Superbowl and defeating the Raiders.
Tom Brady is the greatest QB of all time, of that there is no doubt. The man who dominated the AFC for two decades and won 9 AFC Championship games has made it to the NFC Championship game at the first attempt. Last Sunday he and his squad didn't play particularly well but were good enough to go into New Orleans and beat the Saints, likely ending Drew Brees' career at the same time. Though this won't be Rodgers' last game if he loses, Brady will want to repeat the trick of winning on the road in a stadium with a notorious homefield advantage. The cold in Green Bay is infamous and has caused many great players to freeze in more ways than one but after spending most of his career in New England Brady is no stranger to cold weather. He is famously brilliant in the cold, so the Packers should hope he's gotten soft during his year in Florida.
The Packers are favoured to win the game, but you can never count out Brady.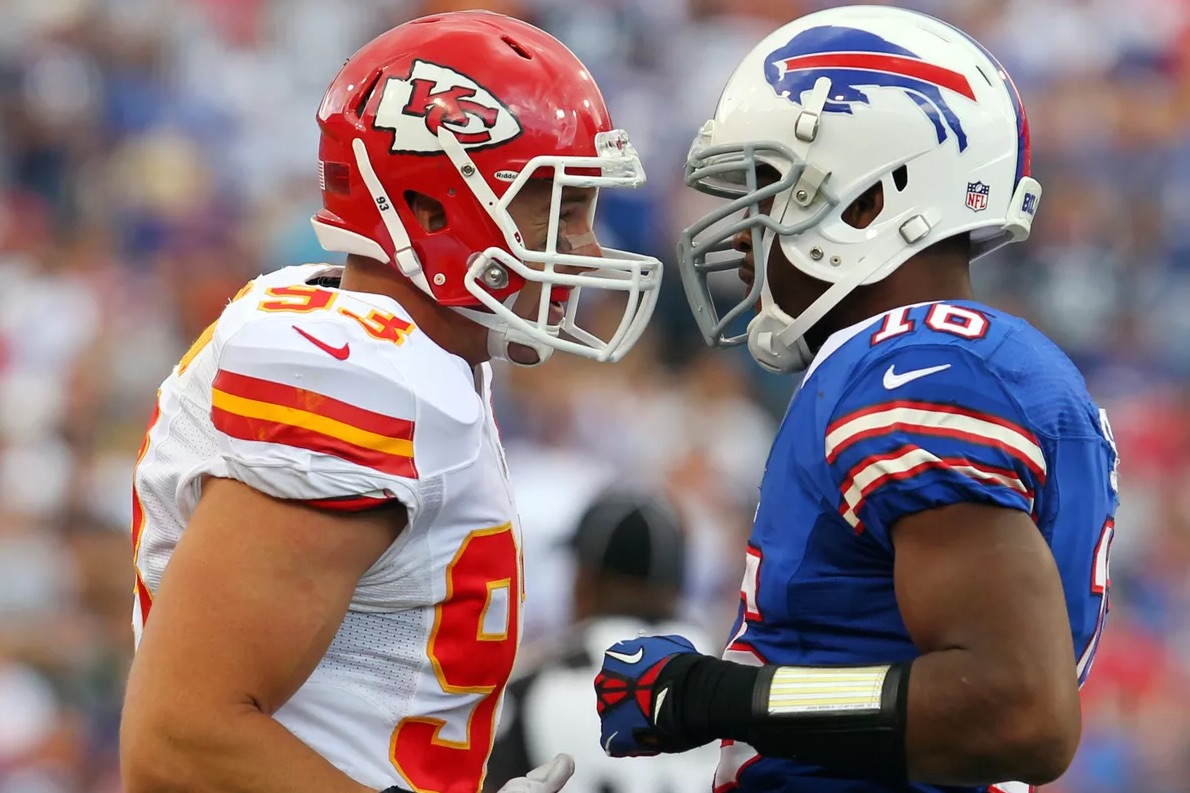 Once that game is wrapped all eyes move to the AFC Championship Game between the Kansas City Chiefs and the Buffalo Bills at 11.40pm.
The 2000's belonged to Brady, Favre and Manning, the 2010's belonged to Brady, Rodgers and Brees and the 2020's promises to be the decade of Patrick Mahomes, Justin Herbert and Josh Allen. That's made all the more exciting by the fact that they all reside in the AFC. Mahomes and Allen will meet for the first time, and they'll do it on one of the biggest possible stages.
The Chiefs are the reigning Superbowl Champions and up until a month or so ago were deemed to be the favourites to go back-to-back. This is their third straight trip to the AFC Championship game after having only made it once, in 1993, since their first Superbowl victory in 1969. Tom Brady and the Patriots defeated them first time out, but they bounced back to beat the Titans last year. It's worth noting that this is only their third season with Patrick Mahomes as a starter, which should give you an idea about how consistently good he and the Chiefs have been since he replaced Alex Smith in the line-up.
Kansas City saw off a feisty Cleveland Browns team 22-17 in a win that game at a cost. Mahomes had to leave the game with concussion like symptoms and while he is, at time of writing, expected to play this Sunday he is currently still in concussion protocol and limited in terms of what he can do in practice. That game against the Browns, even before Mahomes got injured, raised some red flags about the Chiefs who have struggled to establish a running game this season and didn't look close to their best for the last five games of the regular season.
The Bills are the form team in the AFC right now, arguably the form team in the entire NFL with an 8 game winning streak that would have been a 12 game winning streak if not for an improbable Hail Mary hurl that they failed defend as time wound down in their meeting with the Arizona Cardinals. The Bills haven't had it all their own way in the playoffs though. The Colts pushed them to the limit in the wildcard round and while they did beat the Ravens by 14 points they struggled to get their offensive rhythm going and if not for a dreadful pick six by Lamar Jackson it could well have been a much closer game.
Josh Allen came in to the NFL with a chip on his shoulder after seeing two QBs picked before him in the 2018 draft. Allen was taken 7th by the Bills, after the Browns passed on him at 1 to take Baker Mayfield and the Jets did the same at 3 to take Sam Darnold. If the Browns, who also held the fourth pick, had the chance for a do-over I wonder if they'd have taken superstar running back Saquon Barkley, who went 2nd to the Giants, at 1 and then grabbed Allen at 4. Easy to say in hindsight of course, but there's no doubt that Allen is a far superior player to Mayfield. He has arguably the strongest arm in the NFL, at worst it's second to Mahomes. His ability to throw the ball to the moon was never in question, it was always about accuracy. This season he's added accuracy, and having a star receiver in Stefon Diggs has helped massively.
This is the first meeting of Patrick Mahomes and Josh Allen, but it certainly won't be the last and likely is the first of many playoff battles these two will have. The Chiefs are the favourites right now, but that will change drastically if Mahomes can't go.
No matter where you are in the world, you can use your Liberty Shield VPN to find a way to watch these games. The majority of them promise to be fantastic battles.
Don't have a Liberty Shield VPN? You're missing out! Click right here to check out what we can offer you, and use the code EPLVPN to get 20% OFF at check-out.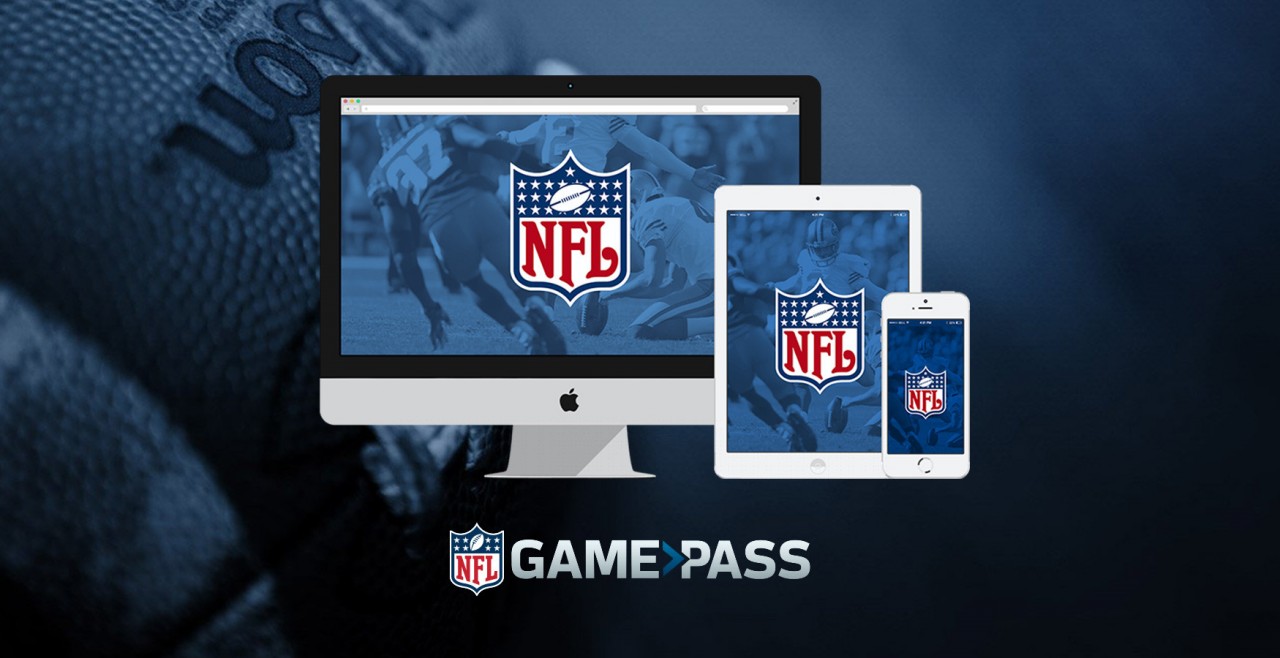 How to use an NFL Game Pass VPN to watch live streaming of every NFL live from anywhere…
The American domestic version of NFL Game Pass is only available to users located within the United States, Bermuda, Antigua, the Bahamas, and any U.S. territories. However this version doesn't show any live matches.
The International version of NFL Game Pass, which offers a 7 Day Free Trial; is an all together different proposition. Offering live streaming of every NFL match.
There are different pricing options based on your location. You can save money by using your VPN or Proxy to connect to a location outside the USA and signing up for a European or International NFL Game Pass subscription. That way you can skirt around those pesky blackouts and watch every NFL game whenever you want!
Your guide to using NFL Game Pass VPN…
🇪🇺 Use any of our European VPN or Proxy locations so you can order an International version of NFL Game Pass:
Get Liberty Shield
Connect to our VPN or Proxy with UK, Ireland, Germany, Spain, Switzerland or France
Go to https://www.nflgamepass.com/en (the European non-USA version will load)
Purchase your NFL Game Pass (prices below) with live streaming of every match included.
Get NFL 7 Day Free Trial and Start watching!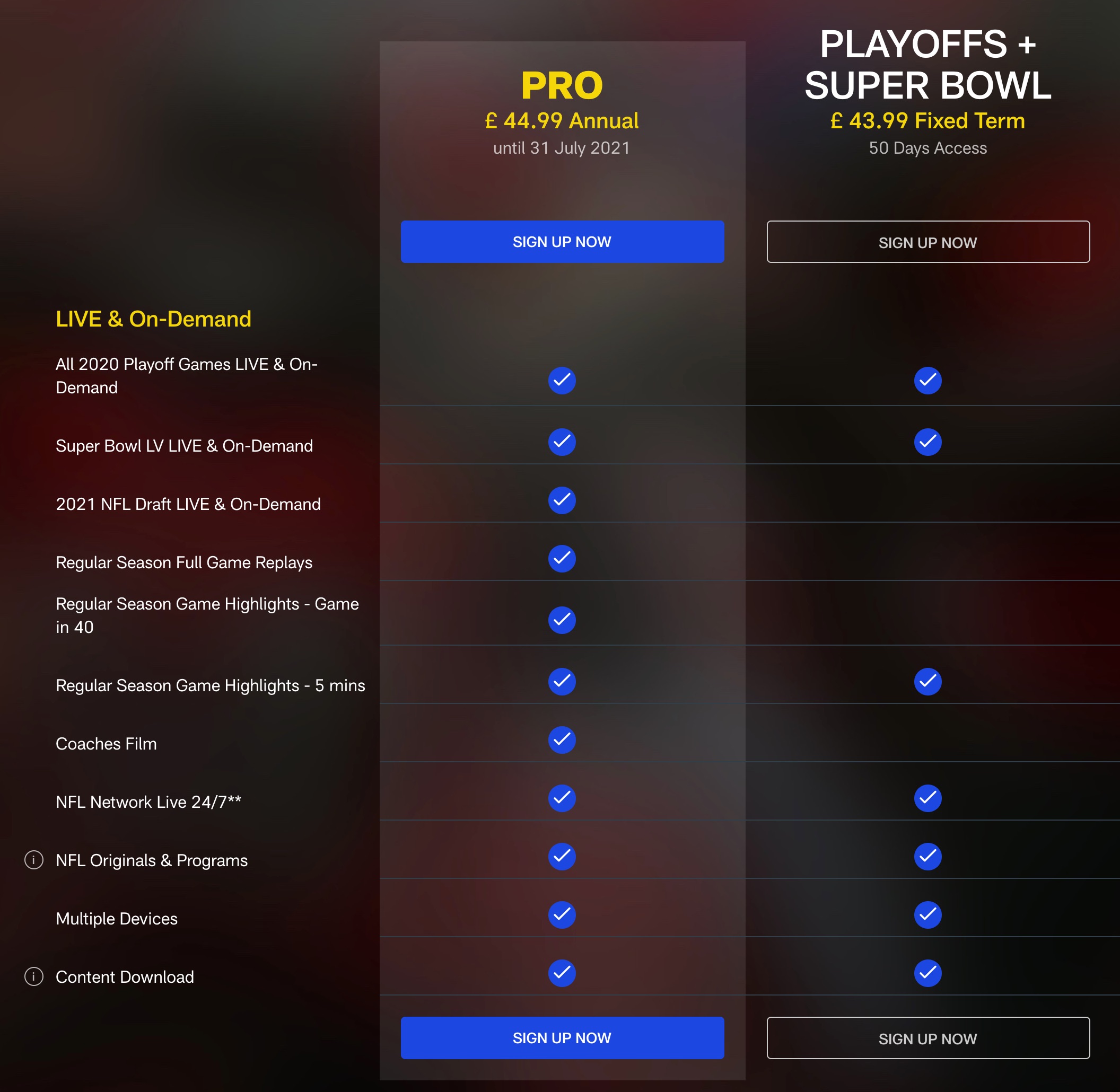 🇬🇧 What about UK NFL Blackouts?
NFL matches shown live in the UK (and Ireland) by Sky Sports will be blacked out, even with the European version of NFL Game Pass. However, if you connect to our VPN using Germany, Spain, Switzerland or France the live match will be shown..
How do I order an NFL VPN?
If you just want to watch on your PC, Mac or iPad. Then you can get a European Proxy or VPN from Liberty Shield, FREE for 48 hours and then from only £8.99 per month..
Prefer to watch on supported media streaming devices like Apple TV or Xbox? You'll need a European configured VPN Router, available from only £17.99 with Worldwide Shipping available.
Of course NFL Game Pass isn't the only geographically-censored streaming service a VPN or Proxy will allow you to access.  Other USA services like Hulu, HBO, Netflix and Pandora are available. Plus with the option to switch to our UK service whenever you like. You can also access BBC iPlayer, BBC Sport, ITV Hub, 4OD, Sky Go and Now TV. Essentially you can access international content from virtually anywhere!