Amazon Instant Video (formerly Amazon Video On Demand) is an internet video on demand service by Amazon currently only offered to Amazon users in the United States, United Kingdom (also known as Lovefilm), Japan, Austria and Germany.
The service, now well established as a competitor to Netflix and Hulu; is available on numerous compatible devices. This includes many Smart TVs and Blu-ray players and games consoles like the PlayStation 3, PlayStation 4, Xbox 360, Xbox One, Wii, Wii U and mobile devices like the iPhone, iPad, Android devices, Kindle Fire tablets and the Fire Phone.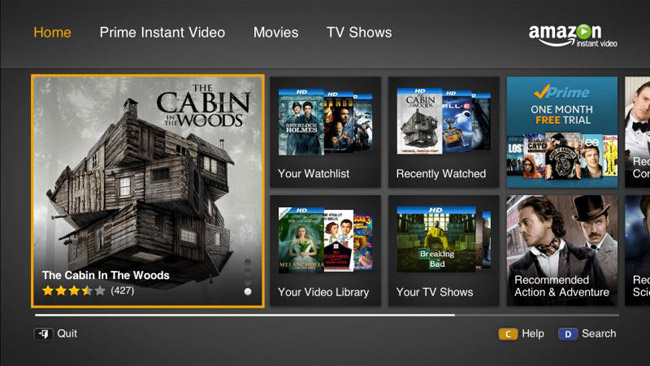 The service is also available through streaming devices such as Roku and Amazon's Fire TV and Fire TV Stick. Amazon Instant Video also offer a free app for iOS devices which is compatible with Apple TV via AirPlay.
If you try watch Amazon Instant Video in English-speaking countries such as Ireland, Australia, Canada, Spain, France, Canary Islands, Hong Kong, India, Indonesia, Malaysia, Qatar, New Zealand,  Turkey, Saudi Arabia, or Dubai you will get a Geo block error. To bypass this and watch all content for FREE all you need is a valid Amazon Prime membership and a Proxy, VPN or VPN Router to overcome location restrictions that would otherwise block you from watching Amazon Instant Video.
Whilst our VPN or Proxy solutions will allow you to run Amazon Instant Video on your computer or tablet many for other devices one of our Pre-Configured VPN Routers is highly recommend, with a VPN Router you can connect to a separate WIFI zone in your home for the country you want and connect all your devices to it so they get an IP address in that country.
Furthermore Amazon Instant Video isn't the only geographically-censored streaming services a VPN or Proxy will allow you to access.  Services from the USA like Hulu, HBO GO, Netflix and Pandora are available and with our UK service websites like BBC iPlayer, ITV Player, 4OD, SkyGo and Now TV are available – essentially you can access international content from virtually anywhere!