The greatest show on Earth, Rio 2016 Olympics runs from 5th until 21st August and you can watch it with whichever broadcaster you wish from anywhere on any of your devices!
As a huge global event the Olympics in Rio de Janeiro, Brazil is available FREE from a whole range of international broadcasters. However, some users will be blocked from watching from popular provides such as BBC, RTE and CBC.  Our guide below explains how you access the content you want, with the commentary in your language; from wherever you are.
By using a VPN, Proxy or VPN Router from Liberty Shield you can unblock and watch free live streaming of Rio 2016 provided by BBC (UK), France TV, ARD & ZDF (Germany), RTE (Ireland),  RTVE (Spain), NBC Sports (USA) and CBC (Canada). You can then watch some of these channels on a multiple devices including on PS3, PS4, Xbox, Smart TV, Roku, Apple TV, Amazon Fire TV, Chromecast, iPhone, iPad, Android, PC, or Mac etc.
SPECIAL OFFER – Get 1 month access to our VPN or Proxy for only £4.68 using coupon code: 2016RIO

Furthermore if you order one of our UK pre-configured VPN Routers with a NOW TV box you can watch every event from the games FREE on BBC Sport on your big screen TV from anywhere.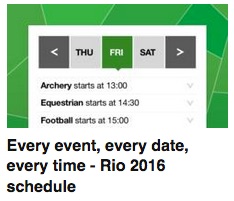 Watch our guide video below on "How VPN Routers Work" – these routers can be ordered with a NOW TV Box and Worldwide Shipping for a limited time at a special price of only £12.99

Here is a summary of which channels will be showing 2016 Olympics in each country, based on the IP address you are using:
.

UK VPN & Proxy [ More info ]
BBC Sport will broadcast more than 3,000 hours of coverage, including 550 hours of television on BBC One and BBC Four. Plus up to 24 live HD video streams will show every moment live online and on multiple connected TV devices.
.
Irish VPN & Proxy [ More info ]
RTE will offer free live streaming of Rio 2016 and through various apps on Smart TVs (Samsung).
.

French VPN & Proxy [ More info ]
France TV (Free Live Streaming with French language commentary)
.

 German VPN & Proxy [ More info ]
ARD and ZDF (Free Live Streaming with German language commentary)
.

 Spanish VPN & Proxy [ More info ]
RTVE (Free Live Streaming with Spanish language commentary)
.
 USA VPN & Proxy [ More info ]
NBC Sports will show Rio 2016 live and on-demand across the USA and on connected devices such as Apple TV, Roku and Amazon Fire TV.
.

 Canada VPN & Proxy [ More info ]
CBC will show the competition live and on-demand.
.
Here are some of the most popular sports taking place at Rio 2016 Olympics:
Gymnastics

Track & Field Athletics

Swimming

Tennis

Soccer

Beach Volleyball

Rowing

Weight Lifting

Archery

Basketball

Cycling

Golf

Wrestling
.