Nothing in the world of sports is quite like the Olympics, whether the summer games or their winter variant. Olympic Winter Games PyeongChang 2018 is no different. Read on to unblock all geographic restrictions.
The International Olympic committee has a stranglehold on world broadcast rights of this great event, as well as the summer version of this conference of sport. Their business model depends on restricting the freedom of consumers to watch their preferred coverage of this event, whether or not they are currently outside the host region of that coverage. Fortunately Liberty Shield has the tools you need to watch Winter Olympics anywhere.
Read below for Liberty Shield's foolproof, and straightforward, guide to unlocking the coverage of the 2018 Winter Olympics you wish to see, where you are. Making it possible to watch Winter Olympics anywhere.
PyeongChang 2018 will be the first Olympics in South Korea since the 1988 Seoul Summer Games. A dozen venues in PyeongChang and its sub-host cities of Gangneung and Jeongseon will stage seven sports across 15 disciplines, with 102 gold medals, a record for the Winter Olympics, at stake. The PyeongChang Organizing Committee for the 2018 Olympic & Paralympic Winter Games (POCOG) estimates some 90 countries will send about 6,000 athletes and officials to participate.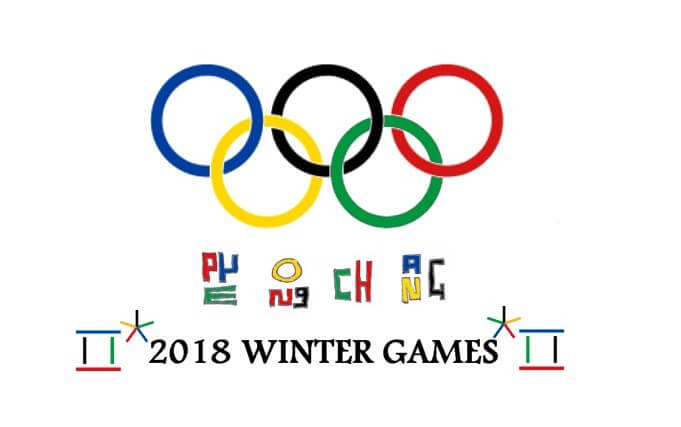 The 12 venues are all located within 30 minutes of each other, and the compact venue concept helped PyeongChang win its bid in 2011. The PyeongChang Mountain Cluster will be home to Alpensia Biathlon Centre, Cross-Country Skiing Centre, Ski Jumping Centre, Sliding Centre, Bokwang Snow Park and Yongpyong Alpine Centre. Venues in Gangneung are some 20 kilometers east of the PyeongChang Mountain Cluster, and facilities there are Gangneung Curling Centre, Gangneung Hockey Centre, Gangneung Ice Arena, Gangneung Oval and Kwandong Hockey Centre. You can watch Winter Olympics anywhere with Liberty Shield.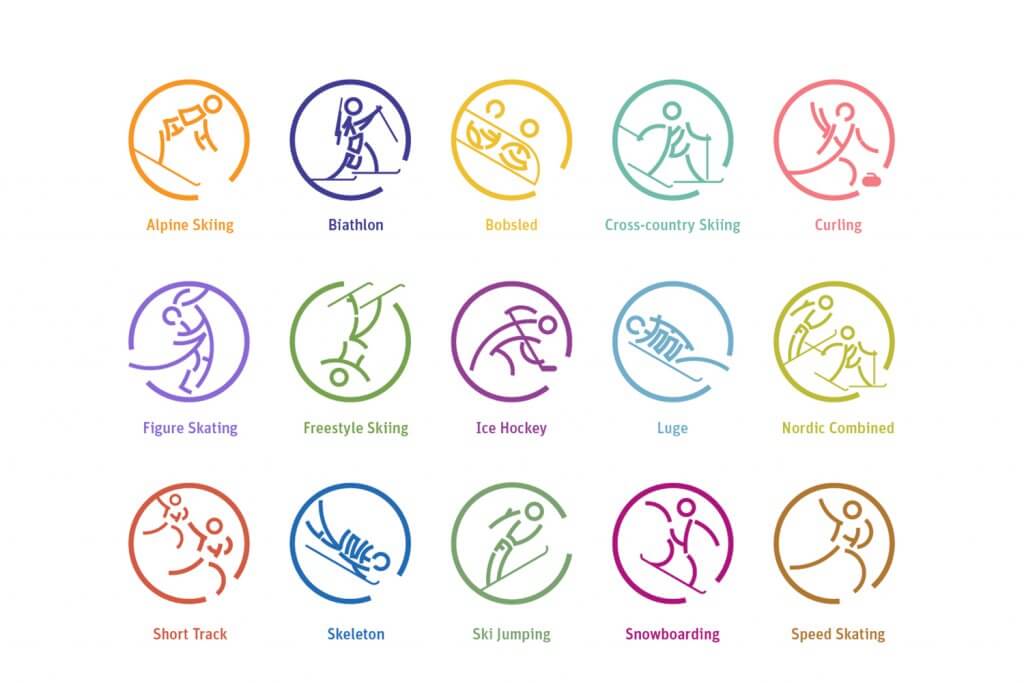 Jeongseon Alpine Centre is the lone venue in Jeongseon, about 20 kilometers south of PyeongChang, and will host all alpine skiing races. Six of the 12 venues have been newly constructed for the Olympics, while six existing facilities have been refurbished for the competition. Gangneung Ice Arena, the venue for short track and figure skating, and Gangneung Oval, which will hold speed skating races, have already staged international and domestic competitions. Other venues have staged several Olympic test events in sports, such as snowboarding, bobsleigh, skeleton, biathlon, ski jumping and curling. You can watch Winter Olympics anywhere with Liberty Shield.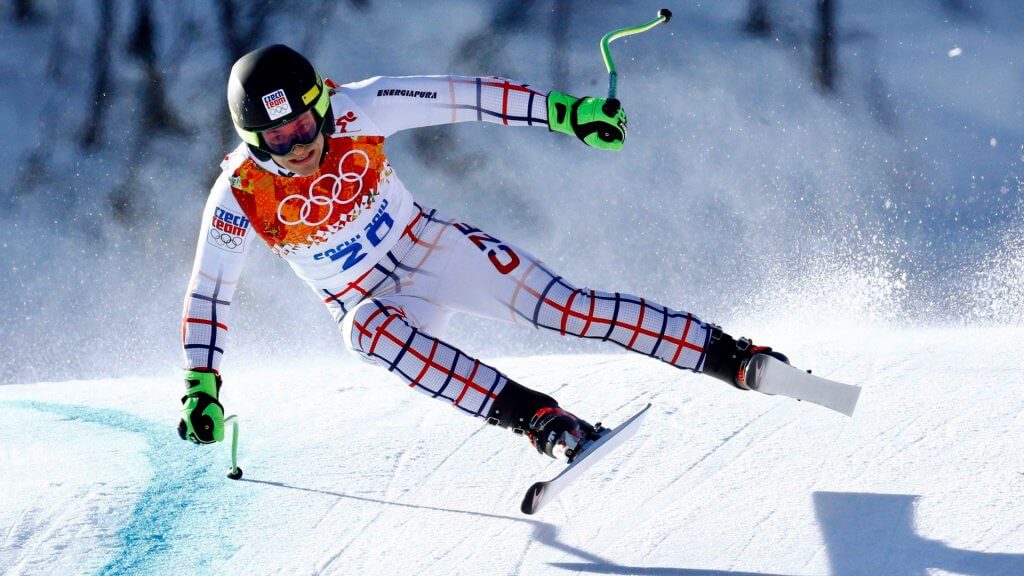 South Korea has set out to collect up to 20 medals at PyeongChang 2018, including eight gold, and finish among the top five in the medal race for only the second time in its Winter Olympics history. At the 2014 Sochi Winter Games, South Korea grabbed three gold, three silver and two bronze medals to rank 13th. South Korea's best Winter Games performance came at Vancouver 2010, where it won six gold medals and hauled in a record 14 medals total to finish fifth. The host country is also hoping to be represented in all seven sports, with about 130 athletes in action. In Sochi four years ago, South Korea had 71 athletes in six sports.  You can watch Winter Olympics anywhere with Liberty Shield.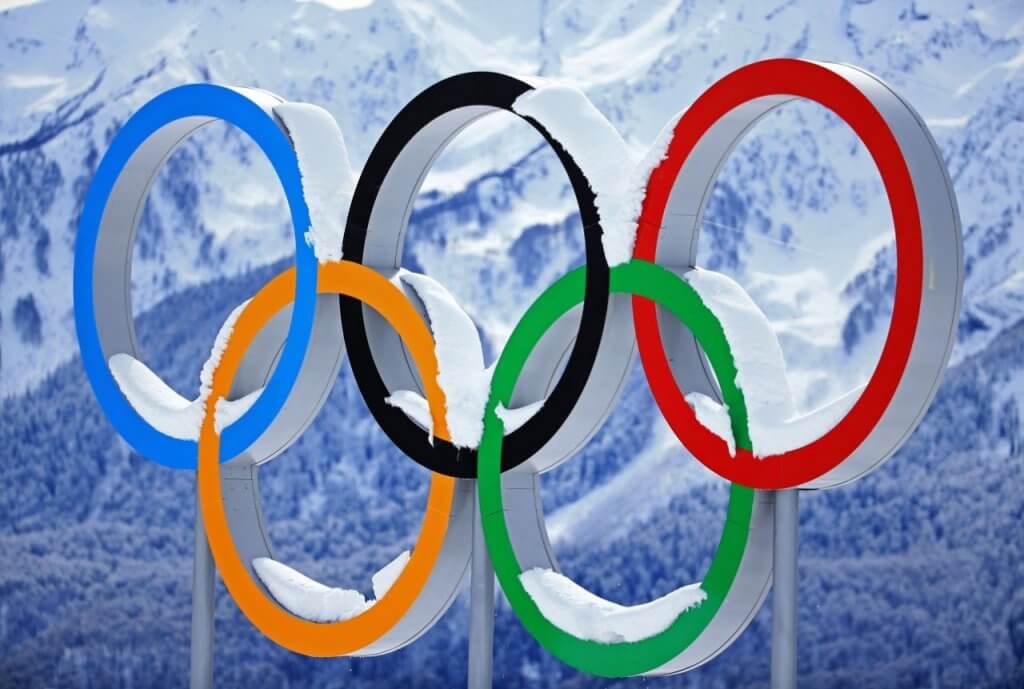 All 26 Winter Olympic gold medals by South Korea have come from ice events — short track, speed skating and figure skating. South Korea is once again expected to earn most of its medals from the ice, but is also eyeing potentially historic performances in skeleton and bobsleigh. The gold and silver medals for PyeongChang are 99.9 percent silver, and the gold medal is plated with 6g of gold. The bronze medal is made of red brass. PyeongChang said it will create 259 sets of the medals. Of them, 222 of them will be awarded to the medal winners at the Olympics, and five sets will be set aside in case of ties. The IOC will retain 25 sets for display overseas, and seven other sets will be exhibited in South Korea. You can watch Winter Olympics anywhere with Liberty Shield.
Olympic Streaming Channels – Watch Winter Olympics Anywhere
BBC iPlayer (UK)
CBC (Canada)
ARD (Germany)
ZDF (Germany)
France TV (France)
RTVE (Spain)
NBC Sports (USA)
How to watch Winter Olympics Anywhere on all of the above streaming services…
When you load BBC iPlayer, or any of the other above services, depending where you are; in the USA, Germany, Ireland, Netherlands, France, Spain, Portugal, Australia, Dubai, Canada etc. you will get an error message.
BBC iPlayer TV programmes are available to play in the UK only.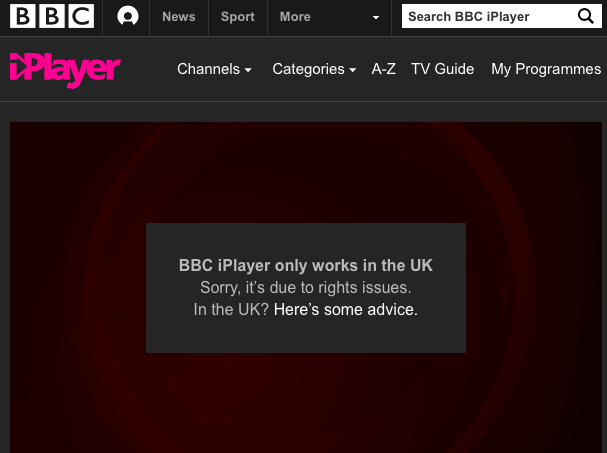 This is basically because their streaming services are geoblocked based on the IP address being used to access it. You must be a UK domestic web user to access BBC live TV streaming and catchup with BBC iPlayer. Or American to watch NBC, etc.
Get a UK IP address. Or, U.S., or German, depending on the coverage you wish to see.
If you just want to watch on your PC, Mac or iPad. Then you can get a Proxy or VPN from Liberty Shield from only £6.99 per month.
Prefer to watch on supported media streaming devices like Now TV, Smart TVs, Apple TV, Xbox, PS4, Amazon Fire TV, Roku etc? You'll need a configured VPN Router setup for your chosen country for only £12.99 with Worldwide Shipping.
Furthermore BBC iPlayer isn't the only geographically-censored streaming services a VPN or Proxy will allow you to access.  Other UK services like BBC Sport, ITV Hub, All 4, Sky Go and Now TV are available.
Plus with the option to switch to our USA service whenever you like, you can access Hulu, HBO GO, Netflix and Pandora. Essentially you can access international content from virtually anywhere!
How to watch Winter Olympics Anywhere with our world-beating VPN router…
When you connect to ISP Routers in the UK, USA, Germany, Ireland, Netherlands, France, Spain, Portugal, Australia, Dubai, Canada etc. you may get an error message when content is not available in your region: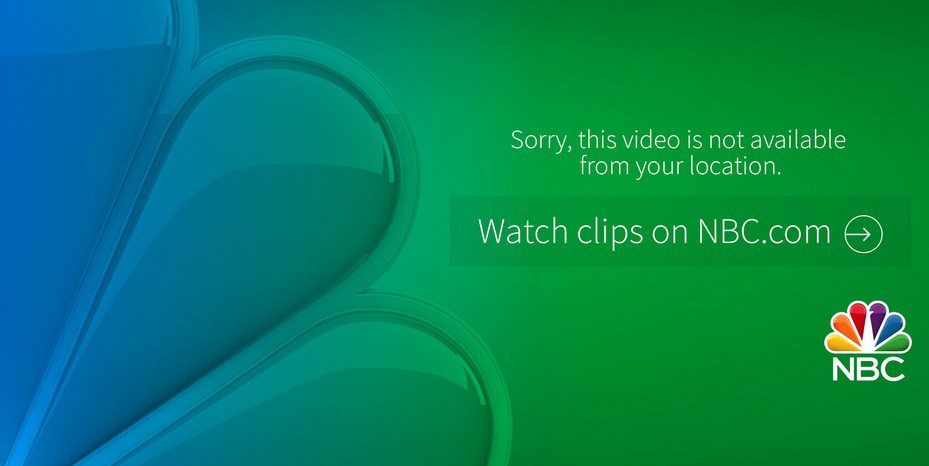 This is basically because their streaming services are geoblocked based on the IP address being used to access it. You must have a region specific IP address to access certain content. This applies to UK streaming and catchup services such as BBC iPlayer, All 4, ITV Hub, Demand 5, Netflix etc; depending where you are located.
Liberty Shield run a tier 2 level VPN network and our range of VPN Routers will allow you to connect any device, including the Fire TV stick, Now TV Box, MAG Box, zGemma, and Android Boxes to a VPN without changing any settings on the device itself. You simply connect your device to the VPN Router WIFI or LAN (via ethernet cable) and also save CPU resources on your device.
We have sold many thousands of standalone VPN Routers in recent years and you can read hundreds of reviews on TrustPilot from genuine customers.
.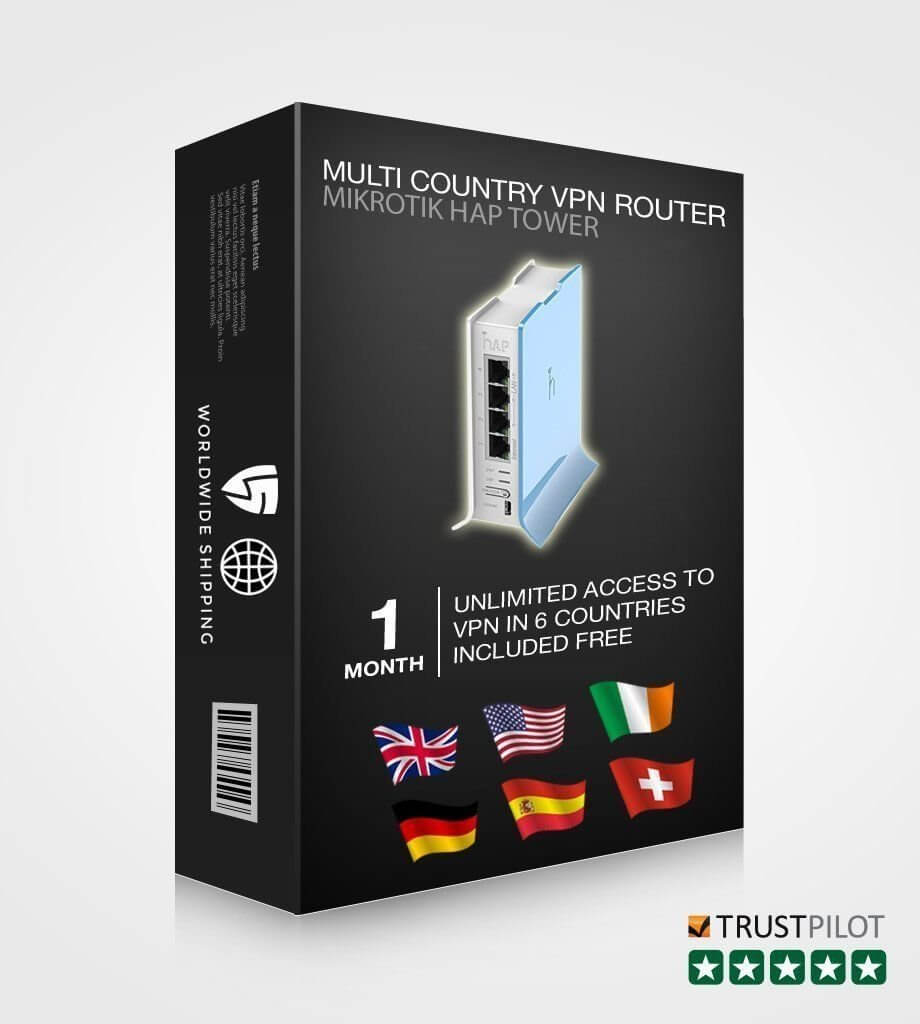 Exclusive Offer: VPN Router with 1 Month VPN Access Included
(Worldwide Shipping)
Only £12.99 
With this offer we will ship you a VPN Router (Mikrotik RouterBoard hAP Lite RB951-2n) which will be encrypted so it allows your Fire TV stick to connect to a UK network. The VPN Router can also be set quickly anytime to any of the countries we offer VPN IP addresses (e.g. UK, USA, Canada Ireland, Germany, Spain, France, Switzerland etc.) to bypass geo-blocking.



After your 1 month free trial – Optional 1 Year VPN for only £49.99
You will need to add an ongoing VPN subscription from Liberty Shield, packages are available from only £6.99 per month or take advantage of this offer and get 1 year VPN access for only £49.99 (only £4.16 per month) at the end of your 1 month free trial period.
Our standalone VPN Routers are not the only service offered by Liberty Shield. We also offer the same range of software based VPN subscriptions as our competitors and also the addition of access to our Proxy Servers.
2018 Schedule – Watch Winter Olympics Anywhere
February 8 

Curling — Mixed doubles round robin
Ski Jumping — Qualification
February 9

Curling — Mixed doubles round robin
Figure Skating — Men's and pairs
Freestyle Skiing — Qualifying, men's and women's mogul
February 10

Biathlon — Women's 7.5 km sprint
Cross-Country Skiing — Women's 7.5km skiathlon
Curling — Mixed doubles round robin
Women's Hockey — Preliminary Round: Japan vs. Sweden, Switzerland vs. South Korea
Luge —Men's heat races
Short Track — Qualification: women's 3000m and 500m relay, men's 1500m
Ski Jumping — Normal hill
Snowboarding — Men's slopestyle qualifying
Speed Skating — Women's 3000m
February 11

Alpine Skiing — Men's downhill
Biathlon — Men's 10 km sprint
Cross-Country Skiing — Men's 15 km skiathlon
Curling — Mixed doubles round robin
Figure Skating — Short dance, ladies short program, pairs free skate
Freestyle Skiing — Women's moguls
Women's Hockey — United States vs. Finland, Canada vs. Olympic Athletes from Russia
Luge — Men's heat races
Snowboarding — Men's slopestyle final, women's slopestyle
Speed Skating — Men's 5000m
February 12

Alpine Skiing — Women's giant slalom
Biathlon — Men's and women's pursuit events
Curling — Mixed doubles semifinals
Figure Skating — Men's and ladies free skate, ice dance free dance
Freestyle Skiing — Men's moguls
Women's Hockey — Switzerland vs. Japan, Sweden vs. South Korea
Luge — Women's heat races
Ski Jumping — Women's competition
Snowboarding — Women's slopestyle final, women's halfpipe qualifying
Speed Skating — Women's 1500m
February 13

Alpine Skiing — Men's alpine combined
Cross-Country Skiing — Men's and women's individual sprint finals
Curling — Mixed doubles bronze and gold medal matches
Women's Hockey — Canada vs. Finland, United States vs. Olympic Athletes from Russia
Luge — Women's heat races
Short Track — Women's 500m final, men's 1000m qualifying, men's 5000m relay qualifying
Snowboarding — Women's halfpipe final, men's halfpipe
Speed Skating — Men's 1500m
February 14

Alpine Skiing — Women's slalom
Biathlon — Women's 15km individual
Curling — Men's and women's round robin
Figure Skating — Pairs short program
Men's Hockey — Preliminary round: United States vs. Slovenia
Luge — Doubles competition
Snowboarding — Men's halfpipe final
Speed Skating — Women's 1000m
February 15 

Alpine Skiing —  Men's super-G
Biathlon — Men's 20km individual
Cross-Country Skiing — Women's 10km individual
Curling — Men's and women's round robin
Figure Skating — Pairs free skate
Freestyle skiing — Women's aerials qualifying
Women's hockey — Preliminary matches include United States vs. Canada
Men's hockey — Preliminary matches
Luge — Team relay competition
Skeleton — Men's competition: heat races
Snowboarding — Men's cross
Speed Skating — Men's 10,000m
February 16

Cross-Country Skiing — Men's 15km individual
Curling — Men's and women's round robin
Figure Skating — Men's short programs
Freestyle Skiing — Women's aerials final
Men's Hockey — Preliminary matches include United States vs. Slovakia
Ski Jumping — Men's large hill qualifying
Snowboarding — Women's cross
Speed Skating — Women's 5000m
February 17

Alpine Skiing — Women's super-G
Biathlon — Women's 12.5km mass start
Cross-Country Skiing — Women's 4x5km relay
Curling — Men's and women's round robin
Figure Skating — Men's short program final
Freestyle Skiing — Women's slopestyle qualifying, final; men's aerials qualifying
Men's Hockey — Preliminary matches include United States vs. Canada
Women's Hockey — Two knockout round matches
Short Track — Men's 1500m, women's 1000m
Skeleton — Women's heat races
Ski Jumping — Men's large hill
February 18

Alpine Skiing — Men's giant slalom
Biathlon — Men's 15km mass start
Bobsled — Two-man sled heat races
Cross-Country Skiing — Men's 4x10km relay
Curling — Men's and women's round robin
Freestyle Skiing — Men's slopestyle qualifying, final; men's aerials final
Men's Hockey — Preliminary matches include Sweden vs. Finland
Women's Hockey — Classification matches
Speed Skating — Women's 500m, men's team pursuit qualifying
February 19

Bobsled — Two-man heat races
Curling — Men's and women's round robin
Figure Skating — Ice dancers
Fresstyle Skiing — Women's halfpipe qualifying
Women's Hockey — Semifinals
Ski Jumping — Team competition
Snowboarding — Women's big air qualifying
Speed Skating — Women's team pursuit qualifying
February 20

Biathlon — Mixed relay
Bobsled — Women's heat races
Curling — Men's and women's round robin
Figure Skating — Ice dance, free dance
Freestyle Skiing — Women's halfpipe final, men's halfpipe qualifying
Men's Hockey — Knockout rounds
Women's Hockey — Classification matches
Nordic Combined — Large hill competition
Short Track — Women's 1000m qualifying, men's 500m qualifying, women's 3000m relay final
February 21

Alpine Skiing — Women's downhill
Bobsled — Women's heat races
Cross-Country Skiing — Men's and women's sprint semifinals
Curling — Men's and women's round robin
Figure Skating — Ladies short program
Freestyle Skiing — Men's cross
Men's Hockey — Quarterfinals
Snowboarding — Men's big air qualifying
Speed Skating — Men's and women's team pursuit finals
February 22

Alpine Skiing — Men's slalom
Biathlon — Women's 4x6km relay
Curling — Men's semifinals
Freestyle Skiing — Men's halfpipe final
Women's Hockey — Bronze and gold medal matches
Nordic Combined — Team competition
Short Track — Men's 500m finals, women's 1000m finals, men's 5000m relay
Snowboarding — Men's and women's parallel giant slalom qualifying
February 23

Alpine Skiing — Women's alpine combined
Biathlon — Men's 4×7.7km relay
Curling — Men's and women's semifinals
Figure Skating — Ladies free skate
Freestyle Skiing — Women's cross
Men's Hockey — Semifinal matches
Snowboarding — Women's big air final
Speed Skating — Men's 1000m final
February 24

Alpine Skiing — Team event
Bobsled — Four-man competition heat races
Cross-Country Skiing — Men's 50km mass start
Curling — Men's gold and silver match, women's bronze match
Men's Hockey — Bronze medal match
Snowboarding — Men's big air final, men's and women's giant parallel slalom finals
Speed Skating — Men's and women's mass start
February 25

Bobsled — Four-man heat races
Cross-Country Skiing — Women's 30km mass start
Curling — Women's gold medal match
Figure Skating — Exhibition gala
Men's Hockey — Gold medal match