The FIFA World Cup 2018 will be one of the biggest sports TV events of all time. But how can you watch FREE Live Streaming and not miss a game during Russia 2018? With Liberty Shield's World Cup VPN offers you've come to the right place.
The first game of the 2018 World Cup gets underway on Thursday 14 June when hosts Russia play Saudi Arabia. This officially launches the once every 4 years festival of glory and heartbreak. Matches will be followed on every conceivable device; TV, desktop, tablets, mobile devices etc and football fans around the world can watch free live streaming of every match on BBC or ITV (English commentary) with our World Cup VPN offers.
Matches you can watch our World Cup VPN offers
(All times UK BST)
14 June 1600 | Russia v Saudi Arabia | ITV
15 June 1300 | Egypt v Uruguay | BBC
15 June 1600 | Morocco v Iran | ITV
15 June 1900 | Portugal v Spain | BBC
16 June 1100 | France v Australia | BBC
16 June 1400 | Argentina v Iceland | ITV
16 June 1700 | Peru v Denmark | BBC
16 June 2000 | Croatia v Nigeria | ITV
17 June 1300 | Costa Rica v Serbia | ITV
17 June 1600 | Germany v Mexico | BBC
17 June 1900 | Brazil v Switzerland | ITV
18 June 1300 | Sweden v Korea Republic | ITV
18 June 1600 | Belgium v Panama | BBC
18 June 1900 | Tunisia v England | BBC
Offer 1: World Cup VPN Coupon
If you just want to watch FIFA World Cup 2018 with BBC iPlayer or ITV Hub on your Windows PC, Mac, Chromebook, iPad, iPhone, Android etc. then this offer is a great way to get a UK VPN or Proxy for your device. With this offer you can get £5 OFF your first billing period, e.g. £6.99 per month reduced to £1.99 for first month.
The coupon code can also be used to get £5 OFF our popular VPN Routers.
Offer expires 10am BST on Tuesday 19 June 2018
Offer 2: Reactivated VPN Routers
If you have one of our VPN Routers but no longer subscribe to Liberty Shield then it's time to plug it back in and re-connect all your devices.  That's right… we've re-activated all the expired VPN Routers automatically until 10am BST on Tuesday 19 June 2018.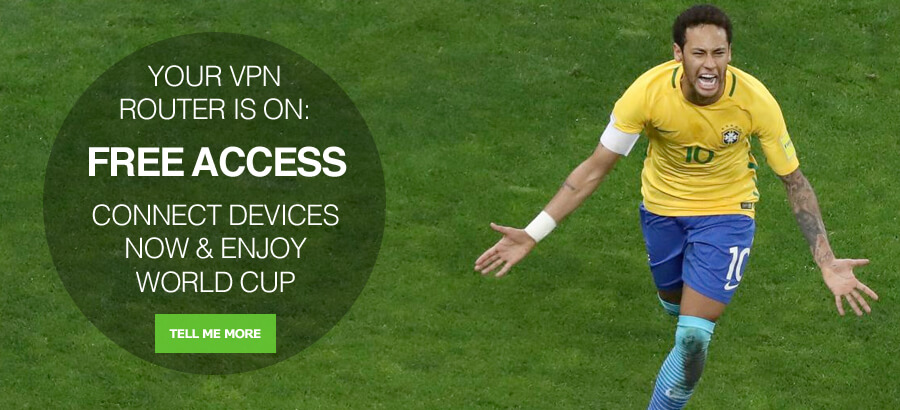 Following a series of network and speed enhancements we hope you will enjoy the improvements and consider re-subscribing.
If your VPN Router hasn't come back online automatically or you need help or assistance please contact our Helpdesk.