BBC Sport will bring you live coverage of the 2017 World Snooker Championship from Saturday 15 April across BBC TV, Red Button, connected TVs, online, tablets and smartphones.
Viewers can also watch live uninterrupted coverage of both tables from the World Snooker Championship at the Crucible via the BBC Sport website and connected TV.
Five-time world champion Ronnie O'Sullivan believes Mark Selby is currently in the form of his life and this week's World Snooker Championship in Sheffield is his to lose.
BBC coverage will begin at 10am on Saturday 15 April with Mark Selby taking on Fergal O'Brien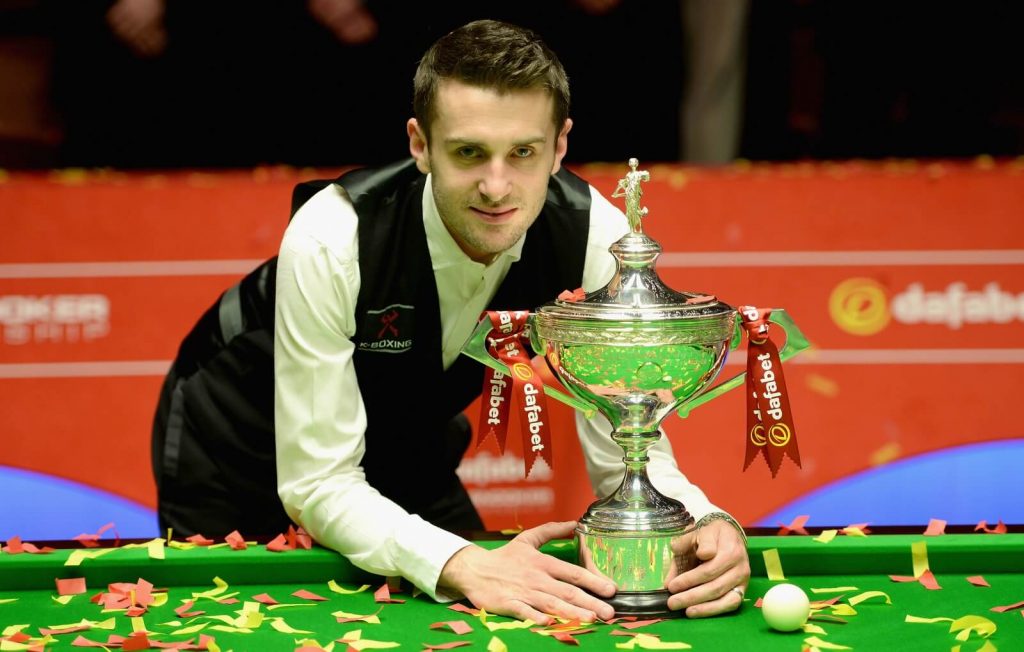 The easiest ways to watch the World Snooker Championship live from from anywhere in the world is on BBC Sport…
If you try watch BBC Sport in English-speaking countries such as Ireland, USA, Canada, Australia, Spain, France, Canary Islands, Hong Kong, India, Indonesia, Malaysia, Qatar, New Zealand,  Turkey, Saudi Arabia, or Dubai you will get a Geo block error. To bypass this and watch all content for all you need is a a Proxy, VPN or VPN Router to overcome location restrictions that would otherwise block you from watching BBC Live Streaming and all other UK TV services.
The BBC World Snooker Championship coverage will be streamed live on the BBC Sport website as well as the various BBC iPlayer and BBC Sports apps on iPhone, iPad, Android, Smart TV, Now TV, FireTV etc..
How to watch 2017 World Snooker Championships live streaming from anywhere…
When you load BBC iPlayer in the USA, Germany, Ireland, Netherlands, France, Spain, Portugal, Australia, Dubai, Canada etc. you will get an error message.
BBC iPlayer TV programmes are available to play in the UK only.
This is basically because their streaming services are geoblocked based on the IP address being used to access it. You must be a UK domestic web user to access BBC live tv streaming and catchup with BBC iPlayer.
Get a UK IP address.
If you just want to watch on your PC, Mac or iPad. Then you can get a UK Proxy or VPN from Liberty Shield from only £6.99 per month.
Prefer to watch on supported media streaming devices like Now TV, Smart TVs, Apple TV, Xbox, PS4, Amazon Fire TV, Roku etc? You'll need a UK configured VPN Router setup as British for only £12.99 with Worldwide Shipping.
Furthermore BBC Sport isn't the only geographically-censored streaming services a VPN or Proxy will allow you to access.  Other UK services like ITV Sport, BBC iPlayer, ITV Hub, All 4, Sky Go and Now TV are available.
Plus with the option to switch to our USA service whenever you like, you can access Hulu, HBO GO, Netflix and Pandora.
Essentially you can access international content from virtually anywhere!
First Round (best of 19 frames)
All times BST
Saturday 15 April
10:00
Mark Selby (Eng) v Fergal O'Brien (Ire)
Anthony McGill (Sco) v Stephen Maguire (Sco)
14:30
Ronnie O'Sullivan (Eng) v Gary Wilson (Eng)
Kyren Wilson (Eng) v David Grace (Eng)
19:00
Mark Selby (Eng) v Fergal O'Brien (Ire)
Anthony McGill (Sco) v Stephen Maguire (Sco)
Sunday 16 April
10:00
Shaun Murphy (Eng) v Yan Bingtao (Chn)
Kyren Wilson (Eng) v David Grace (Eng)
14:30
Ronnie O'Sullivan (Eng) v Gary Wilson (Eng)
Stuart Bingham (Eng) v Peter Ebdon (Eng)
19:00
Marco Fu (HK) v Luca Brecel (Bel)
Mark Allen (NI) v Jimmy Robertson (Eng)
Monday 17 April
10:00
Ding Junhui (Chn) v Zhou Yuelong
Stuart Bingham (Eng) v Peter Ebdon (Eng)
14:30
Shaun Murphy (Eng) v Yan Bingtao (Chn)
John Higgins (Sco) v Martin Gould (Eng)
19:00
Marco Fu (HK) v Luca Brecel (Bel)
Mark Allen (NI) v Jimmy Robertson (Eng)
Tuesday 18 April
10:00
Liang Wenbo (Chn) v Stuart Carrington (Eng)
John Higgins (Sco) v Martin Gould (Eng)
14:30
Ding Junhui (Chn) v Zhou Yuelong
Judd Trump (Eng) v Rory McLeod (Eng)
19:00
Liang Wenbo (Chn) v Stuart Carrington (Eng)
Allister Carter (Eng) v Graeme Dott (Sco)
Wednesday 19 April
10:00
Ryan Day (Wal) v Xiao Guodong (Chn)
Judd Trump (Eng) v Rory McLeod (Eng)
14:30
Neil Robertson (Aus) v Noppon Saengkham (Tha)
Allister Carter (Eng) v Graeme Dott (Sco)
19:00
Ryan Day (Wal) v Xiao Guodong (Chn)
Barry Hawkins (Eng) v Tom Ford (Eng)
Thursday 20 April
13:00
Neil Robertson (Aus) v Noppon Saengkham (Tha)
Second Round (best of 25 frames)
Bingham/Ebdon v K Wilson/Grace
19:00
Barry Hawkins (Eng) v Tom Ford (Eng)
Second Round (best of 25 frames)
Murphy/Yan v O'Sullivan/G Wilson
Second Round (best of 25 frames)
Friday 21 April
10:00
Liang/Carrington v Ding/Zhou
Bingham/Ebdon v K Wilson/Grace
14:30
Murphy/Yan v O'Sullivan/G Wilson
Allen/J Robertson v Higgins/Gould
19:00
Liang/Carrington v Ding/Zhou
Bingham/Ebdon v K Wilson/Grace
Saturday 22 April
10:00
Murphy/Yan v O'Sullivan/G Wilson
Allen/J Robertson v Higgins/Gould
14:30
Liang/Carrington v Ding/Zhou
McGill/Maguire v Trump/McLeod
19:00
Allen/J Robertson v Higgins/Gould
Selby/O'Brien v Day/Xiao
Sunday 23 April
10:00
Robertson/Saengkham v Fu/Brecel
Hawkins/Ford v Carter/Dott
14:30
Selby/O'Brien v Day/Xiao
McGill/Maguire v Trump/McLeod
19:00
Robertson/Saengkham v Fu/Brecel
McGill/Maguire v Trump/McLeod
Monday 24 April
13:00
Selby/O'Brien v Day/Xiao
McGill/Maguire v Trump/McLeod
19:00
Selby/O'Brien v Day/Xiao
McGill/Maguire v Trump/McLeod
Tuesday April 25
Quarter-Finals (best of 25 frames)
10:00 & 19:00
QF2
QF3
14:30
QF1
QF4
Wednesday April 26
10:00
QF1
QF3*
14:30
QF2*
QF4
19:00
QF1*
QF4*
Thursday 27 April
Semi-Finals (best of 33 frames)
13:00
SF1
19:00
SF2
Friday 28 April
10:00 & 19:00
SF1
14:30
SF2
Saturday 29 April
10:00 & 19:00
SF2
14:30
SF1
Sunday 30 April
Final (best of 35 frames)
14:00 & 19:00
Sunday 1 May
14:00 & 19:00