Live Restart on your TV, My Programmes and Cross-Device Resume all new enhancements made in August to BBC iPlayer.
BBC iPlayer has come a long way since launching as a PC-only 7 day catch-up TV service on Christmas Day 2007; TV and mobile apps, radio, live TV, HD, downloads, 30 day catch-up, archive collections, premieres, exclusive programming and more.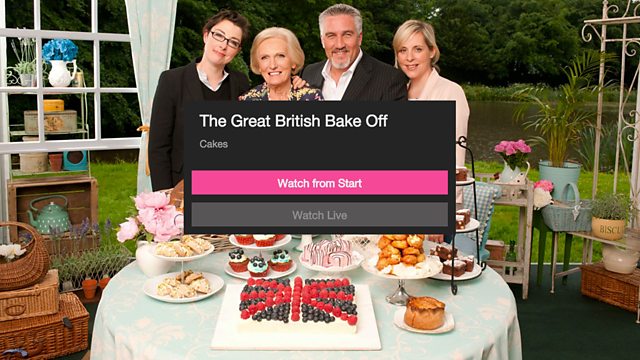 Live Restart on TV
Ever turned on your TV or changed channels to discover you've missed the start of a programme you wanted to watch? With iPlayer's Live Restart feature you can jump back to the start of the programme without having to wait for it to end; just select the relevant TV channel in iPlayer and hit 'Watch from start'.
First launched for iPlayer on computers in time for the London 2012 Olympics, Live Restart has proved very popular. Since then, the BBC have been working hard with manufacturers of connected TV devices on the technology to enable roll out of the feature to iPlayer on TV.
The feature is available now on Roku, NOW TV, Amazon Fire TV, Xbox One and a range of connected TV sets and additional TV devices will go online throughout the remainder of 2015. The Live Restart feature will also make its way to BBC iPlayer mobile and tablet apps very soon.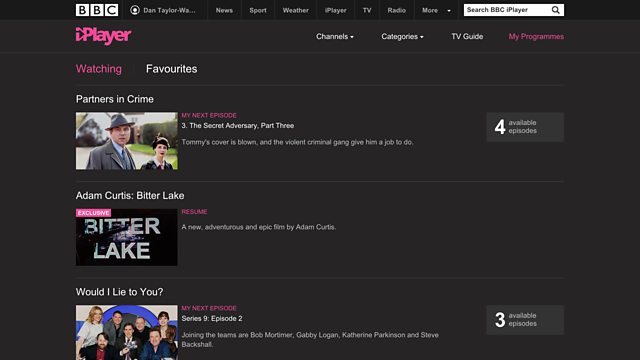 My Programmes
A brand new area on BBC iPlayer, providing easy access to episodes you're part way through, the next episodes of series you're watching and any programmes you've added to your Favourites.
My personal 'Watching' list (see above screenshot) is currently serving us up next episodes of Would I Lie to You? and Partners in Crime and giving me the opportunity to resume Adam Curtis' epic iPlayer exclusive film, Bitter Lake.
My Programmes is already available on the iPlayer website and the iPlayer mobile and tablet apps. My Programmes will be available for iPlayer on TV within the next year.
Cross-Device Resume
This new feature enables you to start watching a programme on one device and seamlessly resume watching it again on another.
Just make sure you're signed-in and iPlayer will automatically cue up any episodes you were part-way through on another device, enabling you to instantly pick up where you left off.
Initially available on computers, tablets and mobiles, cross-device resume is another feature pending roll out to TV devices as the BBC strives to make your iPlayer experience as consistent and connected as possible across all screens.
 Watch BBC iPlayer from anywhere on any device
Liberty Shield offer a range of VPN and Proxy services and our users should always ensure to familiarise themselves with the terms and conditions of third party websites.
For the ultimate VPN solution why not consider one of our Pre-configured VPN Routers which can be configured as default to any one of the 10 countries including USA, UK, Ireland etc. You can also change your VPN Router virtual location to any of the 10 countries whenever you wish!
These hybrid routers simply plug-in (with supplied cable) to your existing internet router and provide a separate WiFi network in your home or office for the country which the
VPN Router
is configured for.  This means you can watch localised content such as
BBC iPlayer,
Netflix
and
Amazon Prime
from anywhere on connected devices; including
NOW TV
, Amazon Fire TV, Roku, Apple TV, Chromecast, PlayStation, X Box, Wii and much more.