What is the Best ITV Hub VPN? Some VPNs have been blocked by ITV but our high speed tier 2 level VPN works with ITV Hub, ITV Sport and all other UK TV services.
Since ITV started blocking some VPN providers, Best ITV Hub VPN is one of Google's most popular worldwide searches.  British Expats living in USA, Australia, Ireland, Dubai, Canada, New Zealand, Spain, France, Germany etc are constantly left disappointed by the fact that ITV Hub is geoblocked outside the UK. This means that watching ITV TV live or on-demand from overseas is blocked.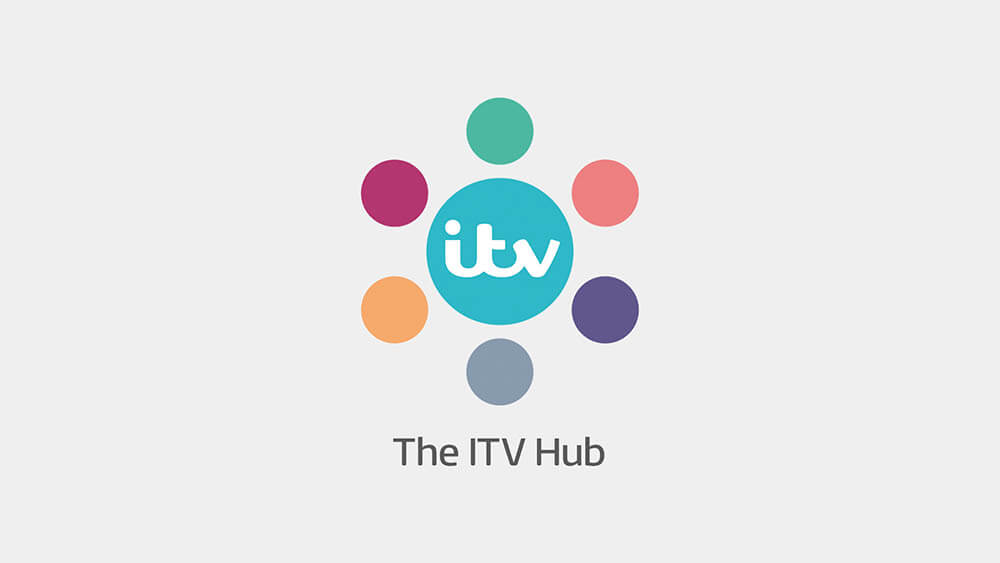 ITV Hub has revolutionised UK TV and offers a comprehensive platform on a whole range of devices to watch ITV TV live and via catchup.  Other UK TV broadcasters have followed suit with the BBC launching BBC iPlayer and Channel 4 with their All 4 streaming service.
Since its launch at the end of 2015 the ITV Hub has become the undisputed home of all your favourite ITV programmes and online services. Live streaming of ITV's six channels is at the heart of the Hub. Available in more places than ever before, it's somewhere to watch the shows which you already love and discover new shows that we're sure you'll love.
Some of the most popular ITV TV shows include: Britain's Got Talent, Celebrity Juice, Champions League, The Chase, Coronation Street, Doc Martin, Downton Abbey, Emmerdale, Family Guy, Good Morning Britain, I'm a Celebrity… Get Me Out of Here!, The Jeremy Kyle Show, The Jonathan Ross Show, Judge Rinder, Loose Women, Lorraine, Midsomer Murders, The Only Way is Essex, Paul O'Grady: For the Love of Dogs, Premiership Rugby, Saturday Night Takeaway, This Morning, The X Factor, You've Been Framed!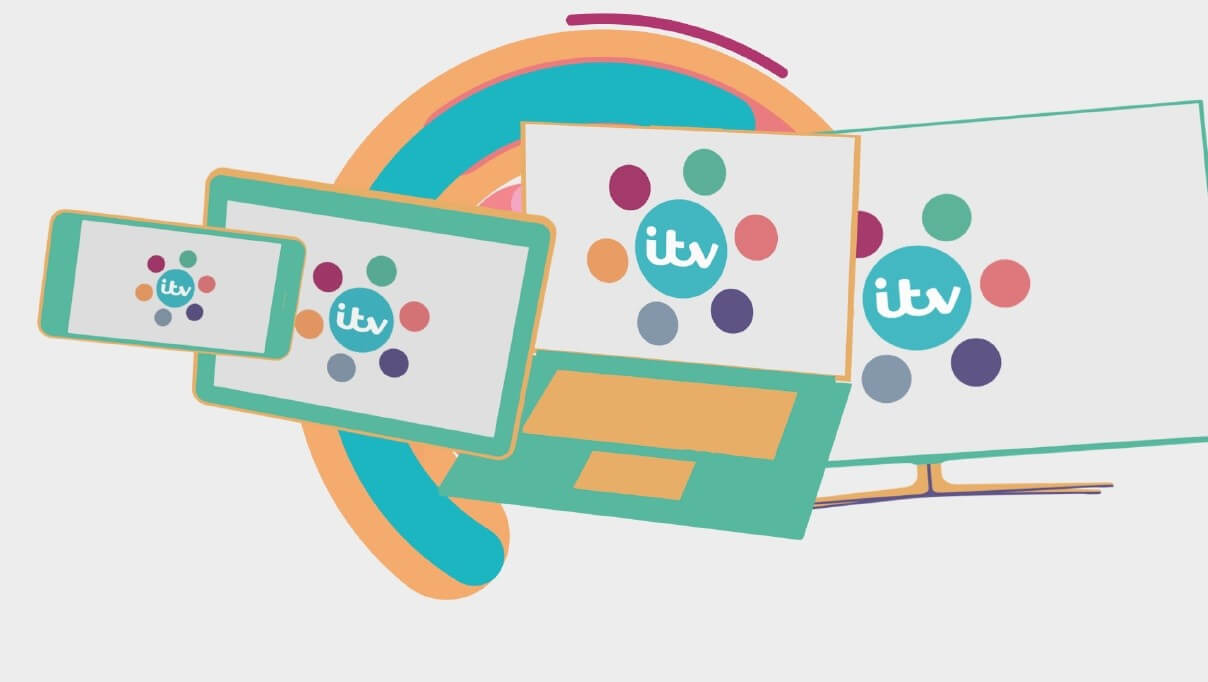 How to watch ITV Hub with the Best ITV Hub VPN from anywhere…
When you load ITV Hub in the USA, Germany, Ireland, Netherlands, France, Spain, Portugal, Australia, Dubai, Canada etc. you will get an error message.
ITV Hub programmes are available to play in the UK only.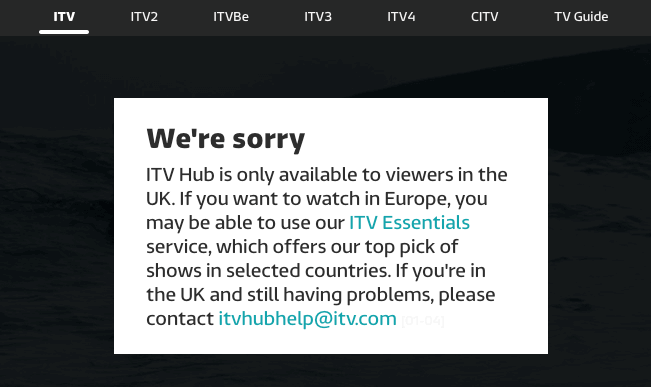 This is basically because ITV Hub streaming services are geoblocked based on the IP address being used to access it. You must be a UK domestic web user to access ITV live tv streaming and catchup with ITV Hub.
Get a UK IP address.
If you just want to watch on your PC, Mac or iPad. Then you can get a UK Proxy or VPN from Liberty Shield from only £6.99 per month.
Prefer to watch on supported media streaming devices like Now TV, Smart TVs, Apple TV, Xbox, PS4, Amazon Fire TV, Roku etc? You'll need a UK configured VPN Router setup as British for only £12.99 with Worldwide Shipping.
Furthermore ITV Hub isn't the only geographically-censored streaming services a VPN or Proxy will allow you to access.  Other UK services like ITV Sport, BBC Sport, BBC iPlayer, All 4, Demand 5, Sky Go and Now TV are available.
Plus with the option to switch to our USA service whenever you like, you can access Hulu, HBO GO, Netflix and Pandora.
Essentially you can access international content from virtually anywhere!
ITV Hub Channel List
ITV
ITV 2
ITV BE.
ITV 3
ITV4
CITV
ITV ENCORE
VPN for ITV Hub on Computer:
Games Console VPN for ITV Hub:
Xbox One
PS3
PS4
Wii U
Xbox 360
Mobile Phone Apps with VPN for ITV Hub:
Android
Blackberry
iOS (iPhone)
Windows Phone
UK VPN on Tablets for ITV Hub:
Amazon Fire
Android
Blackberry
Chrome
iOS (iPad)
Windows
Connected TV with VPN Router for ITV Hub:
Amazon Fire TV
Apple TV
BT Vision
Chromecast
EE TV
Freesat
NOW TV
Nvidia Shield
Roku
Samsung
Sony
Sky On Demand
Talk Talk
Virgin Media
YouView
Google TV
LG
Panasonic
Philips
Sharp
Toshiba
Hitachi
ITV Shows available on ITV Hub with ITV Hub VPN
A Touch of Frost

A Very Royal Wedding

Adventure Time

After The News

Almost Naked Animals

American Dad!

An Audience with…

Australian Wilderness with Ray Mears

The Avatars

The Avengers

Bachelor In Paradise

The Bagel & Becky Show

Be Beautiful, Be Tasty

Bear Grylls: Mission Survive

Bear's Mission with…

Benidorm, Betch

The Blonde Bombshell

Blue Murde

Bottom Knocker Street

Bridezillas, Britain's Busiest Motorway

Britain's Got Talent

British Superbikes

British Touring Car Championship

Bromans

Cake Hunters

Cake Wars

The Car Chasers

Carry On

Celebrations

Celebrity Juice

Celebrity Showmance
More ITV Shows available on ITV Hub with ITV Hub VPN
Champions League

The Chase

The Chase: Celebrity Specials

Cheerleaders Steel Rays

Chrisley Knows Best

Coronation Street

The Cube

Cupcake Wars

Cut the Rope: Om Nom Stories (Shorts)

The Darts Show

Dating in the Dark

Dinner Date

Dino Dana

Doc Martin

Downton Abbey

The Ellen Degeneres Show

Elton John: The Nation's Favourite Song

Emmerdale, Endeavour

England International: Friendlies

Fame High

Family Guy

Fangbone

Fort Boyard: Ultimate Challenge

Foyle's War

Freakish

Ghosted

Gino's Italian Escape

Gone To Pot: American Road Trip
Good Morning Britain
Guidance
The Harbour
More ITV Shows available on ITV Hub with ITV Hub VPN
Harry Hill's Alien Fun Capsule
Heartbeat
Honest
Hornblower
Horrid Henry
Housewife 49
How To Spend It Well at Christmas with Phillip Schofield
I'm a Celebrity… Extra Camp
I'm a Celebrity… Get Me Out of Here!
Inside London Fire Brigade
Inspector Morse
International Football Highlights: England
It'll Be Alright on the Night
ITV Evening News 1830 (Weekday)
ITV News at Ten
ITV Racing
The Jeremy Kyle Show
The Jeremy Kyle Show USA
The Jonathan Ross Show
Judge Rinder
Kendra on Top
The Knock
LA Story
LEGO Star Wars
Les Dawson
Forever
Let's Do Lunch
Lewis
Life Inside Jail: Hell On Earth
Looped
Loose Women
Lorraine
Love Island
Love Your Garden
The Mafia With Trevor McDonald

Make It Pop

Margery and Gladys

Marriage Bootcamp: Bridezillas

The Martin Lewis Money Show

The Martin Lewis Money Show

Midsomer Murders

Million Dollar Listing

Minder
More ITV Shows available on ITV Hub with ITV Hub VPN
Miss Marple

Motorsport UK

Mr Bean: Animated Series

Mr Selfridge

My Parents Are Aliens

Nerds & Monsters

Ninjago

Oddbods

Oddbods (Shorts)

On Assignment

On the Buses

The Only Way is Essex

Parking Wars

Paul O'Grady: For the Love of Dogs

Peston on Sunday

Planet's Got Talent, Pokemon

Police Tapes

Premiership Rugby

Pride of Britain Awards

Prince Harry and Meghan: Truly, Madly, Deeply

The Professionals

The Protectors

Ready, Set, Style

The Real Housewives of Cheshire

The Real Housewives of New York City

The Real Housewives of Potomac

Release the Hounds

River Monsters

Ross Kemp Behind Bars

Saturday Morning with James Martin

Saturday Night Takeaway

Save Money: Good Food

Scrambled Specials

Selling It In The ATL

Serial Killer with Piers Morgan

Share A Story

Sheridan

Sooty

Stuck on You: The Football Sticker Story

Super 4
More ITV Shows available on ITV Hub with ITV Hub VPN
The Sweeney

The Syndicate

Take Me Out

Tamara's World

Tenable

Text Santa

Third Wheel

This Morning

Thunderbirds Are Go

Timewasters

Tipping Point

The Tom & Jerry Show

Tommy Cooper

Tonight

Top TOWIE Moments

Totally Bonkers Guinness World Records

Tour de France

Tour of Britain

Ultimate Spider-Man

Undercover: Inside Britain's New Far Right

Utterly Outrageous Celebrity Weddings

Vanderpump Rules

A Very Royal Wedding, Viral Tap

The Voice

The Voice Kids

Wanted: A Family Of My Own

Wild at Heart The Wine Show

Wishfart

World Endurance Series

World Superbike Highlights

Wycliffe The X Factor

You've Been Framed!

you've been t@gged