The wait is over! Check out the latest shows we've all been waiting for with a Superhero VPN!
Right now, it seems like there is always a new TV show or film coming out containing superheroes. However, fans have been waiting for years for many of these TV shows and films to be released, even actively campaigning for it all over social media. Companies have also been looking into more unknown heroes and adding to the lore. Someone has to save us from the boredom. Let's look at what these streaming services offer and what a superhero VPN can let you see wherever you are.
Watch The Snyder Cut with a Superhero VPN
Ever since the disappointing release of 2017's Justice League, fans of DC comics have been screaming for the release of Zack Snyder's edition. Taking over social media and conventions with the hashtag #ReleashTheSnyderCut, WB studios finally listened. After 4 years of waiting, The Snyder Cut finally premiered on 18th March 2021 on HBO Max.
From the premiere, many fans and critics have taken to social media to praise the film. To quote Variety's Antonio Ferme, "no matter how the critics feel about Snyder's film, they all seem to agree on one point: it is superior to the 2017 theatrical version of Justice League." Fans loved the fresh development of various characters. Many fans complained about the lack of focus on Flash (Ezra Miller) and Cyborg (Ray Fisher) as they have some of the best powers in the Justice League comic books. The Snyder Cut let all the heroes shine at one point. As a fan on Twitter explains: "In JL 2018, the primary leader was Batman, but in the Snyder Cut all viewpoints are on display. An equal say in the decision making."
This was the Justice League fans wanted. Every hero gets their moment, only to come together and beat Darkseid as a team. Fans and critics were so impressed by this cut, WB plans to make this edition part of the DCEU canon. There is even talk about sequels because this film was so popular.
If you are a fan of DC comics or want to see a superhero redemption film, watch The Snyder Cut along with a superhero VPN on HBO Max.
Watch The Falcon and The Winter Soldier with a Superhero VPN
Ever since Civil War (2016), The Winter Soldier (Sebastian Stan) and The Falcon (Anthony Mackie) have had amazing chemistry as frenemies. Even though they fought on the same side in Civil War, there was a bit of tension between the two, leading to some hilarious moments. Like Wanda, they were more side characters in the Avenger films. They now get their time to shine in this mini-series.
Through the first episode, the show addresses many things about the characters. With Sam Wilson (The Falcon) interacting with his family and Bucky Barnes (The Winter Soldier) trying to move on from his own past as The Winter Soldier, the show takes its time to develop more aspects of their character away from their relationships with Steve Rogers (Captain America).
Speaking of Captain America, both characters have been Captain America before. Wilson became Captain America in Marvel NOW! (October 2012 – May 2015), as Steve Rogers's successor. Barnes takes the mantle in November 2008, following The Death of Captain America in Captain America (Vol.5) #25–42. Both have justifiable reason to don the iconic costume and shield. However, the show takes the question of who further by asking one more question. Do we need another Captain America? Right from the first episode, they debate heavily the idea of having a new Captain America because of the legacy that name possesses in a post-blip world.
A terrorist group has risen because they believe the Blip was a good thing. This, along with exploring the symbol Captain America has in society and how to move forward, makes this a thrilling, action-packed and humorous series. You can watch the first episode of The Falcon and The Winter Soldier on Disney+ with a superhero VPN from Liberty Shield.
Watch The Old Guard with a Superhero VPN
One of the worst things you can do is to expose a secret that's not yours to share. It's even worse if you do that to a race of immortal beings based on Greek mythology. That's exactly what happens in this fantasy superhero film, starring Charlize Theron, KiKi Layne and Matthias Schoenaerts.
The story focuses on female warriors who have lived through centuries because of their ability to regenerate, working as mercenaries. When they are tricked into exposing themselves through a fake mission, they seek revenge. The film was praised both critically and commercially for its unique concept compared to other films in the superhero genre. The fight chorography is also universally praised for being engaging.
The most praised element of this film was for its theme of corporate greed. The bad guy, played by Harry Melling, is the owner of a pharmaceutical company named Steven Merrick. He wants to use their healing properties to take over the pharmaceutical market and make a profit, even if it means constantly torturing the immortals in the process. This would also cost the immortals their lives as they can only regenerate for a limited time. However, the film also shows how lives have been saved through their powers from saving people from cancer. Even if it was for greed, some good came out of it.
The film has been green-lit for a sequel, so there will be more exploring of this theme of immortality and capitalism. With positive reviews all around, check out the film on Netflix with a Superhero VPN.
What else can I watch with a Superhero VPN?
All three streaming services are available in different countries. HBO Max has all of DC Universe's scripted original shows and films such as Wonder Woman (2017), Aquaman (2018) and Wonder Woman 1984 (2020). Other critically acclaimed shows such as Harley Quinn (2019-), Young Justice (2010-), and Doom Patrol (2019-) are also only available by HBO Max. For those outside the USA, you need a VPN to see these shows.
Disney+ and Netflix are more worldwide. Disney+ is less world-wide. Thailand, Russian Federation, and Brazil are a few more examples of places without Disney+. To compare, Netflix is available in over 190 countries, including Thailand and the Russian Federation.
However, each Netflix has different content for different regions. Did you know Netflix Canada has the original Naruto series, but UK does not? This is an example of these streaming services locking content for different regions.
To access these streaming services and have all of their content, you need a Superhero VPN. That's where Liberty Shield comes in.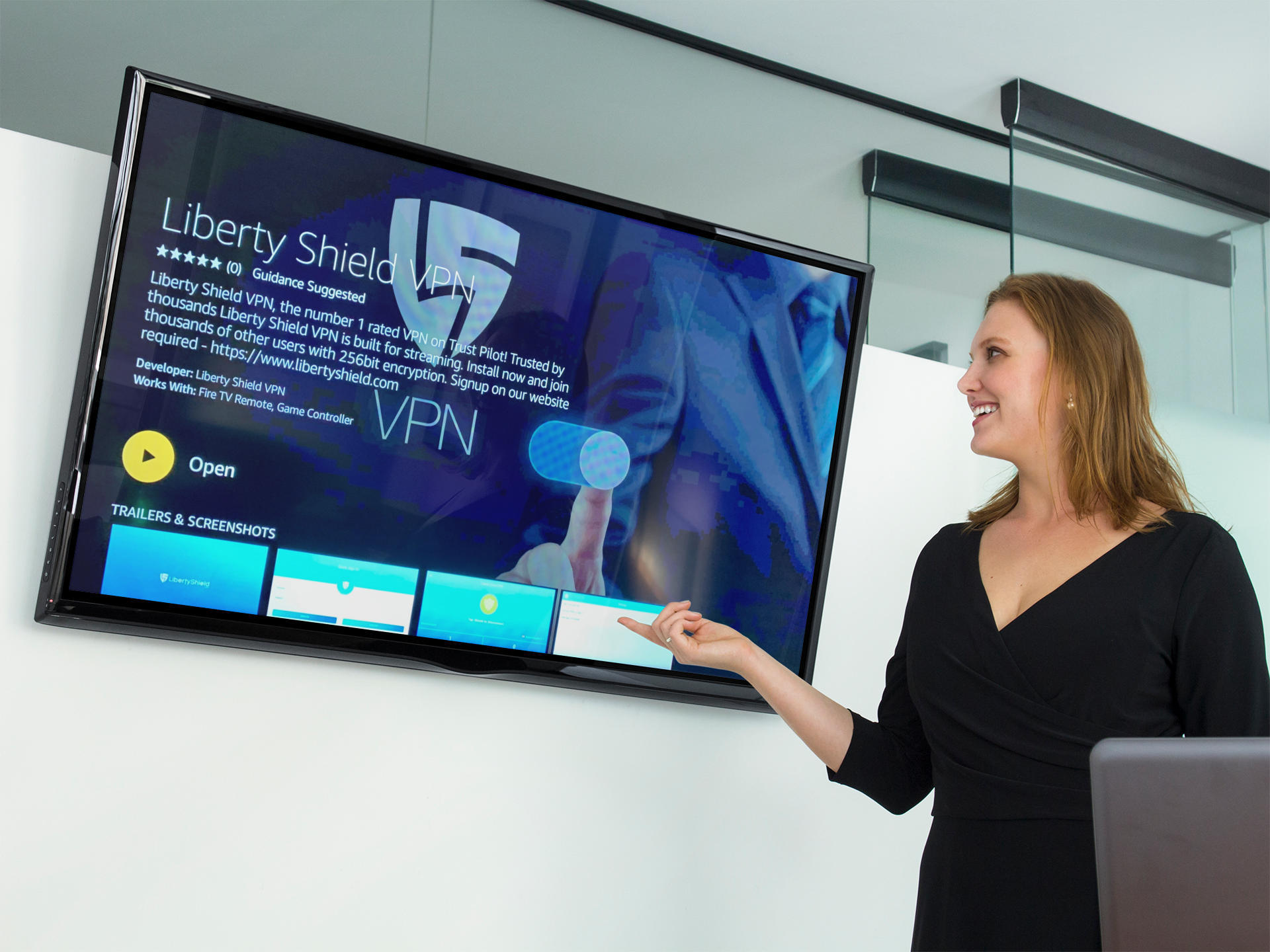 With a free 48-hour trial, unlimited switches between countries and VPN or Proxy connectivity, and the ability to connect multiple devices to Liberty Shield's VPN, Proxy, or VPN routers simultaneously, Liberty Shield can expand your viewing expansion and protecting you and your internet data. It's not just these streaming services. You can get access to Amazon Prime, BBC iPlayer, HBO Max, and more worldwide!
With an excellent rating on Trustpilot and support available 365 days a year, be assured that you'll get your money's worth.
If you try to access these shows outside of the regions they are open to, you will get an error message. This is basically because their streaming services are geo blocked based on the IP address being used to access it.
Not in service area. HBO Max is currently only supported in the U.S. and certain US territories.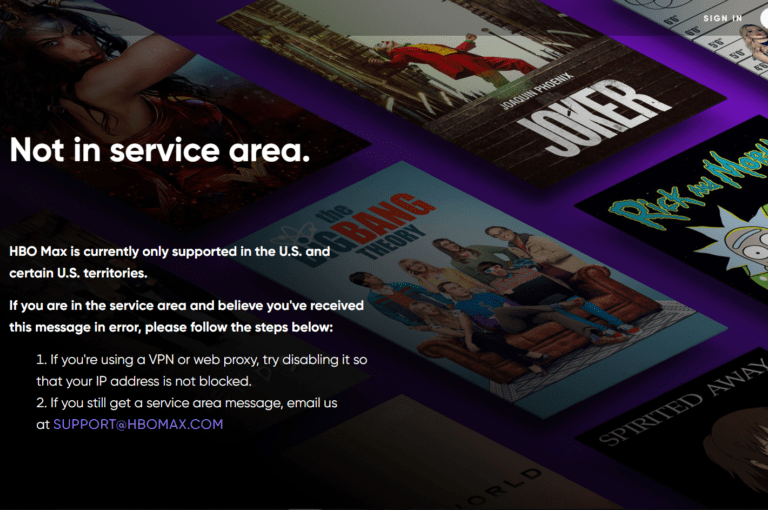 This is basically because their streaming services are geoblocked based on the IP address being used to access it.
Get a USA IP address
If you want to watch on your Windows PC, Mac, FireTV, iPhone, iPad or Android then you can get a UK Proxy or VPN Apps from Liberty Shield, FREE for 48 hours and then from only £8.99 per month..
Prefer to watch on supported media streaming devices like Now TV, Smart TVs, Apple TV, Xbox, PS4, Roku etc? You'll need a UK configured VPN Router setup as American, available from only £9.99 with Worldwide Shipping available.