The 2021 NFL season makes absolutely no sense. With all NFL action shown on Sky Sports in the UK and you can you also access NFL Game Pass International with a UK VPN.  If you use a USA VPN then you can access the America version of NFL Gamepass as well as NFL streaming networks like NFL Network, ESPN, CBS, Amazon Prime Video, NBC Sport and Fox; as well as their streaming partners lie Hulu, SlingTV and FuboTV. Need an NFL VPN?
Just when teams begin to look like they are separating themselves from the pack and establishing themselves as Superbowl contenders, they'll lose two in quick succession, including one to a team that really have no business beating them.  Fun Fact: 'NFL VPN' is one of the most searched sports phrases on Google!
Our NFL VPN articles are brought to you in partnership with EPL Index, and Dave Hendrick – host of the Two Footed Podcast, offering FREE podcasts to football fans.
Let's take the Buffalo Bills as an example, after starting the season 4-1, they have gone 3-3 in the last six games. Defeats to the Titans and Colts aren't terrible. Both are good teams with playoff ambitions. A defeat to a dreadful Jacksonville Jaguars team though? There's no excuse for that. The Bills mixed form has reopened the AFC East as a competitive division. At the start of the season the popular view was that the Bills would easily win the division, the rebuilding Dolphins and Patriots would be a mixed bag, and the Jets would remain a dumpster fire.
The Jets have lived up, or down, to expectations and been terrible, the Dolphins have been a mixed bag but the other two have not been as expected. The Bills have been worse than expected, and the Patriots have been a lot better than expected. They had a slow start, beginning the season 2-4, but have run off five straight wins and started to look like a team that could be a real contender to win it all. Rookie QB has really settled into the offense and with the Pats defense being as good as they were expected to be, they have become a quality team on both sides of the football. This weekend they will seek a sixth straight win, and the lead at the top of the division.
Standing in their way will be the number one seed in the AFC right now, the Tennessee Titans. At 8-3, the Titans sit top of the AFC South, and the AFC rankings, but all is not rosey in Nashville. Superstar Running Back Derrick Henry broke his foot and could miss the rest of the season. The Titans lost to the horrific Houston Texans last weekend and looked completely aimless on offense. Henry had really put the team on his back across the past couple of seasons, and looked on course to potentially set for back to back 2000 yard seasons. The Titans will be looking over their shoulder if they lose this weekend and the Indianapolis Colts continue winning. It remains to be seen in the Titans defeat to the Texans was merely a wobble or a representation of what they will be without the ability to hand the ball off to Henry 30 times per game.
After the Titans trip to Foxborough, the LA Rams will march into Lambeau Field to take on the Green Bay Packers in a match-up between two of the favourites to win the Vince Lombardi trophy. After an outstanding 7-1 start, the Rams have dropped their last two games and begun to show some cracks in their armor. They have recently made two big additions, with Odell Beckham Jr will give them another weapon on the outside, while Von Miller will add to their pass rush. Head Coach Sean McVey isn't under any external pressure but he is someone who has set high standards for his team, and himself. The Rams have mortgaged their short term future by trading away a lot of upcoming draft picks to go all in on this team and McVey was one of the architects of that strategy. Another short of a place in the Superbowl will be a disappointment to McVey, so expect the Rams to come into this game with a renewed vigour.
Waiting for them will the Packers, sore from last weekends defeat to the Vikings. After overcoming so much Aaron Rodgers related drama in the pre-season, the diva QB was forced to sit out the recent defeat to Kansas City when it turned out that he wasn't vaccinated. He was back under centre quickly, but after all the nonsense that surrounded a franchise that rarely makes waves prior to the season the last thing anybody in Green Bay wanted was for Rodgers to cause any more problems. It was no surprise, Rodgers cares far more about himself than the team, but it was unwanted all the same. For the Packers to win the whole damn thing this year, that needs to be the end of it. Rodgers needs to get back to doing what he does best, being the best quarterback in the sport. If he does that, he could add a second Superbowl ring to his resume. It's likely that this will be his last season in Green Bay and both the player and the franchise will want their relationship to end on a high, with the Packers wanting both the trophy and the high trade value that will result.
No matter where you are in the world, you can use your Liberty Shield VPN to find a way to watch these games.
Don't have a Liberty Shield VPN? You're missing out! Click right here to check out what we can offer you, and use the code EPLBLOG to get a HUGE 50% OFF at check-out.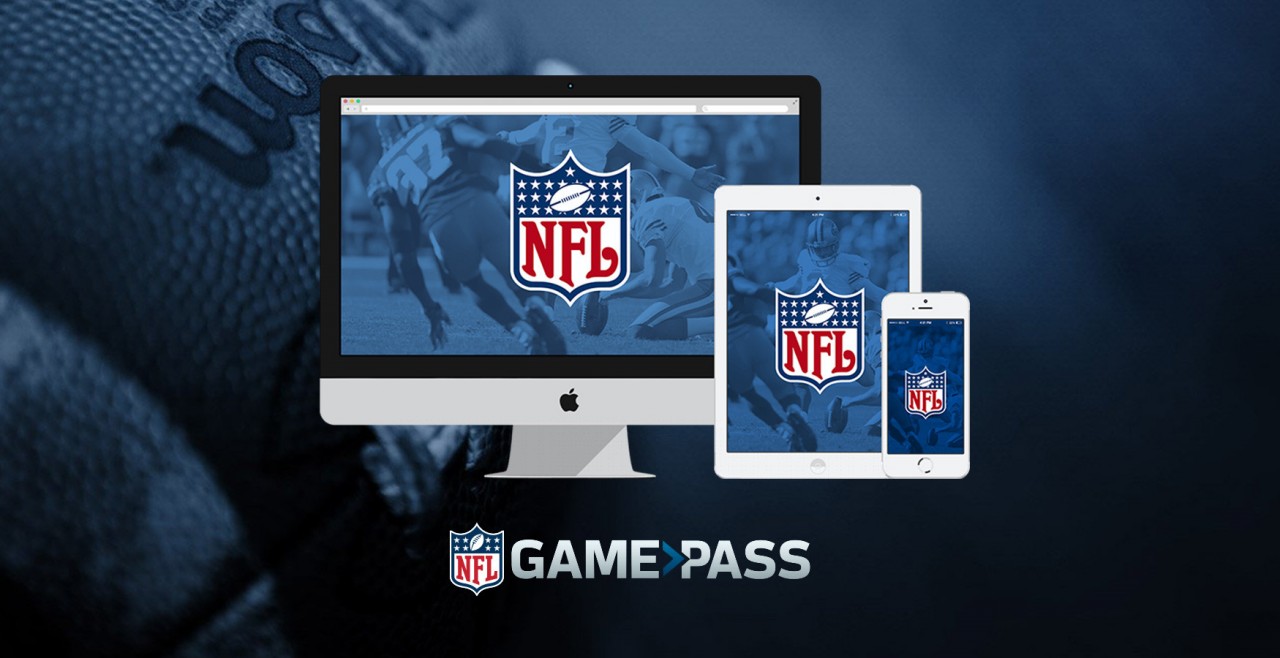 How to use an NFL Game Pass VPN to watch live streaming of every NFL live from anywhere…
The American domestic version of NFL Game Pass is only available to users located within the United States, Bermuda, Antigua, the Bahamas, and any U.S. territories. However this version doesn't show any live matches.
The International version of NFL Game Pass, which offers a 7 Day Free Trial; is an all together different proposition. Offering live streaming of every NFL match.
There are different pricing options based on your location. You can save money by using your VPN or Proxy to connect to a location outside the USA and signing up for a European or International NFL Game Pass subscription. That way you can skirt around those pesky blackouts and watch every NFL game whenever you want!
Your guide to using NFL Game Pass VPN…
🇪🇺 Use any of our European VPN or Proxy locations so you can order an International version of NFL Game Pass:
Get Liberty Shield (use coupon code EPLBLOG to get a HUGE 50% OFF at check-out)
Connect to our VPN or Proxy with UK, Ireland, Germany, Spain, Switzerland or France
Go to https://www.nflgamepass.com/en (the European non-USA version will load)
Purchase your NFL Game Pass (prices below) with live streaming of every match included.
Get NFL 7 Day Free Trial and Start watching!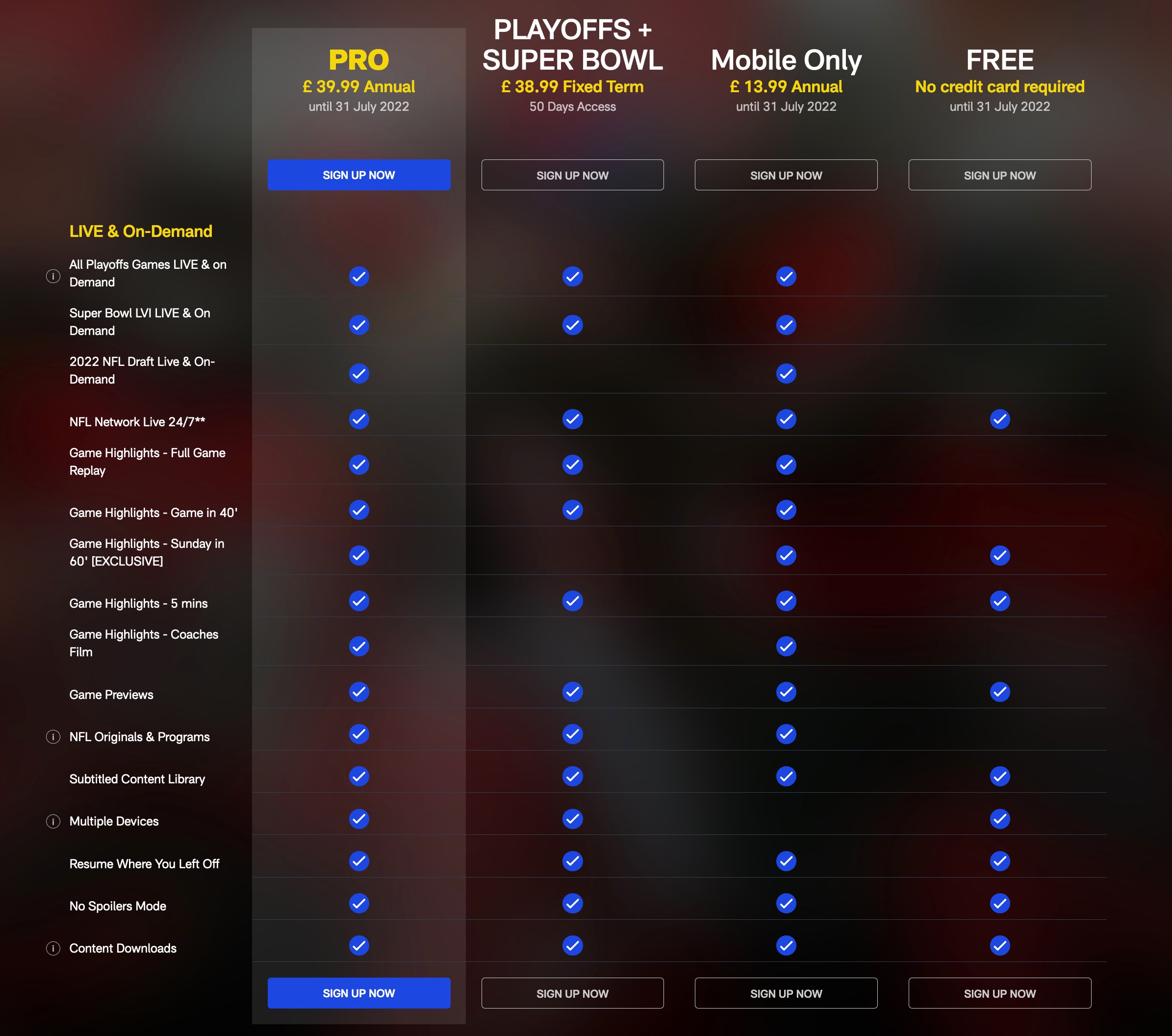 🇬🇧 What about UK NFL Blackouts?
NFL matches shown live in the UK (and Ireland) by Sky Sports will be blacked out, even with the European version of NFL Game Pass. However, if you connect to our VPN using Germany, Spain, Switzerland or France the live match will be shown..
How do I order an NFL VPN?
If you just want to watch on your PC, Mac or iPad. Then you can get a European Proxy or VPN from Liberty Shield, FREE for 48 hours and then from only £8.99 per month..
Prefer to watch on supported media streaming devices like Apple TV or Xbox? You'll need a European configured VPN Router, available from only £9.99 with Worldwide Shipping available.
Of course NFL Game Pass isn't the only geographically-censored streaming service a VPN or Proxy will allow you to access.  Other USA services like Hulu, HBO, Netflix and Pandora are available. Plus with the option to switch to our UK service whenever you like. You can also access BBC iPlayer, BBC Sport, ITV Hub, 4OD, Sky Go and Now TV. Essentially you can access international content from virtually anywhere!